The Secret Weapon of Writers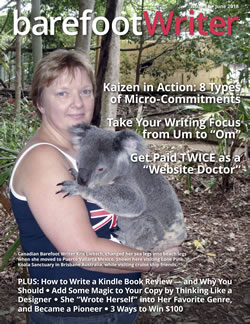 Surely you've seen them …
You probably even recognize them from afar. They're the ones with the bounce in their steps … chins in the air … smiles clear up to their eyes.
And if you're lucky enough to know them … well, then your success as a paid writer is practically guaranteed.
I'm talking about the positive influencers in this industry. The Pollyannas. The people who are so darn upbeat about your ability to succeed as a paid writer …
That you can't help but see the possibility …
You can't resist the vision of you, feet up, keyboard at the ready, creating something you'll be paid multiple figures for …
And you can't avoid making progress … and ultimately succeeding at your writing dreams.
I'm not just feeding you a bubbly email here. This is all based on personal experience, and on science. Really. Check it out:
Happiness is contagious, according to a study out of Harvard and UCSD and published in the British Medical Journal.
Gratitude improves your ability to function, including better sleep quality.
"Positive affect," which describes the variety of positive feelings you can experience, makes you more creative, as shown in work by researcher Alice Isen and colleagues.
When people are happy, they put more effort into building a better future, as reported by Psychology Today.
I have no doubt in my mind that if Rebecca Matter hadn't been so enthusiastic about my idea to write a Reality Blog nine years ago — which was the first time I ever pitched AWAI for a project — then I never would have thought it worth a project proposal, which was followed by samples, which was followed by a contract.
So seek out positive people in your writing space. The Barefoot Writer Members-Only Facebook Group is a great place to start.
After that comes anyone in your home circle who supports your writing goals.
And then from there, I recommend you get to know the positive influencers in the content marketing and direct-response writing worlds.
We interviewed one for this month's issue — click here now to read your June 2018 issue of Barefoot Writer.
Our hefty dose of June positivity doesn't stop there! See page 2 for all our different features on how to put a confident spin on your writing life.
By the way, there's something very important I want to talk to you about …
If you're really serious about launching your writing career — and fast — then I HIGHLY recommend you check out our Barefoot Writer Club. It's for folks like you, interested in making a living writing and getting paid for it, and ready to step up and take control of their lives.
Along with a full subscription to each new Barefoot Writer Magazine, you also get access to our treasure trove of over 50 back issues, each one packed with tools and tips to help you launch your writing career fast.
And if that weren't enough, Club Membership also gets you admission to our Barefoot Writer Private Facebook Group where your fellow writers actively engage in growing their businesses, sharing advice, and answering the burning questions that might be holding you back.
Plus, there are other club bonuses, like the deep monthly discounts on writing programs designed to fit your goals. You'll also get our value-packed writing opportunity reports, including The $500 Email Secret, Get Paid to Surf the Web, The Secret of the 1-Hour Work Week, and The Lazy Writer's Path to a Six-Figure Income.
Each bonus has been specifically designed to give Club Members the best information possible for getting a successful writer's life up and moving at lightning speed.
Perhaps you're ready to take that step … if so, click here to learn more.

The Professional Writers' Alliance
At last, a professional organization that caters to the needs of direct-response industry writers. Find out how membership can change the course of your career. Learn More »

Published: June 1, 2018