7 Key Pieces to Building a Successful Copywriting Business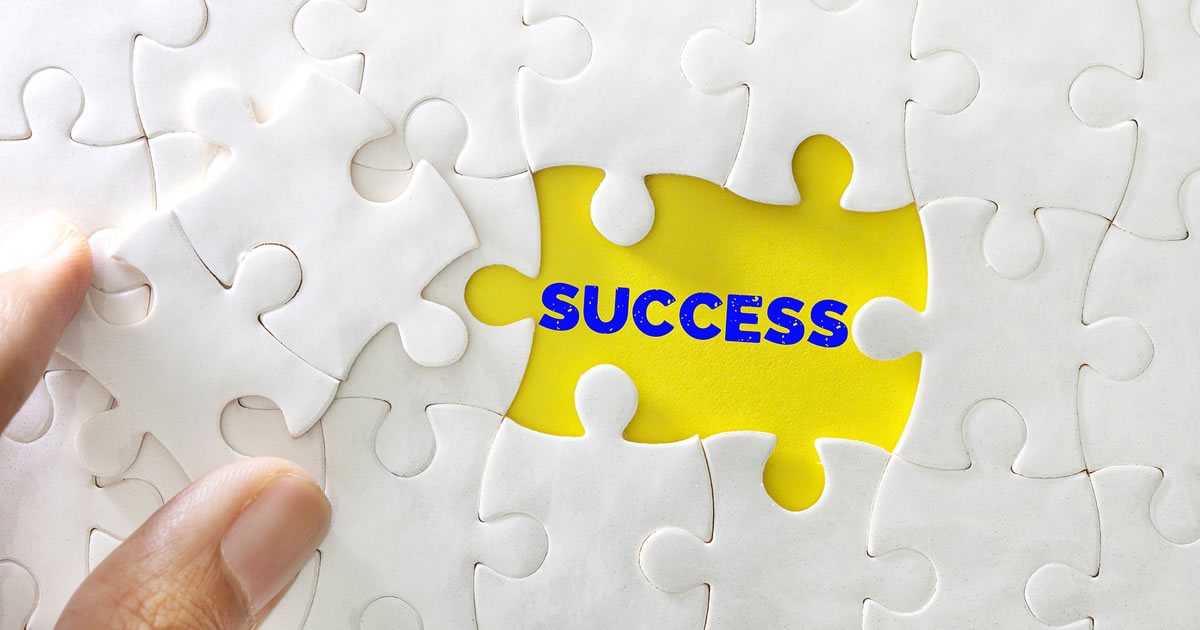 Thirty years ago, when I started my first job out of college as a biochemistry lab technician, I had approximately zero practical skills for that job. My new boss had to teach me everything based on the routines and best practices he'd already created.
Then, years later, when I began working as an accountant, once again I had to learn a whole new set of skills, from understanding how transactions flow through their books, and interpreting financial statements to see strengths and weaknesses.
Now, as I'm building my writer's life, I'm learning strategies and tactics from a variety of mentors and teachers … the very ones they used to build successful careers.
And it's been up to me to put all the pieces together to build the life I want.
I think of it as assembling a giant puzzle, that I can shape to fit my needs, or even discard pieces if they don't fit with the ones I already have. Here are the puzzle pieces I've used to create my writer's life.
Write every day
Since January 29, 2013, I've written almost every day as part of my morning routine, before I was aware of copywriting as a possible career.
I've also heard this instruction at every Bootcamp I've attended since 2014, and it really does make a difference.
Now it's just a part of what I do every day. As routine as brushing my teeth.
It's stream of consciousness writing, a practice I first learned about in Julia Cameron's book The Artist's Way, where it's called "morning pages." There's an online version at 750words.com, which a number of my AWAI friends use.
But I prefer the tactile sense of pen on paper, plus I don't need a laptop and internet connection, so I can do it on early morning plane flights.
It's a powerful habit I can't imagine stopping.
So good they can't ignore you
This quote from Steve Martin and the title of a great book by Cal Newport is the cornerstone of a successful writer's life. In his book, Newport challenges the wisdom of the career advice to "follow your passion," and instead suggests that a highly satisfying career comes from developing skills that set you apart from the competition.
The Accelerated Program will get you started. But for me, it was just the beginning of my education. Joining Circle of Success was the key to the universe for me. As Newport writes in his book, when you develop skills that are rare and valuable, and continually build on what you already know, doors open to you.
After spending the last 15 years working as an accountant, the no-nonsense, straightforward approach of B2B writing resonated with me, so I devoured all of the B2B courses, and became an avid listener of Steve Slaunwhite's B2B Writing Success podcast.
Web writing is a natural extension of B2B writing because everyone markets on the Web now, so I'm a fan of anything and everything by Nick Usborne, who has helped me understand the subtle ways that web writing differs from other media.
And I recently took part in Brian Clark's Content Marketing Strategist course. This course takes the principles of "knowing your prospect" taught in all copywriting courses to a new level. Content marketing is not a hard sell, but an educational process that empowers prospects to take actions that will improve their lives.
Just as I had done with my other mentors and teachers, I applied what I learned from Brian to my own business. I learned to develop a deep understanding of the aspirations and unifying features of exactly the prospects I want to attract. With this deep empathy as a foundation, I learned to create a coherent, well-thought-out and thoroughly researched content strategy.
Carefully crafted content at each step then leads prospects on a journey where they ultimately see my services as the best — and only — method to achieve their objectives.
By offering this strategy to my clients as a service, I'm not just writing content to fill their blog, but I'm writing content that will convince readers they need the services of my clients.
Identify a niche
While there are many great writers who have achieved success as generalists, my secret weapon as a copywriter has been my focus on accounting: I write marketing materials for accountants and those who serve accountants.
My clients include industry trade journals, accounting firms across the country, a New Zealand marketing firm serving accountants, and software firms such as Intuit.
There are very few with this combination of right and left brain abilities, so I stand out very clearly. That combination helped me enter this market not as a complete beginner, but as someone who "gets" what accountants are up against. (Tip: What sets you apart from others?)
Taking advantage of my career capital, built over 15 years of working as an accountant, gave me a head start as a professional writer.
If you have professional experience, leveraging that expertise can open up a gold mine of opportunities. You can really stand out if you're an AWAI-trained copywriter AND a professional.
Because of my AWAI training, my editor at Intuit loves working with me. His job is easier because my writing is already polished and ready to go.
Even if you're leaving a profession due to burnout — as I was when I left accounting — you might find that writing about that profession gives you a fresh perspective.
You can be both an insider with the knowledge and insights of a practitioner of that industry and an outsider with a more holistic view. Like me, you might just fall in love with that industry again.
Own that niche
AI, blockchain, and today's technological advances are a disruptive force in many industries today, and accounting is especially vulnerable. By some estimates, 40% of the work accountants do today will be done by bots and AI in the future.
But when I worked as an accountant, my entire focus was on just getting the work in front of me done. I didn't have time to expand my attention beyond ever-changing tax laws and accounting standards.
Now, stepping away from the hamster wheel grind of the work has allowed me to see the big picture of what's happening in the world of accounting.
Read what others are writing about marketing to that niche, and study what's being done today. Study websites, landing pages, case studies, white papers, blog posts, and newsletters. What do those pieces do that works? What could you do differently to make them more effective?
You'll have to develop your own curriculum here, but becoming an expert not just in writing skills, but in the big ideas of your niche will pay off.
Reach out to thought leaders in your industry
Accounting podcasts — whatever industry you're in, there's a podcast for you — introduced me to the thought leaders of the industry. I subscribed to their newsletters and bought and read their books.
Plus, I followed them online. In fact, being connected to industry leaders on LinkedIn, Twitter, and even Facebook, has been one of the most rewarding experiences I've ever had. Plus, I've had lots of phone, Skype, and Zoom conversations with them too.
These are people I never would have met had I remained a tax manager at an accounting firm.
And now, I'm also meeting them in person at conferences and it doesn't feel random — we already have a relationship.
Last fall, I met a UK consultant and coach to accountants at a big conference and we hit it off. He later sent me a PDF preview version of his book with a request for comments and testimonials. Now that the book is in print, my testimonial is in the print version of that book, and on the landing page for book sales!
Find the thought leaders in your niche and study their ideas. Connect with them on social media and make thoughtful comments on their posts.
Consider writing for a trade journal
This, more than anything, accelerated my success.
It was almost by accident that I began writing for the Journal of Accountancy, the official magazine for the American Institute of CPAs. I first reached out to the editor just to comment on an article I'd read about working with Millennials.
Just before hitting Send, as an afterthought, I tossed in a sentence mentioning that I was a freelance writer and a CPA. A week later, I was on his team as a new writer.
Trade journals are starved for writers. They need a steady stream of high-quality content to justify their existence. If you have industry expertise, the editors are looking for you.
The pay varies, but the big payoff is that I get paid for work that is also part of my self-marketing.
These are bylined articles, so when a prospect asks me for samples, I can just send links to recent articles. That gives me instant credibility with my name right there as author, and helps clients feel at ease about hiring me.
My first article in the Journal of Accountancy led to a $20,000 contract, which was just renewed for another year. An article last spring led directly to work with a fast-moving software company, which has given me $6,000 worth of work in the last two months.
Write a blog to demonstrate your expertise
Your blog is also a portfolio of writing samples. It's also an opportunity to show off your expertise by providing actionable tips for readers.
Sure, there will be plenty of tire-kickers and freeloaders who will take those tips and apply them in their own business, and you'll never hear from them.
That's okay.
Those people are not your clients, but they might refer good clients to you.
You want readers to say, "Oh, what a great tip! I hadn't thought of it like that before. I definitely need this person's help!"
A blog also helps people find you in two ways. First, when they have a question that your post answers perfectly.
And second, because Google loves sites that frequently add fresh content to their websites, you'll rise in the search rankings.
Put together your own pieces
These are the most important pieces in the puzzle that's made up my writer's life so far. Pick a few yourself, and add some of your own, and soon you'll be looking at a completed masterpiece!
Do you have any questions about getting started? Share with us in the comments below so we can guide you.

The Professional Writers' Alliance
At last, a professional organization that caters to the needs of direct-response industry writers. Find out how membership can change the course of your career. Learn More »

Published: July 25, 2018