From Lonely Bubbles to the Doorbells of Millionaires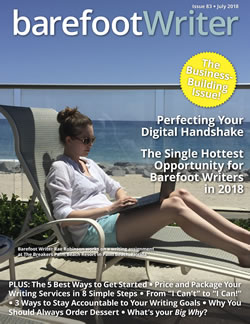 Research from Harvard just pegged what holds us back from thriving businesses with flowing money.
And you know what it is? Bubbles. We live in them, and we need to get out of them.
According to the research, people who have experience in a particular field are more likely to mentor and give money to others like them.
But people just starting out in a particular field are more likely to do what they see other people like themselves doing.
So if you're still relatively new to the paid writing world, there's a good chance you're mimicking the other people new to this world. And a lot of those folks are scratching their heads … hesitating … wondering what step to take next … not sure which way to turn …
It's not a bad place to be. We were all beginners at some point.
But if you're serious about having cash flow your way each time you knock out a writing project, you've got to look outside your bubble to the people who are already winning at writing. Look to the success stories. Track down the writers who've refined this game to such a point that they're swimming in millions.
And then ring their doorbells. Reach out to them. Find out how they went from the bubble of isolated, money-seeking writer, to productive, prolific business owner with income-building savvy.
If you want them to mentor you, to help you, to befriend you, there's just one thing you've got to do first …
Treat your writing aspirations like a bona fide business.
And that's why this July issue is our Business Building Issue. We've designed it to take the angst out of the game of building a writing business, including tips on how to:
Price and package your writing services in eight simple steps
Perfect your digital handshake
Stay accountable to your writing goals
Gain confidence using three different (and easy) strategies
Click here now to read your July 2018 issue of Barefoot Writer.
Did you know several of our Barefoot Writing Challenge winners have gone on to write multiple paid articles for us? Submit an essay this month — not only might you win $100, but you could go on to be one of our regular contributors. See page 2.
I'd also like to extend a special invitation today for you to join the Barefoot Writer Club …
You'll become part of a world where you can:
Quickly connect with hiring clients
Reach out to high-earning writers for support and advice
Access reports that teach you shortcuts to massive success as a freelance writer
And so much more!
In short, you'll be welcomed into a very special group of people who can show you what it takes to earn a healthy income as a writer, while enjoying the kind of lifestyle most people only dream about.
Take the quickest route to life as a paid writer: Discover the Barefoot Writer Club today.

The Professional Writers' Alliance
At last, a professional organization that caters to the needs of direct-response industry writers. Find out how membership can change the course of your career. Learn More »

Published: July 6, 2018