The Easiest, Most Direct Path to a Long-Lived Writing Career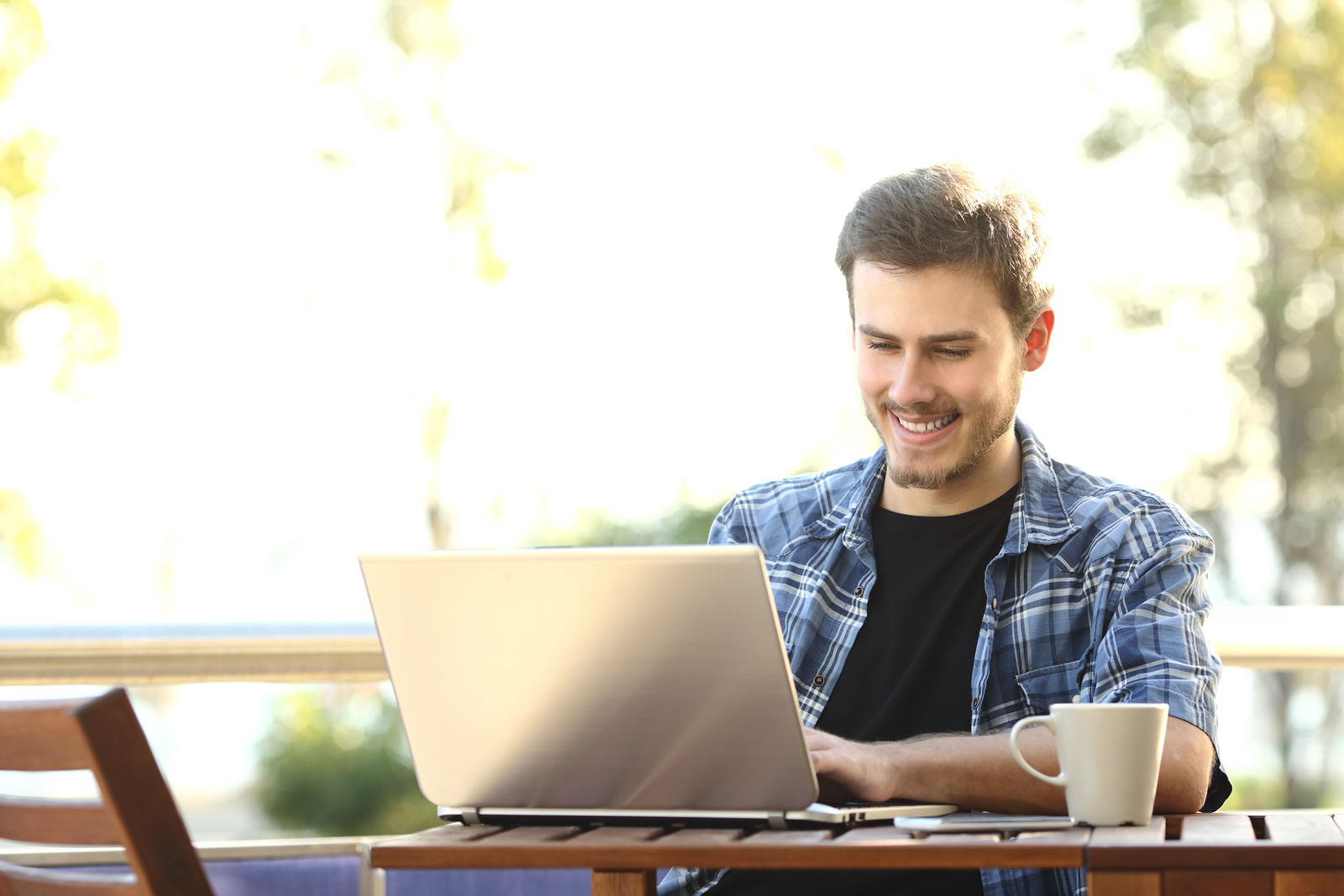 For every 10 writers I know who built their lives around copywriting and well-paid writing projects and the freedom to follow their whims …
There's at least one writer who went about getting their career started the hard way.
Eventually they got it right, but usually on the second try.
Here's how to avoid that altogether …
First, picture a fellow — we'll call him Bill — who's beaming with joy. He just caught wind of this writer's lifestyle, and it's everything he's ever wanted. He gets to turn his love of writing into a career. He knows copywriting can make him good money.
Better still, it frees him up to leave his job in flat Kansas and move up to Bend, Oregon, where he can spend all his spare time mountain biking and hiking.
So Bill runs out to the store and buys a powerful new laptop and a contoured desk. He spends a week thinking about his business name and tagline. He buys a domain and hosting package and slaps his picture and bio up front and center on his website. He even hires a graphic designer he found online to make his logo.
Then he sits back, smiles, and waits for clients to come calling on him.
David, on the other hand, also just learned about the writer's life. He, too, is a mountain biker eager to relocate. And he, too, has a love of writing.
So, David also decides to pursue copywriting as a career. He takes out his clunky old laptop, sets up camp at his dining room table, opens a blank document, and starts writing.
David's writing is terrible. But he keeps at it. He reads articles on persuasive writing. He subscribes to e-letters and analyzes them for rhythm and content. He studies the classics. He even decides to start writing every day, aiming for a word count of 500 words a day, then ups it to a thousand, then two thousand.
One day, a really great project gets posted online. It's a copywriting job worth a sizable fee. It's got the potential for considerable royalties.
Both Bill and David apply for the job.
Who do you think gets it?
There are few creative careers in this world more direct than that of writer. It doesn't matter how you look or how old you are. People who hire writers don't care where you live, whether you drive a fancy car, or where you went to school.
All they care about is whether you can write.
Does it help to have a fancy desk or state-of-the-art computer?
No.
Will your tagline and logo win over a marketer who's making a hiring decision?
No.
Because none of those things make you a better writer. Writing is what makes you a better writer.
So, if you're wondering what to do first to get started, or how to present yourself to the client world … make sure you don't get caught up in "faux business" steps.
Truth is, you can get hired for high-paying writing projects without the fancy trappings of an established business.
But, even if you buy all the business trimmings in the world, you won't get hired to write if you can't, well, write.
Of course, that's not to say those things aren't helpful eventually. Positioning yourself as a branded business can add credibility and make you more recognizable.
But, it won't get you started, and it won't help you build your writing business from the ground up.
The only way to do that is to cultivate your ability to write, and write well, and write better than you currently write.
This was one of the major points that jumped out at me when I interviewed Ilise Benun of Marketing Mentor for the July issue of Barefoot Writer magazine. She talked openly about how often she'd go in to help a creative person get organized and get more jobs, only to find the actions they were taking in their careers were superfluous.
They gave the appearance of people who wanted to be paid for their creative talents, but they did everything outside of actually refining their talents and reaching out to the people who might pay for those talents.
I know it's tempting — and quite frankly, fun — to spend time dreaming up your business name and crafting a perfectly-shaped logo with a hue that represents your ingenuity …
But that road only leads you to imitate the writer's life. You deserve to actually live the writer's life.
Decide today what you can let go of that's distracting you from your goal. Then rev up your goal a hundredfold, whether that means upping the time you commit to writing every day …
Or studying a new writing style from an established writer …
Or doubling down on the weekly progress you make in your writing programs …
It really is the simpler route. It's easier than trying to make yourself look like someone you're not yet. And it's how you become a paid writer, point blank.
Ilise Benun shares even more advice on how to build writing confidence in her Barefoot Writer interview. She also offers the simplest tip in the world on how to get everything done that you want to do. Go here to read her interview if you're already a Barefoot Writer Club Member.
And go here to join the Barefoot Writer Club and get access.
Either way, remember, your writing dream is more accessible than you think. Just don't get distracted along the way …
Opt for the easiest, most direct path to a long-lived career. Focus on that one thing … writing. The craft, the art, the rhythm.
Immerse in it — and the rest will fall into place.
As Ilise says, "People don't understand that confidence comes as an effect of practicing and becoming competent at something. They think you have to have confidence to take the steps. Actually, it works the other way around."
Do you have any questions about adopting a "write every day" habit? Share with us in the comments below so we can point you toward some resources.

The Digital Copywriter's Handbook
Learn how to become an in-demand online copywriter for companies big and small. Online copywriting expert Nick Usborne shows you how to write web copy that converts. Learn More »

Published: July 6, 2018