Using Stories in Marketing:
How to Find the Right Stories and Where to Use Them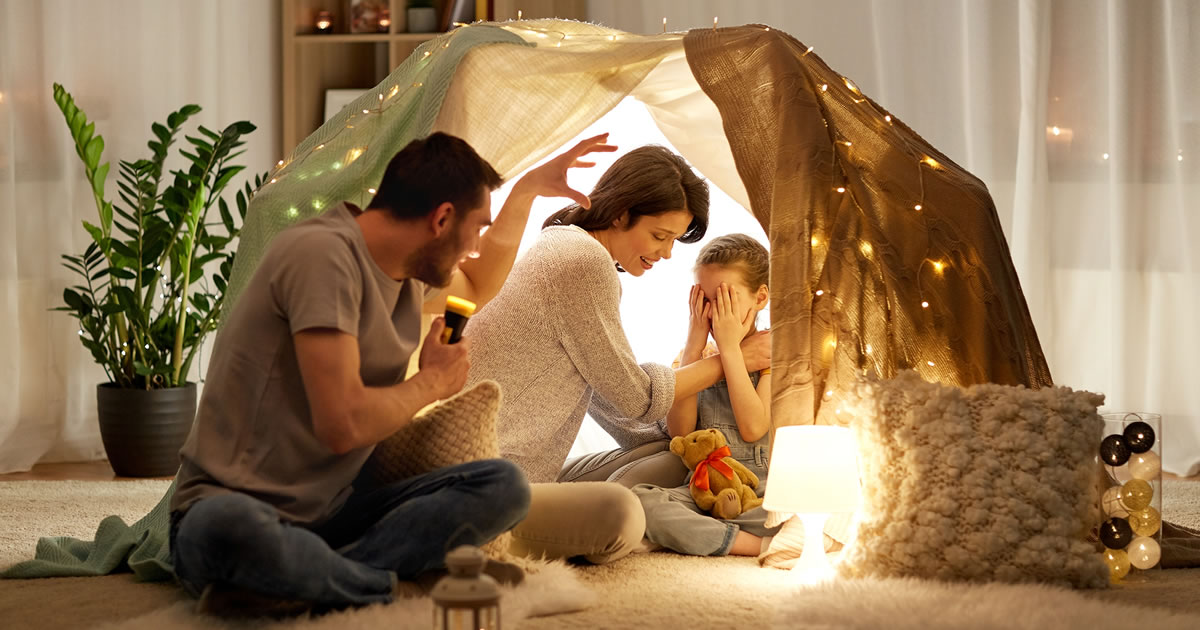 My dad is a natural storyteller.
When I was growing up, even the most mundane events of his day were interesting, because he relayed them like a story. He would share specific details and unfold the events in an order that triggered curiosity about what was going to come next.
Many family gatherings, what I remember most is leaning in to listen to my dad tell a story. Lots of things happened at those family reunions from pool parties to epic games of hide-and-seek, but, in terms of lasting memories, my dad's storytelling has stood the test of time.
There's a reason for that.
We're hard-wired for stories. Stories are how our brains process information. They're how we learn, how we connect, and how we make decisions.
When you listen to a presentation, and you're given a lot of impressive facts and statistics … that engages your brain's listening center and its word processing center.
If you read a report relaying those same facts and figures, you'll have a similar response. Your brain's visual center and word processing center do all the work.
But with a story, as you read or hear details about smells or emotions or time passing, all sorts of other parts of your brain get into the swing of the story. And the more of your brain you engage, the more memorable, meaningful, and believable the information is.
You can prove this to yourself next time you're at a live event. Two days after the event is done, think about what you remember most from the speakers. Dollars to donuts what you recall is a story one of the speakers told. I'd also bet you have an emotional preference for the storytelling speakers versus those that shared information … even if the information was more useful and relevant to you.
What all this means is that stories are pretty darned important in your web writing. If you want to make a connection with your audience (you do), and you want them to begin to like and trust you (yes!), and you want them to remember what you say (also good), then stories will play a role.
But, you can't just tell any old story in your writing if you want to get the best result. You have to tell one your audience is interested in … one that will resonate and get them thinking differently … one that builds up their loyalty for you and gets them thinking about following whatever action you're recommending … whether it's to click a link or to buy a new pair of socks.
So, where do you find these stories … and how do you work them into your copy in a way that's enjoyable while supporting the result you're hoping for?
Let's start with where to find these stories.
Stories are easy to find, once you develop a nose for them … because they're literally everywhere. And they're especially prolific inside your own head, which means you're never without a source of stories.
You can pull stories from your own experience. Let's say you have a moment while driving on the freeway where someone does something stupid and you have to react quickly to avoid disaster.
If you were writing a blog post or a bit of sales copy, you could use that story to convey the importance of being alert to your surroundings or to illustrate the value of agile thinking and quick decision making or to create a metaphor about dealing gracefully with the things outside of your control … you get my drift.
If you're writing for a client, you can interview employees to find out their stories — and then integrate those stories into your project for more authenticity … and to build up credibility in the company by showcasing the likeable people they hire.
Your clients' customers are perhaps one of the best sources of stories, since they can help you bring a product and its benefits to life.
You can also find stories in
The news cycle
Trade publications
Interviews with industry experts
Blogs
Conversations
And daydreams
Like I said, stories are easy to come by.
Once you've found a great story, the next step is to work it into whatever it is you're writing.
I like to gather several stories to hold in reserve, and then as I'm writing think about where those stories will serve the project best.
A few places where opportunities usually abound …
Showing Off the Benefits
When conveying the benefits a product delivers, you can simply state them. Or, you can tell a story that illustrates them.
When you tell the story, you'll engage more of your reader's senses. They'll picture themselves in the story, using the product, enjoying the change it brings. And that will make it easier for them to come to a purchasing decision.
They'll also believe your benefits more readily when they see them couched in a story.
Now as a reminder, stories showing a product's benefits should be true and should come from customers who have used the product. Don't make these stories up. I know that goes without saying … but there you go.
Telling the Origin Story
If you're writing a website, or even product copy, you might include the company's origin story. How and why a company comes into existence can reveal a lot about the company's values … and that can generate feelings of good will and loyalty in your reader.
Product Creation
Whenever you're writing about a specific product, ask about its creation and development … from the first spark of an idea to the initial prototype to the trials and errors along the way. These kinds of stories show the care and commitment that went into the making of a product. And for many people, that's enough to make them want to buy.
As you use stories in your marketing, keep in mind you're not writing a novel. The best approach is to show that something is at stake or that there's a worthwhile goal in play. Bring in emotion and appeal to the senses. But be brief. In marketing copy, you want to make your point quickly and then move the reader to the next step. Stories can be very effective, but if you let them run on too long, they can backfire.
Oh … and don't forget the visual aids. Sometimes including an image can bring the emotion of your story home … and sometimes your story will play best as a video.
Let's Look at Some Examples
Let's take a quick look at three well-done marketing stories, so you can see some of the approaches you might take in action.
The first is from LuminAID … a solar-charged light that folds down flat. It's light-weight, easy to ship, and doesn't require batteries.
Here's the opening paragraph on their Story Page

This is a product-focused story. You learn a lot in a few brief sentences — that the product creators were two college students, that they were working on helping with hurricane relief efforts in Haiti, and that the focus of their product was light, an often-overlooked necessity during the aftermath of a disaster.
It's engaging with a humanitarian aspect. It gives the product story a lot of appeal.
Next up, let's look at the Warby Parker story.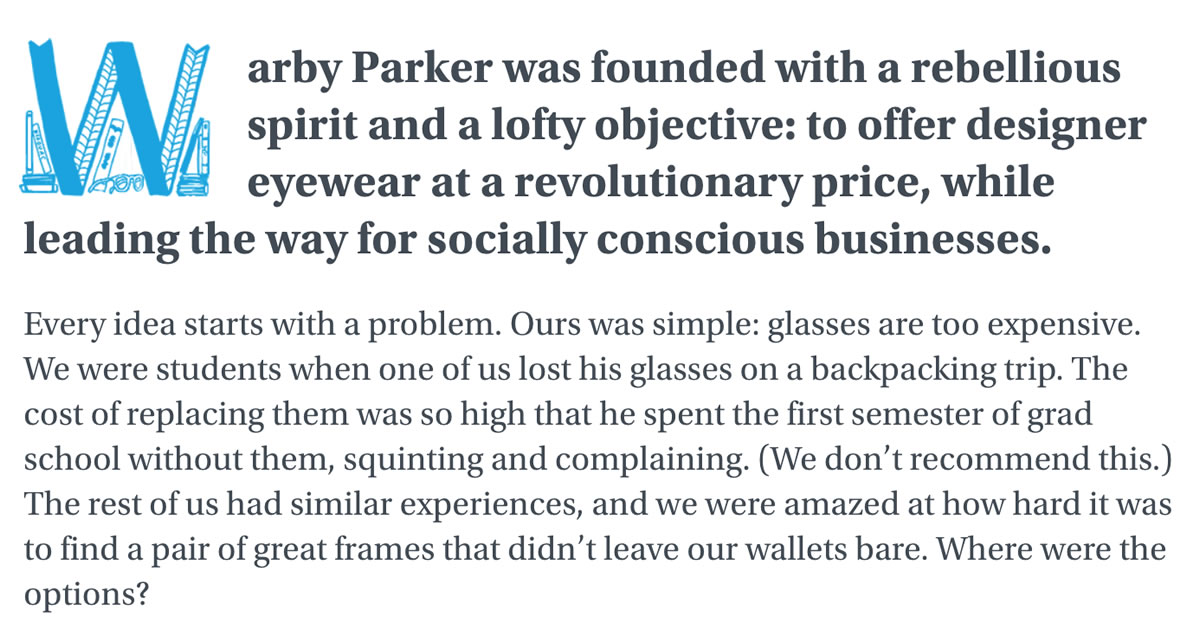 This is an origin story. It appeals to the particular conundrum that many college-aged people have. They like to be fashionable, but they don't have a lot of money. There's a good mix of humor and personal experience here. It's very relatable.
And finally, a video from Under Armour. This story isn't showcasing the product's benefits, but it is aligning the product with the story of Misty Copeland featured in the video — and the values her story conveys. If those values resonate with you, then chances are you'll be more interested in Under Armour, because you'll feel like they share something important with you.
Notice that each of these stories is rich in personality. They reveal a relatable situation or a worthwhile goal. And they give us likeable heroes working toward that goal. Oh … and they do it in a couple of paragraphs or less.
That's all it takes to effectively use stories in your marketing. So, start keeping an eye out for the stories that can make your content and your sales copy really sing to your reader … and watch your results begin to soar.
This article, Using Stories in Marketing: How to Find the Right Stories and Where to Use Them, was originally published by Wealthy Web Writer.

The Professional Writers' Alliance
At last, a professional organization that caters to the needs of direct-response industry writers. Find out how membership can change the course of your career. Learn More »

Published: July 25, 2018