Nine Sure-Fire Ways to Optimize Content for Voice Search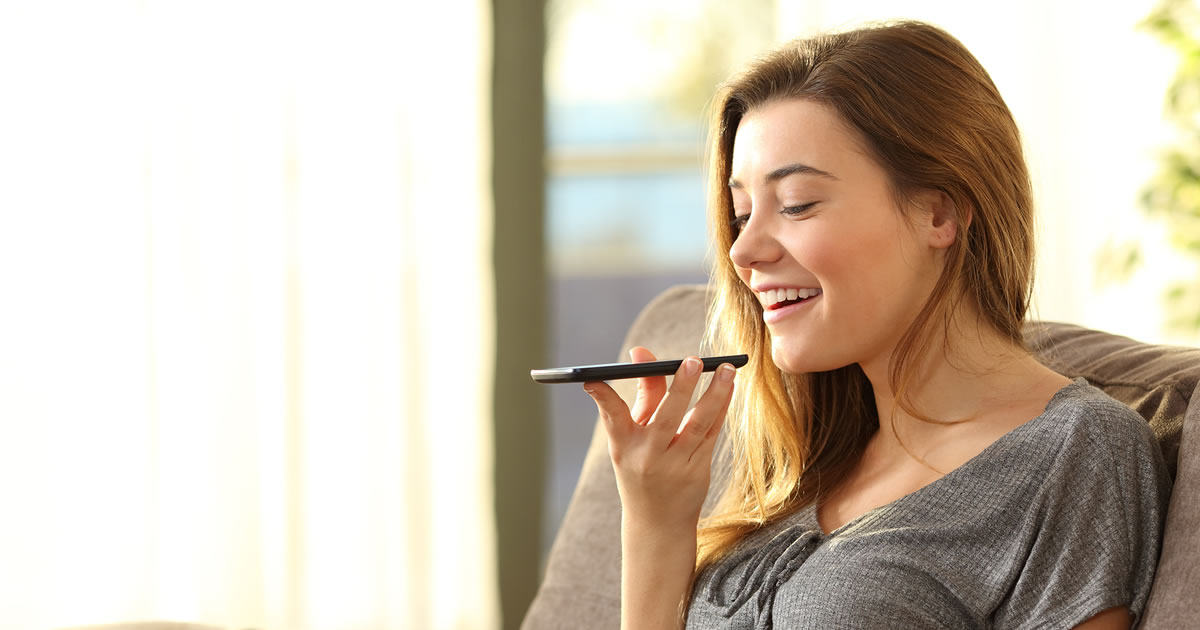 Voice search is the future of Search Engine Optimization (SEO). In fact, it's already here.
According to Google, by the year 2020, more than half of the searches will be through voice. If you don't know how to optimize content for voice search, your SEO strategies will soon suffer for it.
Without a good handle on voice search, you'll miss out on opportunities for traffic, leads, and sales. But, understanding how to use voice will set you apart from your competition and keep your clients coming back to you again and again.
In this post I'll show you nine proven ways to optimize your content for voice search, so you can stay ahead of the curve and turbocharge your career.
First, let's answer the question …
What Is Voice Search?

Voice search is when you speak your search term into an electronic device like your phone, tablet, computer, or smart speaker rather than typing it.
So, how do you optimize content for voice search?
Let's jump in …
#1. Create question-based content.
Most voice search queries are question-based. Think, "Hey Google, what's a good lightweight digital camera?" Or, "Where's a good Greek restaurant near me?"
How do you woo search engines in light of this fact?
Easy peasy …
Create content that directly answers people's questions and solves pressing problems. Common trigger words to include are: who, what, where, when, why and how.
As you research possible keywords to target, put yourself in your consumer's shoes. What burning questions might they have about your product or service? And, more importantly, how might they phrase those questions?
Your frontline sales team and helpdesk staff may be of great help here. They deal with consumers directly, so they know the exact phrases people use. Visit Answer the Public for more ideas on the questions searchers are using for your product, service, or industry.
Also, craft a thorough FAQ page for your site. A good FAQ page raises your chances of showing up near the top of the search results when people ask questions about your product or service.
Finally, massage questions into headlines, opening lines, and subheads and use those to structure and organize the content you create.
#2. Write conversationally.
Sounds basic, doesn't it?
Yet many web writers still fall short in this regard.
In an ill-advised attempt to please search engines, they write unnatural-sounding, keyword-stuffed content.
Yes, keyword-stuffing has long gone the way of the dinosaur, but people still do it. And, not only does this put your readers off, it attracts a Google penalty.
Instead, write like a human speaking to another human:
Use natural language, the same casual style people use when searching.
Include long-tail keywords, which are important for voice search optimization.
Create easily readable posts for both humans and search engines.
Writing conversationally gives you voice search juice. Write for people first – and then optimize for search engines later.
#3. Optimize for mobile.
Most voice searches are done on-the-move, via mobile phones.
To position yourself favorably in the voice search algorithm, make your content mobile-friendly.
Here are some strategies to help you do just that:
Write short headlines – seven words or so. Shorter headlines get higher click-through rates, because they don't get cut off on space-starved mobile devices.
Lead with the most important points. This helps readers get the gist fast.
Use short one- to three-sentence paragraphs. Short sentences and paragraphs are easy to read.
Give your words space to breathe. White space is your friend. Use it to make your content scannable.
Practice smart formatting. Break up big chunks of text with subheads, bullets, and images.
#4. Optimize for local SEO.
Search Engine Land reported that 82% of all mobile search is local. Many voice searches are location-specific.
Here's how to produce winning local SEO content:
Write content that specifically answers local questions (e.g., "What's the best [service] in [your area]?")
Guest post on local blogs.
Piggyback on trending local news stories. Use them to inspire your content.
Write case studies featuring local businesses you've helped … or that your clients have helped.
If you're writing for a brick and mortar business, make sure the business name, address, phone number, and opening hours are up-to-date on the site. This enhances the chances of topping "near me" search results.
In your content, mirror the way folks in your region speak.
#5. Craft snippet-rich content.
Most voice queries are question-based, remember?
Answers to those questions may turn up as featured snippets (also known as rich cards, answer boxes, or rich snippets).
Featured snippets are selected, boxed search results that display at the top of Google's organic results.
Here are three major types of featured snippets and how to increase your chances of your content being picked for each one:
Paragraph (with or without an image) – Write crisp paragraphs that sum up major points. Research says, on average, featured snippet paragraphs are 45 words long.
List (an answer given in a form of a list) – Condense the main points into a super short, numbered list just after your lead. Expand on them later on in the piece.
Table (an answer given in a table) – Grab every opportunity to make content more visual. Illustrate or summarize important points using branded tables, images, and charts.
Here's a featured snippet in the list format for a search on "how to write engaging content":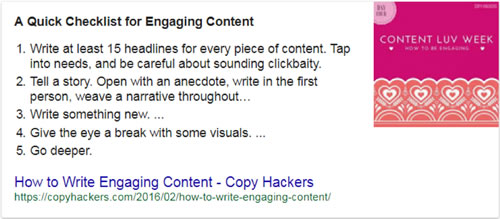 Note the short, easily digestible, and fact-based numbered points. It's "snackable" and provides the quick answer search engines are looking to display to users.
Landing a featured snippet spot boosts your odds of appearing in voice search results.
#6. Use more related and long-tail keywords.
Voice search queries are longer than their text counterparts and tend to be three to five (or more) keywords in length. They often contain long-tail keywords and what are known as LSI keywords – keywords that are related by not necessarily synonymous with other key phrases.
Here are six tools you can use to find useful long-tail keywords:
When you use results from these sources, put a conversational spin to them. Ask yourself, "How would someone phrase this when speaking?"
Also, listen in on how people ask product-related questions in niche forums. Closely monitor people's questions in Facebook groups and on Twitter. Survey your audience or do face-to-face interviews of your ideal prospects. These strategies take time, but they're often well worth the effort.
#7. Create share-worthy content.
Social signals play a role in rankings.
It's no surprise, then, that content with high levels of social engagement tends to perform well in voice search.
When it comes to viral content, those kinds of posts usually have several qualities in common:
Utility – Make sure your content is truly useful and solves a real problem.
Novelty – Find ways of discussing old subjects in a new way.
Controversy – Don't be scared to stir the pot … in an informed way.
Amusement – Don't just educate, entertain through stories, anecdotes, and humor.
Vulnerability – Open up and talk about your failures through case studies or blog posts, for example … people love real people.
#8. Embrace long-form content.
Google tends to source voice search answers from long-form content.
"The average word count of a voice search results page is 2,312 words." (Backlinko)
Does this mean you have to dump short-form content?
Of course not.
It simply means you should start incorporating long-form into your content strategy – especially for key pillar or evergreen pieces.
Here's the anatomy of a killer long-form piece:
In-depth discussion of a subject – Google loves it when searchers can find all the answers for what they're looking for in one place.
Many LSI keywords – Remember, these are related words but not necessarily synonymous with what you're optimizing for. They dramatically improve your chances of appearing in search queries.
Easily scannable subheads – You get brownie points if you can naturally include your target keywords.
Concise and tight writing – Google prefers short, concise answers to voice search queries. The typical voice search result is only 29 words in length, often pulled from a long post. Long-form doesn't mean fluff-filled.
#9. Make your content simple and easy-to-read.
The average Google voice search result is written at a 9th grade level.
This makes sense, when you think about it.
Suppose you need to find a doctor for your dog. Would you press the voice search function on your smartphone and say:
"Where is the best domestic canine physician in town?"
Highly unlikely. You'd say "pet care" or "vet" instead.
As a writer, you may be tempted to impress people with your flair for vocabulary diversity fancy words.
Don't fall for it. Otherwise, you'll hurt your chances of appearing in voice search results.
Keep your writing simple and plain (not bland!).
But, how do you simplify content?
Break down complicated subjects into bare elements.
Avoid gobbledygook and corporate mumbo jumbo.
Use simple everyday words to explain complex topics.
Include timely metaphors and similes.
It's a voice-first world!
There's no doubt about it. Voice search is here to stay.
With over 30 million voice-first devices in U.S. homes and one billion voice searches per month (as of January 2018), there's no stopping the voice search avalanche.
The million-dollar question is …
Is your content smart enough to respond, when people talk into their devices? Follow the tips here, and it will be!
This article, Nine Sure-Fire Ways to Optimize Content for Voice Search, was originally published by Wealthy Web Writer.

The Professional Writers' Alliance
At last, a professional organization that caters to the needs of direct-response industry writers. Find out how membership can change the course of your career. Learn More »

Published: August 15, 2018