Win BIG by Turning the Tables on Your Clients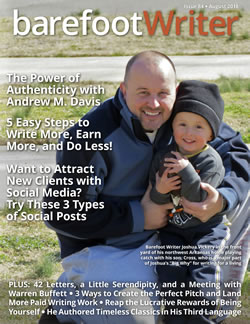 Thousands of advice columns blather on about differentiating yourself. "Develop your personal style." "Talk about what makes you unique."
Yawn.
Because what does that even mean? What does it look like? What on earth do you do first?
I doubt my writing clients are interested in knowing I'm a lefty with one of the rarest blood types who once ate kangaroo roadkill.*
Although those things certainly make me unique, they do nothing for my clients. That is … unless I can turn the tables — and the conversation — back to my clients and their needs.
For example, being a lefty means you have to adapt to a world created for the right-handed majority. It's made me flexible. Versatile. Able to think outside the box and beyond the restrictions of basic kitchen appliances and other things not designed for the likes of me.
Having a rare blood type means you have to speak up and be assertive in certain medical situations. You don't automatically fit in. You can't just go with the flow, so to speak. And although on the surface, you hardly seem useful since your blood isn't compatible with anything besides your own kind … it turns out you can fill a more specialized need and donate plasma on a universal level. It's all about digging deeper.
And eating kangaroo roadkill … well, the story there is long, but it shows a willingness to try new things, and to make the most out of mishaps.
See what I did there?
Many writers stop too soon in the quest to figure out what makes them stand apart from everyone else. They list their attributes, or unusual qualities, and move on.
But anyone willing to pay you money for your writing isn't likely to care that you're double jointed or have an unusual passion for candy dispensers shaped like forest animals.
What they really want to know is how whatever it is that makes you unique will help them with their goals. In other words, what value do your unique traits bring to the table?
So by all means, come up with a list of the unusual things that make you weird and wonderful. And then dig deeper … Ask yourself why or how those things have shaped your attitudes, beliefs, approach to challenges, ability to follow through, and so on.
Here's another example: You were a tennis star in high school and won all the regional competitions.
Will your client care? Probably not.
But what about the rest of the story? What about the part where you committed to being the top tennis player in your school because you had a single goal of getting a sports scholarship, so you took extra lessons on the weekend and woke up an hour early to hit the courts before school and watched every YouTube video you could find on how pro tennis players train?
That's the part of the story worth telling. Because that's where you can take something and flip it from being about you to being about what you can do for the client. It's a way to show your commitment to winning, your ability to go above and beyond, and your single-minded focus on a goal.
That's the kind of writer every client wants to hire.
And really, it all comes down to delivering value. If you can focus your search for uniqueness with a filter on the value you bring clients, your search will be a lot easier and more rewarding.
Our August issue walks you through those steps and more, with tips on
how to reap the lucrative rewards of being yourself,
types of social media posts that attract new clients,
why you'll want to celebrate the little things, and
3 steps to the perfect pitch that lands more paid writing work.
Plus, you'll enjoy an entertaining interview with speaker, author, and all-around nice (and fascinating!) guy Andrew Davis.
Click here now to read your August 2018 issue of Barefoot Writer.
*I adore kangaroos. It happened during a survivalist-style Outback adventure in Lightning Ridge, Australia, with a real-life Crocodile Dundee leading the charge. And when in Rome …
I'd also like to extend a special invitation today for you to join the the Barefoot Writer Club …
Here's why:
The Barefoot Writer Club offers you a community of support like no other — literally. Because when you think about it, plenty of folks out there want to make a living writing. Plenty just want to write.
But too many see the writing world as a place of competition and rivalry.
Yet it's NOT.
We know from experience — after watching hundreds of writers launch successful, paid writing careers — that the recipe for success is knowledge plus support.
Without support from people who understand your goals and your drive to write, it's too easy to fail.
But as a member of the Barefoot Writer Club, that kind of thing doesn't happen. You'll be part of a genuinely supportive bunch of people who give free advice and critiques, who applaud your successes and help you move past your hurdles.
Plus, the Barefoot Writer Club gives you access to loads of other benefits — like detailed reports that teach you shortcuts to money-making success, and discounts on the hottest writing guides.
In short, this club is your win-win ticket to a life of access and satisfaction. Join the Barefoot Writer Club today and get ready to enjoy the paid writer's life you've always dreamed about.

The Professional Writers' Alliance
At last, a professional organization that caters to the needs of direct-response industry writers. Find out how membership can change the course of your career. Learn More »

Published: August 3, 2018