Live: The Barefoot Writer September Issue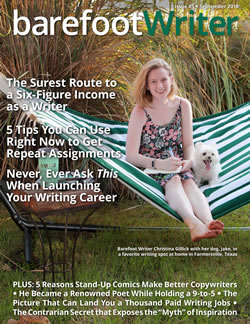 There's this recurring, slightly startling email message I get every few weeks …
It comes from different members of the Barefoot Writer Club. But it always asks the same thing:
"Am I doing it right?"
I fell into a similar trap ten years ago when I first started out. I'd look at my messy desk in the corner of an upstairs bedroom, peppered with incomplete to-do lists with a massively detailed and unrealized vision board hovering nearby …
And I'd feel like a phony.
I didn't think I could call myself a Barefoot Writer until I'd achieved everything on that vision board and had a Pinterest-worthy office setup.
Though at the time, I was writing every day, and I was getting paid. Not a lot. Certainly no royalties back then.
So I was living a writer's life … but could I claim I'd achieved the writer's life?
It took me a long time to realize the answer to that question was a resounding YES!
Because while I wasn't lounging on the beach every day, sipping cocktails while perfecting my next great writing assignment …
I was working hard toward my unique dream of freedom and fulfillment. No one was getting in my way. No one was telling me what to do or not do.
And even if I didn't always know what to do … when it came to Barefoot Writing, I was doing it right.
What about you?
As long as you're writing, and that writing is driven by your unique vision of a brighter future, chances are you're already a bona fide Barefoot Writer.
Whether you write from your kitchen table, from a cluttered desk in your attic, or from an alfresco café in Singapore's Botanic Gardens …
If the purpose behind your writing is to achieve your freedom and money-based goals …
Then yes, you're doing it right.
Or to put it another way, I'll quote Roberta Rosenberg in her eye-opening interview this month:
"If you're not writing, then you're missing the point."
Because to get a paid writing career to come to life, you have to start with one thing: Writing.
The key to making all that happen … is to literally sit down and make it happen. It means doing the work, day by day, that moves your own dreams forward.
To help you make that a reality, our September issue features top advice on:
The surest route to a six-figure income as a writer
What you should never, ever ask when launching your writing career
Which picture can help you land a thousand paid writing jobs
The contrarian secret that exposes the "myth" of inspiration
Plus many other inspiring pieces designed to show you how to take action and stay motivated along the way!
Click here now to read your September 2018 issue of Barefoot Writer.
If you want to give your writing dream a jumpstart – and get support from a fun and friendly group while doing it, join the Barefoot Writer Club. Not only does that land you access to the next 12 months' of Barefoot Writer magazine, you also get:
Discounts on industry-celebrated writing programs designed to help you zero in on a writing career you love with an income you want
Member-only access to our private Facebook group where you can start a discussion about anything on your mind and get quick, honest answers
Your FREE copy of "The Secret of the $500 Email" by Jay White
Your FREE copy of "The One-Hour Work Week" by Nick Usborne
Your FREE copy of "Get Paid to Surf the Web" by Sandy Ferguson
Your FREE copy of "The Lazy Writer's Path to a Six-Figure Income" by Julien Sharp
Your FREE copy of "Get Paid to Take Your Next Vacation" by Jen Stevens
And so much more!
Watching you succeed at your writing dreams is what keeps us going … and you're the reason there's so much heart and soul in the Barefoot Writer. Click here to join the club today.

The Professional Writers' Alliance
At last, a professional organization that caters to the needs of direct-response industry writers. Find out how membership can change the course of your career. Learn More »

Published: September 7, 2018