Live: The Barefoot Writer October Issue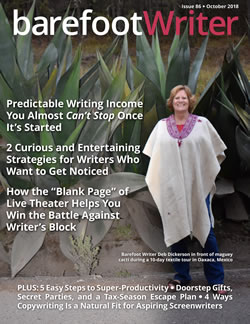 One of the most appealing parts of the writer's life is the opportunity to be creative. After all, writing is a form of creation.
Trouble is, there's a constant war that takes place in all of us that can stop our creative efforts cold.
What is this war? It's the ongoing battle between our desire to create and a ruthless inner critic … and it often leaves us with a pile of unfinished work because we worry we're not good enough …
We've all been there.
It's like a hiccup that takes place between the birth of a dream and the day you see it through. And it can derail all your goals.
But let's look at what's really going on …
The problem starts when your amygdala intercepts your goal-related thoughts. (The amygdala is the primitive part of your brain that senses danger from actual, physical threats).
That leads to self-doubt, which leads to your inner voice saying Stop! Freeze! Scary road ahead!
There's no real threat. But writing and creating make you feel vulnerable. Vulnerable feelings activate those primitive responses. And because your primitive brain can't tell the difference between a tiger hiding in the bushes and a daunting writing assignment …
It tells you to flee from both.
That's helpful in the case of the tiger … not so much if you end up hesitating and censoring your own writing goals.
The fix?
Easy: Act more like a kid.
You see, kids don't perceive danger the same way grown-ups do. So looking at threats from a kid's point of view changes everything. Kids tend to be fearless.
When children look at the world, they see a place of wonder and possibility. They want to play all day long. Young children don't worry about how they'll be perceived. Their focus is on fun.
And fun leads to creativity.
As for how you put that into practice, try this:
Dive into your projects for five minutes at a time. Pick a writing task that's daunting, or something you're stuck on. Take a small part of that task and work on it for only five minutes. Then move on to something else. Self-censorship and hesitation happen only when you start thinking about what could go wrong. Five-minute work blocks are too short for that kind of ruminating.
Picture the outcome you want. This is where writing your goals down or creating a vision board comes in handy. The more visual and emotional you make your description, the better. Once you're finished with your list or board, hang it where you will see it often. Having a visual of what you're working towards makes it easier to stay focused and avoid getting mired in negativity.
Separate fear from nervousness. A tiger coming full force toward you is a real threat. Fear is appropriate in that case. But the fear of failing as a writer or of being embarrassed isn't a real threat — that's just anxiety talking. Being able to tell the difference makes it easier to tune out distractions and dig into a new writing adventure like a kid might do.
The October issue of Barefoot Writer has many other tips for embracing your kid thinking and stimulating creativity:
Two curious and entertaining strategies for writers who want to get noticed
How the "blank page" of live theater helps you win the battle against writer's block
Spooky inspirations for classic horror stories
Four ways copywriting is a natural fit for aspiring screenwriters
Click here now to read the October 2018 issue of Barefoot Writer.
Tony Award–winning producer Ken Davenport, our Featured Interviewee, uses this "kid attitude" to launch new ventures … and judging by his radical success, it works! See page 9.
Ready to push past your fears and take the leap toward achieving your writing dreams? Because if you're serious about getting paid to write for a living, it's time to become a member of our Barefoot Writer Club. Not only will you get a 12-month Barefoot Writer magazine subscription, you'll also get …
Admittance to the Barefoot Writer Private Facebook Group where your fellow writers actively explain how they're growing their businesses and share priceless advice (and readily answer those burning questions that might be holding you back!)
Unlimited access to all back issues of Barefoot Writer magazine (over 2,500 pages of content designed to help you write better, faster, and for more profit!)
Wild discounts on celebrated writing programs proven to move writers forward in their careers (and earnings) at lightning speed
Plus, access to seven groundbreaking reports on the quickest ways to launch and profit from the most rewarding writing business models …
Membership into the Barefoot Writer Club is literally the most enjoyable and absolutely PROVEN route I know to life as a paid writer. Join the Barefoot Writer Club today.
Published: October 5, 2018