Case Study: Cubicle Worker Swaps Job for Double the Pay, Working at Home with an Ocean View


Li by the Ensenada sign that welcomes travelers to her new city.
"This is a few miles down the road from where I live. Taken during a run, naturally. :)"
Li Vasquez-Noone had always been content being an employee. In various government, nonprofit, and private-sector jobs, she went to work every day, doing the best job she could. She didn't have the inkling or the itch to go out on her own — until she found herself miserable.
At the time, Li worked at a "soulless" multinational corporation that seemingly only cared about the bottom line. She reported to not one but two bosses, and saw no path to advancing.
"The real kicker was when I started getting my coworkers' duties, but without any change in position or pay," Li says. "They were getting paid three times as much as I was, and now I was doing part of their work, but I didn't get a raise. On top of that, I had a window-less cubicle in a freezing corner of the office. I hate being cold!"
Like many frustrated employees, Li began plotting an escape plan: She set a date one year in the future when she would simply quit. She got her husband on board and diligently saved up a year's worth of take-home pay.
And then she did it. On that date, she gave notice — without anything else lined up.
"It was the middle of the recession and things were bleak," she says. "Smart people have something lined up before they quit their jobs, but I did it backward. I couldn't stand it any longer."
Real Copywriters — Really Making a Living
Fortunately, Li's leap of faith found solid ground — though not immediately. Not long after quitting, she received a letter in the mail from American Writers & Artists Institute (AWAI) asking, "Can You Write a Letter Like This One?"
The same letter had landed in her mailbox before, but that time, she had tossed it in the recycling bin. Now, the timing couldn't have been better. Twice, Li had participated in National Novel Writing Month (NaNoWriMo), which had reignited an interest in writing.
"It was always in the back of my head, 'Wouldn't it be great if I could make a living writing?' But I didn't know you could make a living any other way besides writing a hit novel."
AWAI offered a view into another path: copywriting, where she could design her own career, work from home, and not be limited by corporate salary caps.
As a first step, she invested in AWAI's flagship program, The Accelerated Program for Six-Figure Copywriting, yet soon questioned her decision. "I was turned off by writing sales letters," she says. "I was intimidated and it wasn't intuitive to me. I thought about getting my money back and doing something else."
Instead, through AWAI, she found many other types of copywriting. She found a fit in Email Copy Made Easy. She also discovered article writing, which became the source of her first freelance jobs — two articles for an online teen magazine.
Then Li signed up for her first FastTrack to Copywriting Success Bootcamp and Job Fair, held right in her hometown of Delray Beach, Florida. The annual event brings together hundreds of writers and instructors for several days of learning and networking.
For Li, having the event a mile away from home made it logistically easier to go the first time, if not mentally easier. "I remember that first day, actually thinking I could turn the car around right now, and not go," she says. "But I forced myself to go and it was the best thing I ever could have done. I don't know if I would be in this positon now if I'd turned around."
When she arrived, she began fact-finding. "I was going up to people, asking, 'Do you actually make a living doing this?' And a lot of them said yes," she says. "For the first time, I was face-to-face with other writers — many of them — making a real living copywriting."
She also connected with beginning writers like herself, many of whom she's still close with today. Suddenly she had a support group to consult when times were tough and to celebrate wins with. They would meet regularly on the phone, and each year at Bootcamp.
Big Break: Barefoot Writer
Li's strength in writing articles and blog posts — and Bootcamp connections — soon landed her work with AWAI's monthly Barefoot Writer magazine. And when it came time for Executive Editor Mindy McHorse to seek interim help during a maternity leave, Li was at the top of the list.
"She liked my writing and found me easy to work with," Li says. "And I really related to the idea of the Barefoot Writer, of crafting your own lifestyle."
Li helped primarily with the magazine's social media for a few months. Again, she tapped into AWAI's trove of programs, thanks to her investment in Circle of Success and its complete library of resources. This time, she studied Nick Usborne's How to Make Money as a Social Media Marketing Expert.
After Li proved herself, AWAI turned the short-term engagement into a retainer with Barefoot Writer, giving Li a reliable source of income. Now, she serves as an editorial and content coordinator — and often a mentor to new writers. Additionally, she secured a second retainer helping AWAI with its social media activity.
Beyond her work with AWAI, Li picked up additional clients for social media work. She also now provides strategy and copywriting for her husband's side business, which makes labels for small and home-based wine and beer makers. That includes web copy, market research, a Facebook ad campaign, and direct mail. Yes, she's using the persuasive copywriting skills she picked up in The Accelerated Program.
"I'm having so much fun applying all the things I've learned over the years from AWAI," she says. "Every day I use stuff from The Accelerated Program — even for just writing an email or a Twitter post. And I can now look at a sales letter and tell you backward and forward what's missing."
And where once Li found Bootcamp daunting, the event is now an annual must for her (8 years and counting). "I can't stay away!" she says. "Attending Bootcamp showed me the possibilities: working from home, building a successful business, living anywhere I want. Each year, I've talked with others who have created their own version of the writer's life, and they inspired me to see the opportunities, explore my options, and have the courage to take the leap and actually go!"
Double the Income, with a Flex Schedule
Li does it all from her home office. With a flexible work schedule, she occasionally takes a day off midweek to run errands, or even see a movie with her husband, and makes up for it by working some early mornings, evenings, or on the weekends.
In fact, Li enjoys her copywriting career so much that the income was a second thought. "Early on I thought, 'I will never be a success unless it is the way someone else did it.' I learned to stop comparing my path to others. Earning six-figures wasn't necessarily my big goal," she says. "I hadn't even thought about it until someone asked me, but now I make about twice as much as I made in my corporate job. And I'm MUCH happier."
An Update: Realizing a Dream
Li recently made a big move — she's now living in Ensenada, Mexico, thanks to the writer's life. "Living and working in Mexico is literally a dream come true! I used to think I'd have to wait decades to move overseas … but here I am, looking over the Pacific Ocean from my office (also my living room), watching dolphins and seals swim by."
Li and her husband also have time to enjoy wine tasting in Valle de Guadalupe, Mexico's largest and most celebrated wine region. Two locations they've explored so far are Casta de Vino Winery and Retorno Winery. "Valle de Guadalupe has over 150 wineries, and starts about 15 minutes from my house!"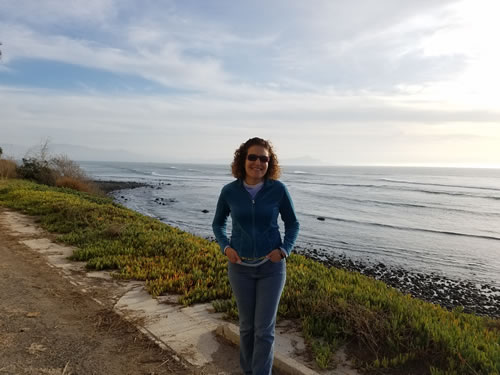 On a path in Li's housing development.
"I can walk along the ocean without even leaving the property. Our house is on a 10-15 foot cliff, with breathtaking views. Dolphins and seals swim by, we watch the sea birds fly around, fishing boats travel back and forth, and we have a good view of the cruise ships when they arrive in the morning and leave at night."
"Thank you to everyone at AWAI for supporting my dreams, for showing me what's out there, and for encouraging me every step of the way. AWAI introduced me to the idea of becoming a copywriter in the first place. And without that, I'd still be slogging away in some 8-to-5 job I hated, instead of watching dolphins swim. From the bottom of my heart, thank you!!!"
What help or guidance do you need to move your freelance writing career forward like Li? Let us know in the comments below how we can help.
Editorial Note: Li and two other successful AWAI members shared how Circle of Success has been useful to them in their copywriting careers in this quick video. Check it out!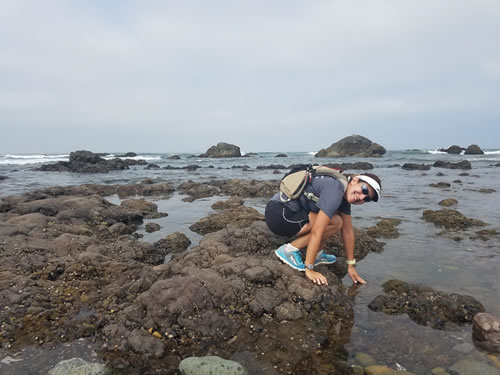 Li by tide pools at Universidad Autonoma de Baja California:
"I get to run on trails along the Pacific Ocean. This spot is part of a University campus about a mile from my home. I can walk right down to the ocean and play in the tide pools if I want."

The Professional Writers' Alliance
At last, a professional organization that caters to the needs of direct-response industry writers. Find out how membership can change the course of your career. Learn More »

Published: October 24, 2018