7 Powerful Benefits of Building an Email List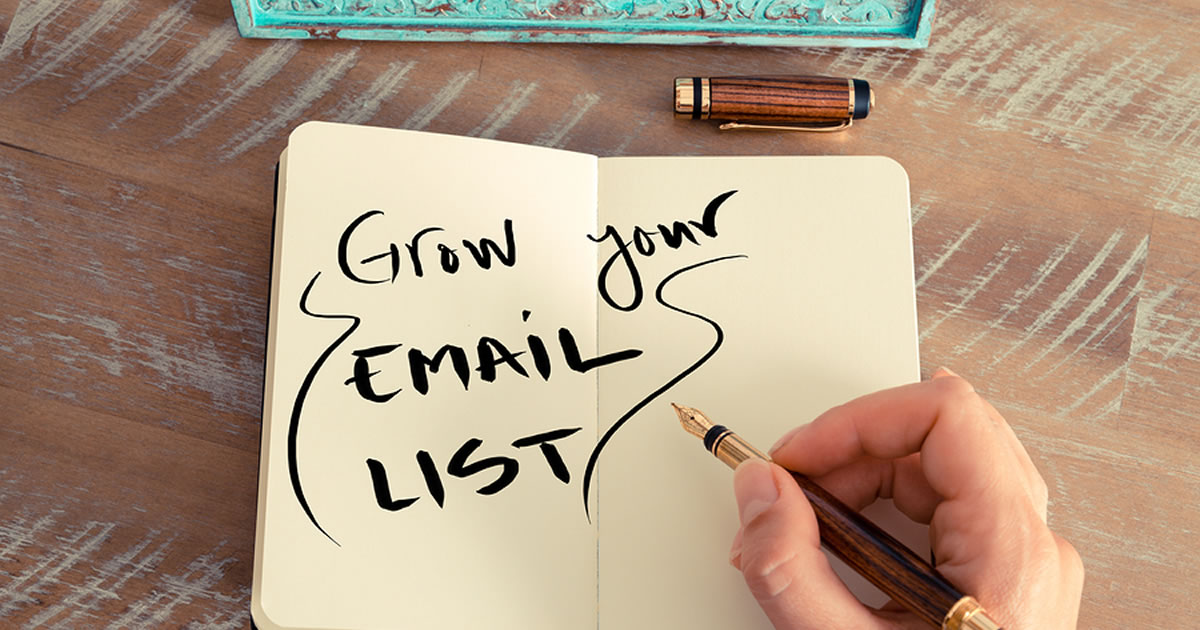 It probably won't surprise you to hear me say this, but everybody needs an email list. Whether you're a freelance writer trying to get more copywriting clients or you're looking to start your own "clientless copywriting" side hustle — creating and cultivating an email list is something you absolutely must be focusing on in your business.
Let me illustrate what I mean. Let's take a look at a tale of two entrepreneurs, Mary and Mark …
Mary has a traditional brick-and-mortar business, a hair salon.
It was always slow at Mary's salon in July. People were away on their summer vacations, and the appointment book was half-empty. Mary needed to get some people into the business to get their hair cut and colored BEFORE the back to school rush filled up all the chairs.
Luckily, Mary had been collecting customer's email addresses at the register and on her website for a year and had been mailing her customers approximately once or twice a month.
She sent out an email to everyone on her list with a limited time special cut and color event and immediately started getting bookings. The chairs were filled and revenue was coming in. All because Mary had an email list.
Mark, on the other hand, has an online business, but faced similar challenges as Mary.
Mark's consulting/info business gets slow every year in December when everyone is focused on the holidays, buying Christmas gifts, and taking time off at the end of the year. So he emails his list with a "fire sale" for all his online courses.
They go like gangbusters and bring in a significant amount of revenue at a time of year when business is normally pretty dead.
What both of these entrepreneurs from two completely separate businesses have in common is they've discovered how to leverage the power of list building and email marketing to generate cash windfalls in their business.
Now … sometimes you'll hear people say things like "email is dead." But for thousands of businesses of all sizes and types (including my business and AWAI's business), email is a core component of revenue.
Not only that, email continues to be the highest ROI activity for businesses that use it, returning a whopping $38 for every $1 spent.
This is one important reason why everybody needs an email list. Whether you're a brick-and-mortar or online business owner, freelance writer, or internet entrepreneur — creating and cultivating an email list is something you must focus on in your business.
That's because in any business, email is one of the highest ROI activities you can leverage. It gives you a chance to reconnect with existing customers, engage with prospects, and can significantly increase overall profits.
So let's get into those seven power benefits of building an email list …
1. You have a direct and instant line of communication with your community.
Paying for traffic or getting organic traffic is time-consuming and expensive. Getting some of that traffic onto a list through opt-in forms and boxes allows you to leverage the traffic you have and contact your community directly and instantly. This adds far more value into all the effort you put into getting people to view your offers and content.
2. A list allows you to build trust with your audience.
When your prospects first see your site or your advertisements, it's likely they don't know you from any other random person on the Web. An email list allows you to deliver value to your audience so that they trust you more. This is especially important if you sell higher-end services or products. But it can help in any business.
People buy from people they KNOW, LIKE, and TRUST.
3. You can get real-time feedback from the people who want to do business with you.
There is nothing like real feedback from real people to fine-tune your product or service offerings. Whether you are offering affiliate products or custom jewelry, understanding what your customers want by getting real-time feedback can increase your conversion rates and allow you to charge more for your offerings.
Some email providers, like AWeber, even have in-email survey capabilities. This makes it even easier for your customers and prospects to respond.
4. Your list is a crucial part of your sales funnel.
Your list should be viewed as a critical component to all your online activities. It can make money on its own, but it is best used in conjunction with your other online activities. You can broadcast a sales sequence to your list and then upload your contacts to Facebook and then send them the same message through advertisements on Facebook to increase your conversions.
5. Your list produces incredible leverage.
If you target correctly, then your list will continue to make you more money the more people you add to it. If your list of 1,000 is worth $500 a month to you, then a list of 10,000 can be worth $5,000 a month. You can gain a tremendous amount of leverage with very little additional work — just by adding people to your list.
6. You OWN your list — it's a real asset in your business.
Your email list is an asset that you OWN. Once people are legally subscribed to your list, you can contact them again and again until they unsubscribe or you remove them.
As you develop a large, responsive list, you will have opportunities that might surprise you. People will start to want to do deals with you for joint ventures and message placements — also called sponsorships.
A responsive list is an asset that can also help you sell your business for more money.
7. Email is personal.
Email is personal, delivered to an individual's inbox. By using the power of segmentation that most modern email providers offer, you can individualize the emails you send. This gets the right email to the right person at the right time.
Email remains one of the most powerful ways to boost your business — no matter what type of business you're in. Some people even base their entire businesses on email and creating relationships with their prospects based on email marketing and simple landing pages.
The best time to start building your list is right now. The number one regret I always hear from successful entrepreneurs is that they didn't start building their list sooner. Nobody has ever said to me, "Brian, I'm so glad I waited so long to build my list and leverage the most powerful marketing tool in business history."
If you aren't building a list already, start now. You'll be glad you did.
Do you have any questions about getting started with building a list? Please share with us in the comments below so we can guide you.

How To Build Email Lists: The Fastest, Easiest, and Most Profitable Way to Get More Traffic, More Prospects, and More Sales
Learn to build lists and jump ahead of the pack. Copywriters who can also build emails lists are in huge demand, and make a lot more money than their fellow writers. Learn More »

Published: November 13, 2018