Live: The Barefoot Writer November Issue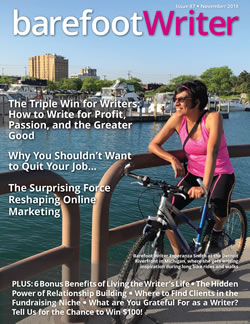 The weird thing about Barefoot Writing is that it's the best career in the world …
Yet most of us don't want to tell anyone what we do — even though it's been proven time and again that the more people you tell, the more likely you are to make connections and grow your writing business.
So what gives?
The problem — and the solution — both have to do with confidence.
You see, when most of us start as Barefoot Writers, the fear of judgment is strong.
But as Will Newman, our Featured Interviewee for the November Barefoot Writer issue says,
"One of the hardest lessons for writers — or any sort of creative person, for that matter — is to realize that other people aren't judging you. They're judging your hard work. And it hurts to have that hard work criticized, but it's not you who's being criticized. You see, if they're judging you, you can't fix it. If they're judging your work, you can fix it."
Once you realize writing is a skill that can be massaged and improved (meaning it's not a natural-born talent), then you've got a starting point. You can write daily, practice, and steadily advance your abilities.
Doing so builds confidence, and that confidence makes it's easier to tell people what you do.
Telling people what you do, in turn, builds more confidence, which people pick up on, which makes them want to hire you to write for them.
Which means you just have to get past that first step — that initial fear — and let it be known, loud and proud, you are a Barefoot Writer.
Our current issue of Barefoot Writer Magazine shares two incredible examples of writers who put this into practice. Both landed paying clients in record time after they announced their writing business to the world.
One of them will even be invoicing for four figures this month, and that's after working in the writing world for less than four months! (Read their stories starting on page 5.)
Robert Rice takes this practice one step further in his article on The Hidden Power of Relationship Building, where he explains how leveraging what you already have can give your business a significant boost. He shows you how to do it on page 24.
Other tips we share with you this month are:
How to write for profit, passion, and the greater good
Why you shouldn't want to quit your job …
The surprising force reshaping online marketing
7 bonus benefits of living the writer's life
Where to find clients in the fundraising niche
Read, enjoy, and remember: the next time an opportunity comes up to tell people what you do for a living, don't keep it under wraps. You never know where that "secret" might take you.
Click here now to read your November issue of Barefoot Writer.
Not a subscriber of Barefoot Writer? Click here.
If you're serious about getting paid to write for a living, consider becoming a member of our Barefoot Writer Club. Along with your 12-month Barefoot Writer Magazine subscription, you'll get …
Admittance to the Barefoot Writer Private Facebook Group where your fellow writers actively engage in discussions on how to grow their businesses and answer the burning questions that might be holding you back.
Unlimited access to all back issues (over 2,500 pages of content designed to help you write better, faster, and for more profit!).
Access to the private member portal of our publisher's website — an exclusive area where you can access special reports and other content loaded with secrets to getting your writing career up and moving fast.
And, of course, a whole lot more …
Membership into the Barefoot Writer Club is literally the quickest route I know to life as a paid writer: Join the Barefoot Writer Club today.

The Professional Writers' Alliance
At last, a professional organization that caters to the needs of direct-response industry writers. Find out how membership can change the course of your career. Learn More »

Published: November 2, 2018