Live: The Barefoot Writer December Issue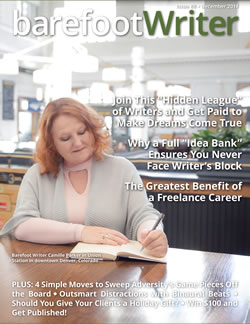 "Never get outworked."
That's the personal credo of Kevin Rogers, this month's Featured Interviewee.
If you adopt it, it will change everything about your life as a writer.
Not that it has writing origins. Kevin grabbed on to that as his personal belief system after two weeks of backbreaking work on a home construction site.
He carried it into his writing ventures and gives that mindset credit for many of his major successes (and he is a major success — read the full interview with him on page 09 of our new December issue of the Barefoot Writer).
But why is this credo so energizing to writers?
Because it frees you. Frees you from the worry that you're not talented enough or creative enough. That you don't come from the right background. That you're disadvantaged because you don't own the latest software and the trendiest computer.
If you're willing to lay it all on the line, to write more and read more and stretch yourself, to never get outworked …
Then you will prevail.
Actor Will Smith has a similar stance. As he once said in an interview with Tavis Smiley,
The only thing that I see that is distinctly different about me is I'm not afraid to die on a treadmill. I will not be outworked, period. You might have more talent than me, you might be smarter than me, you might be sexier than me, you might be all of those things, you got it on me in nine categories. But if we get on the treadmill together, there's two things: You're getting off first, or I'm going to die.
You could argue that in actuality, Will Smith really is one of the smartest, sexiest, and most talented performers out there …
Maybe. Maybe not. We'll never know how much of that is fact versus how much we've come to believe after seeing him prevail in blockbuster after blockbuster and an avalanche of successful ventures.
Which means for you, as the writer, that if you continue to put your best foot forward, put your work out there, put your writing goals first …
You'll be seen. You'll prevail. Nobody will care whether it's raw talent or tricks you picked up along the way, because nobody can outwork you, and nobody's gonna even want to try when you're at the top of your game.
Read Kevin Rogers's essay for more honest insight on the same topic — page 09.
This month's issue also features
a "hidden league" of writers who get paid to make dreams come true,
four simple moves you can make to sweep adversity's game pieces off the board,
quick and easy ways to fill your coffers with a treasury of content ideas,
advice on sending your clients holiday gifts, and
a proven way to outsmart distractions with binaural beats.
This is one of my favorite issues yet … Enjoy, and happy holidays!
Click here now to read your December issue of Barefoot Writer.
Not a Barefoot Writer Club member? Join today, I can pretty much guarantee it'll be the best decision you've ever made for your writing career.
Here's why:
The Barefoot Writer Club offers you a community of support like no other. Because the reality is, plenty of folks out there want to make a living writing.
But too many see the writing world as a place of competition and rivalry.
Yet it's NOT.
We know from experience — after watching hundreds of writers launch successful, paid writing careers — that the recipe for success is knowledge + support.
Without support from people who understand your goals and your drive to write, it's too easy to fail.
As a member of the Barefoot Writer Club, that kind of thing doesn't happen. You'll be part of a genuinely supportive group of people who give free advice and critiques, who applaud your successes and help you move past your hurdles.
Plus, there are other Club bonuses, like value-packed writing opportunity reports, including The $500 Email Secret, Get Paid to Surf the Web, The Secret of the 1-Hour Work Week, and The Lazy Writer's Path to a Six-Figure Income.
Each bonus has been specifically designed to give Club Members the best information possible for getting a successful writer's life up and moving at lightning speed.
This is how writing dreams become reality … click here to learn more.

The Professional Writers' Alliance
At last, a professional organization that caters to the needs of direct-response industry writers. Find out how membership can change the course of your career. Learn More »

Published: December 7, 2018