Create Effortless Income Writing About Topics You Love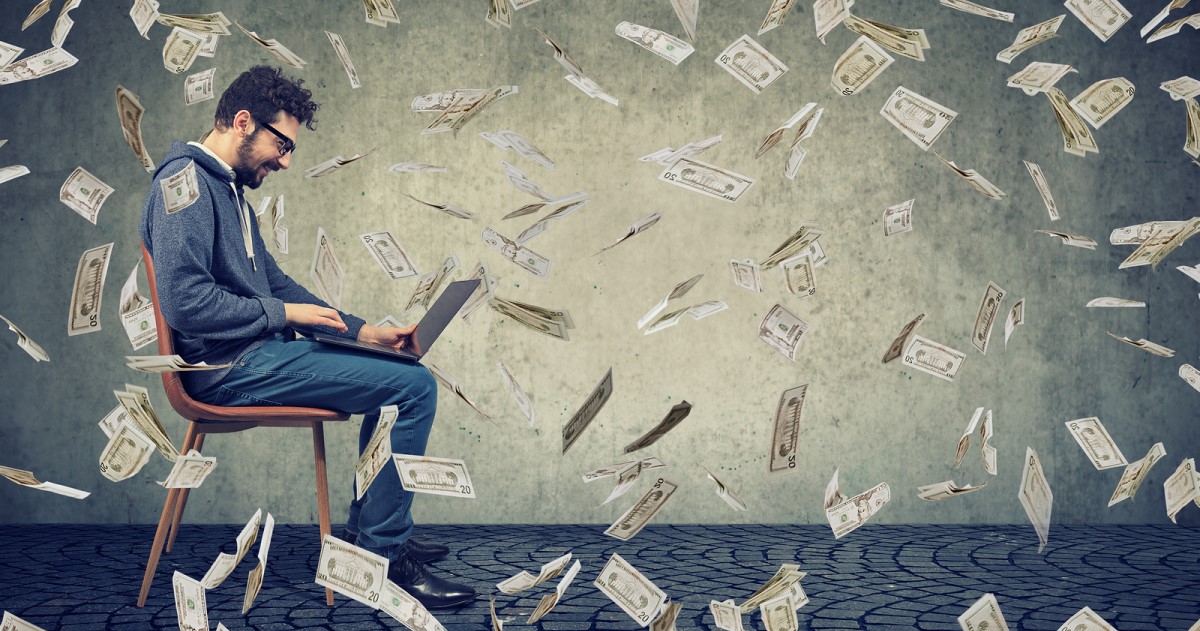 "If you have no skepticism in you, this book is not for you."
That one sentence was enough for me to dig in and learn more about Robert Todd Carroll.
To be honest, I stumbled across him by accident.
I was doing research on the origins of Wikipedia when his name popped up. Turns out, Robert's body of work is considered the world's first online encyclopedia … well before Wikipedia.
If you're not familiar, Robert is the author of The Skeptic's Dictionary, which is a collection of strange beliefs, amusing deceptions, and dangerous delusions. The book was published in 2003 and quickly became a best seller.
One reason it sold quickly is Robert already had a huge fan base. You see, before The Skeptic's Dictionary was put into print, he was writing and publishing articles on his Skeptics website, which he launched in 1994.
It's there that Robert wrote essays on all kinds of unusual topics including alternative medicine; cryptozoology; extraterrestrials and UFOs; frauds and hoaxes; junk science; logic and perception; and New Age energy.
Oddly enough, Robert never intended to be a writer.
He was studying to be a priest and had already entered a seminary. But halfway through, he decided to switch to philosophy. So in 1974, he earned a Ph.D. from the University of California and then taught philosophy at Sacramento City College until he retired in 2007.
When he was diagnosed with stage four-pancreatic cancer in 2014, he began heavily investigating different types of so-called "cancer cures" and posting his findings on his website. Unfortunately, Robert never found a cure for his cancer. He died in 2016 at age 74.
From an early age though, Robert had an interest in controversial beliefs. What he was trying to figure out wasn't just about what people believed in, but why we believe what we do. As he explained it, "I am especially interested in the cognitive biases and logical fallacies that unconsciously drive much human thinking on subjects we care most passionately about."
For Robert, exploring the unusual was his passion. He not only shared his research on his website and in The Skeptics Dictionary, but also in several other books including A Skeptic's Dictionary for Kids (9 and up). That book was later republished as Mysteries and Science: Exploring Aliens, Ghosts, Monsters, the End of the World and Other Weird Things.
His other books include Unnatural Acts: Critical Thinking, Skepticism, and Science Exposed and Becoming a Critical Thinker. He even created his own podcast, Unnatural Virtue, which began airing in 2012.
Something noticeable about Robert's work is how he viewed skepticism as science. From his years of researching the subject, he determined there are two types of skeptics, the Apollonian, who is "committed to clarity and rationality" and the Dionysian, who is "committed to passion and instinct."
William James, a psychologist; Bertrand Russell, a mathematician; and Friedrich Nietzsche, a German scholar; are examples of people he considered Apollonian skeptics. Charles Sanders Peirce, a scientist; Tertullian, an early Christian theologist; Søren Kierkegaard, a Danish philosopher; and Blaise Pascal, a French mathematician; are Dionysian skeptics.
Now, in addition to having a cult-like fan base of followers, how else did Robert become a best-selling author? I'll tell you how in just a minute, but first Dear Copywriter, let's talk about the different ways you can follow in Robert's footsteps and create your own Money-Making Website.
Money-Making Website Step #1: Know your passion. Each one of us has a subject or topic we are passionate about, in the same way as Robert. And when it comes to creating a Money-Making Website, it's your passion that fuels your success.
And finding your passion could be easier than you think. You can start by answering these questions honestly, which will help you work out what to do with the rest of your life.
"What subject could I read 500 books about without getting bored?"
"What could I do for five years straight without getting paid?"
"What would I spend my time doing if I had complete financial abundance to do anything?"
Money-Making Website Step #2: Create a website. Once you know your passion, the next step is to create a website. The good news with this step is you don't need to be a tech geek or a professional programmer.
These days, with easy-to-use website platforms such WordPress, Joomla, or Drupal, you can create a website within minutes. You just choose the template layout you like best, and then download it to your computer, and you're ready to go.
Money-Making Website Step #3: Share your writing with others. Now that you have your website up, start sharing your passion with others. You fill your website up with content you've written on the subject you've selected as your passion.
You can post all types of content including articles and essays, quizzes, checklists, and surveys.
And you can post the content you've created daily or a few times a week, depending on how much free time you have in your schedule.
Money-Making Website Step #4: Optimize your content. As you write your content, embed keywords that drive traffic to your site. Keywords are words and phrases people type into a search engine when looking for information.
These keywords help make your content show up in search inquiries. In other words, that's how people find your website.
More good news here too. You can download SEO software plugins and install them on your website. These plugins are guides that help you get the keywords right.
Money-Making Website Step #5: Get paid for your content. Once you have website traffic coming to your site, sign up for Google's AdSense program.
More good news. Google supplies you with an advertising code that you add to your website. This code makes it possible for ads from other companies to show up on your website. And whenever a person who visits your website clicks on that ad, you get paid money.
The more people who click the ad, the more money you make. And you can pick which types of ads you want on your website.
The neat thing about having your own Money-Making Website is that once you get it up and working, then it runs on auto-pilot. It's like turning your computer into a moneymaking machine.
The only thing you have to concern yourself with is updating the site with fresh content.
But since you are a writer, this is a no-brainer … especially when the topic you are writing about is something you truly enjoy. The other cool thing about having a website is that over time, you become recognized as an authority on the subject.
And as you've seen from Robert Todd Carroll's story, you can be an expert on almost any subject you choose.
How else did Robert Carroll become famous? He understood the power of marketing. Telling people that if you aren't a skeptic, don't read this book is a surefire way to get people interested and buying.
He even created four distinct audiences for his book: (1) The open-minded seeker, who makes no commitment to or disavowal of occult claims; (2) The soft skeptic, who is more prone to doubt than to believe; (3) The hardened skeptic, who has strong disbelief about all things occult; and (4) The believing doubter, who is prone to believe but has some doubts.
These categories are so wide-ranging, it's easy for readers to find one that matches their level of skepticism, which in turn gave Robert a large target audience of interested book buyers.

How to Write Your Own Money-Making Websites
Learn how to write an information website in your spare time and earn $1000, $3000, even $5000 a month in passive income. Learn More »

Published: December 24, 2018