A Tip for Writers: The Power of Going Small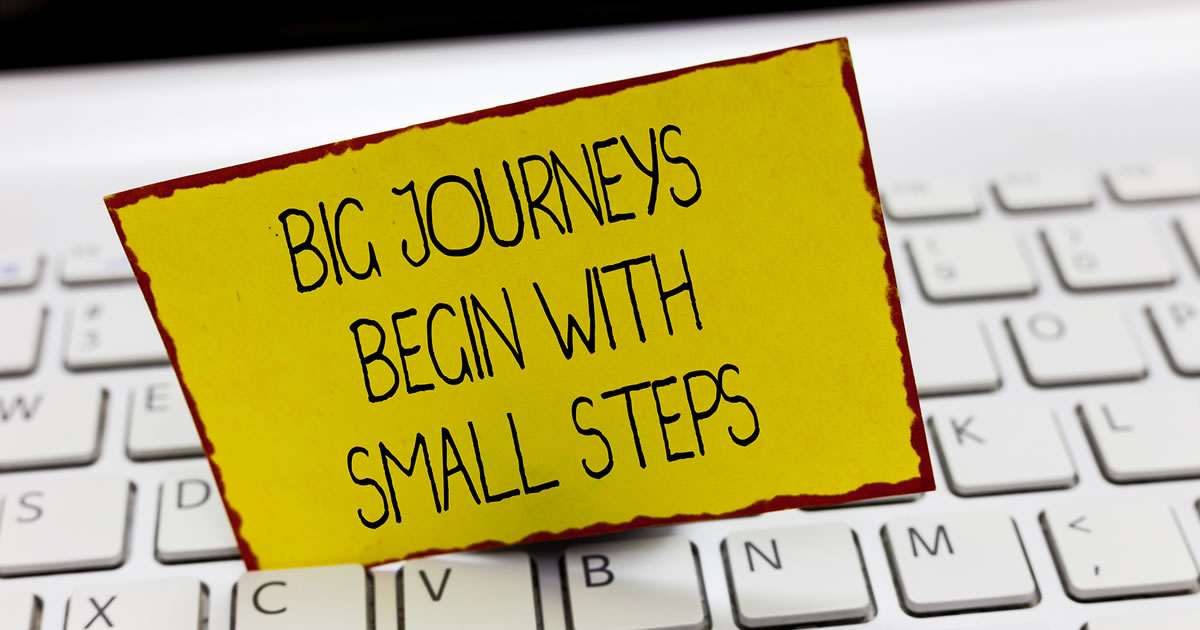 It sounded ridiculous.
Yet I oohed and aahed with everybody else while my friend, Michelle, explained how she'd gotten through her dissertation.
She'd been scared. Procrastinated big-time.
Then got the advice to take baby steps so small they were hardly discernible as actions …
On the first day, all she did was look at her laptop bag. That was it. That was a win.
The second day, she reached in and touched the laptop. Nothing more.
The third day, she set the laptop on her desk and walked away.
Fourth day came, and she opened, then closed her laptop. Fifth day meant turning it on … then immediately off.
Sixth day was when she opened a Word doc and saved it with no text. And on the seventh day, she wrote her name in the document. Just her name. Then walked away.
Do you see where this is going?
The first time I heard this story, it was so painfully slow I didn't think I'd stay awake for the end.
But then Michelle's story took a leap I hadn't expected.
She explained how this constant, low-stakes therapy gradually decreased her fear of writing her dissertation. Procrastination became a non-issue because her daily exposure made her feel like a person who took action. Those actions became a habit. She got things done.
Today, Michelle is a well-regarded professional with multiple publication credits in her field.
Most psychologists refer to Michelle's approach as exposure therapy. It's an approach used by neuroscientists to help people with anxiety disorders. Repeated positive exposure to something you're afraid of gradually tamps down your fear response.
And by breaking it down into such excruciatingly small steps, Michelle took her fears and that dissertation she'd over-intellectualized, and gradually exposed herself to them in a low-stakes way. If all she had to do one day was touch her laptop, it satisfied her goal for the day and brought her closer to believing she was an action-oriented person.
It works because your brain is put together in layers, like baklava. (Some would say an onion, but wouldn't you rather be a sweet, layered pastry then a smelly root vegetable?)
The primal part of your brain — the part that decides to run if you see a bear — is faster than reason. So if you're afraid of something, like setting up your professional website or sending a writing sample to a possible client, your pulse will quicken before you can even reassure your mind that it's no big deal.
The only way to stop your primal brain from responding with fear is repeated, success-based exposure — much like Michelle's ultra-baby steps to writing a large project that daunted her.
How can you use this knowledge to succeed in your writing goals this year?
Take the thing that scares you most and break it down into teeny-tiny, absolutely achievable steps.
And then celebrate those tiny wins. Because another way to paralyze your brain into non-action is to set goals that are so large you don't know where or how to start.
But small goals aren't as scary.
Here's how you use exposure therapy to benefit your writing career:
Identify the thing about paid writing that most scares you. Is it the writing itself? Reaching out to clients? Setting fees? Putting yourself online in a professional way?
Write out a statement about why you want to achieve that goal. What will it bring you? How will it make you feel? For example, "Once I have my professional website up and running, I will look more serious about writing, land more clients, and make more money. And doing all that will make me feel like a successful, professional, real writer!"
Break down the steps you need to take to achieve that goal. (Example: Pick a domain name and host, write the copy, post it online.)
Now, break those steps down further. Aim for five baby steps to every one big step. (For example, "Pick a domain name" breaks down to 1) Turn on computer, 2) Read definition of domain name, 3) Read article on domain name best practices, 4) Make list of three possible domains, 5) Close eyes and pick one.)
Assign each step its own day (e.g., Monday, Tuesday, Wednesday). Ideally, complete the step at the beginning of each day so it doesn't weigh on your mind.
Eventually … you will accomplish your goal!
If you're wondering how it's possible to speed up your earnings when you only complete tiny forward steps each day, here's the thing: Once you get over that one thing that's holding you back on a fear-based, anxiety level … you'll be shocked at how fast you'll move forward as a writer.
And hey — we ALL have them, these little anxieties that trip us up. Feeling fearful about any part of the paid-writer process makes you more normal than you think. But because we have the luxury of holing ourselves up in a blissful, independent state anywhere we please in the world, we have to address these fears head-on. No one will do it for you.
So make THIS the year you tackle that big, scary thing, and watch your writing career take flight.
And if you'd like any more tips on how to accelerate your earnings and refine your writing, check out this month's issue of Barefoot Writer Magazine. (Sign up for the Barefoot Writer Magazine now if you're not already. We're a fun group, with a mission to help YOU succeed!)
Do you have any questions about your baby steps to getting started as a writer? Share them in the comments below so we can guide you.

The Professional Writers' Alliance
At last, a professional organization that caters to the needs of direct-response industry writers. Find out how membership can change the course of your career. Learn More »

Published: January 31, 2019