These Writers Are Proof that Having a Mentor Is All You Need to Launch Your Writing Career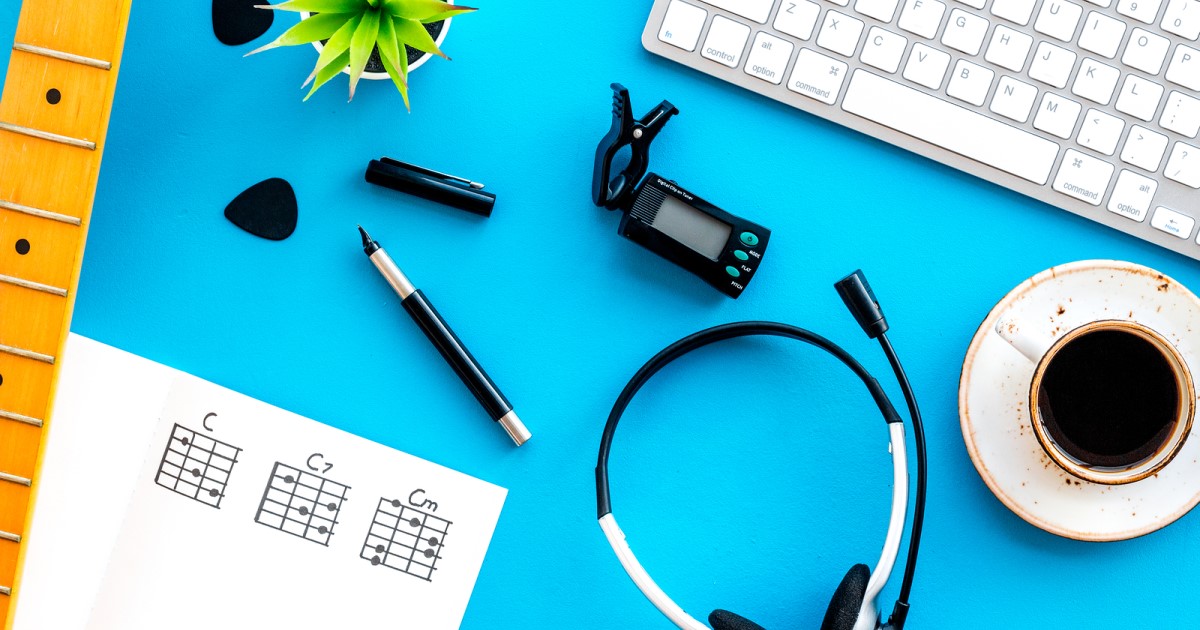 They were born 6,102 miles apart.
But they share the same talent: Writing hit songs.
And while you probably don't recognize their names, you've most certainly heard one of their hit songs (this is just a partial list of hits):
"Baby One More Time" (Britney Spears)
"I Want It That Way" (The Backstreet Boys)
"It's My Life" (Bon Jovi)
"Since U Been Gone" (Kelly Clarkson)
"I Kissed a Girl" (Katy Perry)
"Wrecking Ball" (Miley Cyrus)
"Who Knew" (Pink)
"Shake It Off" (Taylor Swift)
Combined, Martin Sandberg and Lukasz Gottwald have written close to 100 songs that either reached the number one spot on the charts or made it onto the Top 10 hit list for the past 20 years.
While neither one planned to become famous songwriters, music was always their passion.
Martin or Max Martin, as he is known in the music industry, started his career playing in a heavy metal band called It's Alive. Although the band made a few albums, it never gained much of a fan following. In 1994, the band embarked on their first ever-European tour, hoping to become a household name.
And it's while touring that Max Martin met record producer Denniz PoP who took a liking to the young artists. In fact, Denniz became Max Martin's mentor. In 1995, they co-wrote songs for then little-known band, The Backstreet Boys. Almost every song they wrote for the group's debut album became a huge hit in Europe, including "Quit Playing Games with My Heart" and "As Long As You Love Me."
At the time, the group was only popular in Europe. They had tried earlier but were unsuccessful at gaining the attention of U.S. fans. But, it all changed with their newfound European success.
The same hit album was then re-launched in the U.S. with the song "Everybody (Backstreet's Back)" topping the charts in 1997.
That's also when Max Martin launched his solo writing career. His next gig was writing songs for Britney Spears' debut album, Baby One More Time, which sold a record-breaking 30 million copies within one year of its release date.
And from there, the hits just kept coming. Soon, Max Martin was writing for Pink, Ariana Grande, The Weeknd, Taylor Swift, Adele, Justin Bieber … and that's just a small sampling of artists who sought his help.
According to Billboard, which has been tracking songs since the 1950's, Max Martin has 58 chart-topping songs to his credit. And he's racked up a handsome fortune too … with a net worth of over $260 million.
Coming in a close second with a total of 39 Top 10 hit songs is Lukaza Gottwald. Lukaza, or Dr. Luke as he is called, began his music career in 1997 as lead guitarist for Saturday Night Live's (SNL) house band.
When he was in the SNL studio, Dr. Luke occasionally worked as a DJ, and it was during one of these events that he met Max Martin. The two struck up a friendship, and Dr. Luke offered to give Max Martin a tour of New York's best nightclubs. It wasn't long after that initial meeting that Dr. Luke became Max Martin's writing protégée.
The duo's first hit song was "Since U Been Gone," featuring Kelly Clarkson, winner of the popular talent show, American Idol. While Dr. Luke has an impressive list of clients and songs, his fortune doesn't quite match Max Martin's but it's still a gigantic number: $100 million net worth.
After several years of writing songs together, the two went off in different directions. Dr. Luke's career nose-dived when serious legal issues arose with one of his top artists. Meanwhile, Max Martin's career has stayed strong. He's now putting the finishing touches on his first-ever Broadway musical, which many critics say will rival the success he achieved as a songwriter.
Max Martin and Dr. Luke are a powerful songwriting team, but there's only one other songwriter who rivals their number of chart toppers and I'll tell you who it is in just a minute, but first, Dear Copywriter, let's go over a few lessons you can learn from these writing geniuses.
Lesson #1: If at first you don't succeed, try again. Both Max Martin and Dr. Luke could have easily given up their careers when they didn't achieve success as musicians. Instead, they kept at it. And it was their "hang in there" attitude that led them to important industry connections.
The same is true with copywriting. You might not get your dream client right away, but if you keep at it long enough, keep practicing your craft, eventually you'll land a project that's perfect for you.
Lesson #2: One breakthrough can turn you into a sought-after writer. Max Martin and Dr. Luke made a name for themselves writing hit records, which is why almost every singer who is well-known these days, went out of their way to hire them. They knew their chances of getting a breakthrough hit song were practically guaranteed if Max Martin and Dr. Luke were writing it.
Once you write a sales letter that outperforms your client's current one, you're bound to get the next writing assignment they have lined up. And not only will you get their assignment, other clients will seek you out too. You'll be known as that copywriter who gets results.
Lesson #3: Repeat what works. Once Max Martin and Dr. Luke figured out a formula that always worked for creating hit songs, they just repeated it over and over again. Rarely did they experiment with different melodies, beats, or style of lyrics.
When you find a persuasive writing style that suits your natural abilities and skills, and produces results, stick with it. This doesn't mean you should refuse your client's request to come up with new offers, terms, or headlines to test against other sales letters.
It simply means keep your style and tone of writing the same each time. And change it up when test results show it no longer works.
Lesson #4: Sometimes one client is all you need. For more than 20 years, Max Martin and Dr. Luke was the one writing team artists could turn to for hit songs.
Don't get me wrong, there are other songwriters that have great success but it doesn't compare to what these two achieved.
As you gain a name as being "a go-to-copywriter," you might find that one of your clients will want to work with you exclusively. This means they'll put you on retainer, paying you enough money so you won't need to work with other clients.
Lesson #5: Get a royalty deal when you can. Dr. Luke and Max Martin made most of their fortunes on the royalties they were paid for writing hit songs.
When you're negotiating with clients, try to get a royalty deal. This is money clients pay you in addition to up-front flat fees. And it adds up quickly. If you write a letter that brings in $500,000 in sales for your client, and you get paid a 5% royalty, you wind up with an extra $25,000. Get paid that amount a few times throughout the year and you can see how easy it is to be a six-figure copywriter.
Financial and health publishers are well-known for paying royalty fees to copywriters, so you can start your client search in those industries. If the client you land doesn't know about royalty payments, then educate them and work with them to get one locked in.
Lesson #6: Find a writing mentor or coach. Max Martin's writing career really took off when he teamed up with record producer Denniz PoP. Denniz trained Max Martin on studio recording equipment as well as gave him a better understanding of what songs sell in the music industry.
And in turn, Max Martin became a mentor to Dr. Luke, teaching him what's necessary to write songs that will become instant hits.
That's the power of having a mentor and coach … someone who can help you build your writing career and give you a leg-up on getting ahead, but also can help you avoid time-consuming and sometimes-costly mistakes.
With the right mentor's guidance, you're in a better position to earn your way to a six-figure income.
AWAI has vetted a number of excellent coaches. You can find them here: https://www.awai.com/about/experts/coaching/
Plus, several programs offer a built-in coaching or mentoring component, so watch for those opportunities as well. The important thing is to get the help you need to keep building a writing career you enjoy.
Who is the other songwriter who matches Max Martin and Dr. Luke's success? He's not only a songwriter but also a musician and was the lead singer for one of the world's most popular bands, The Beatles.
I'm talking, of course, about Paul McCartney. On Billboard's Hot 100, he has 40 songs that made it as a solo artist and with his band Wings. On top of that, he has written, or co-written, a record-holding 32 number one chart-topping songs for the Beatles or himself.
His most popular song of all time is "Silly Love Songs," which stayed at number one for five straight weeks. And his Beatles song, "Yesterday," has been covered by more than 2,200 artists, making it one of the most covered songs in popular music history.

The Professional Writers' Alliance
At last, a professional organization that caters to the needs of direct-response industry writers. Find out how membership can change the course of your career. Learn More »

Published: January 28, 2019