Three Ways to Use a Money-Making Website to Get Your Foot in the Door with Any Client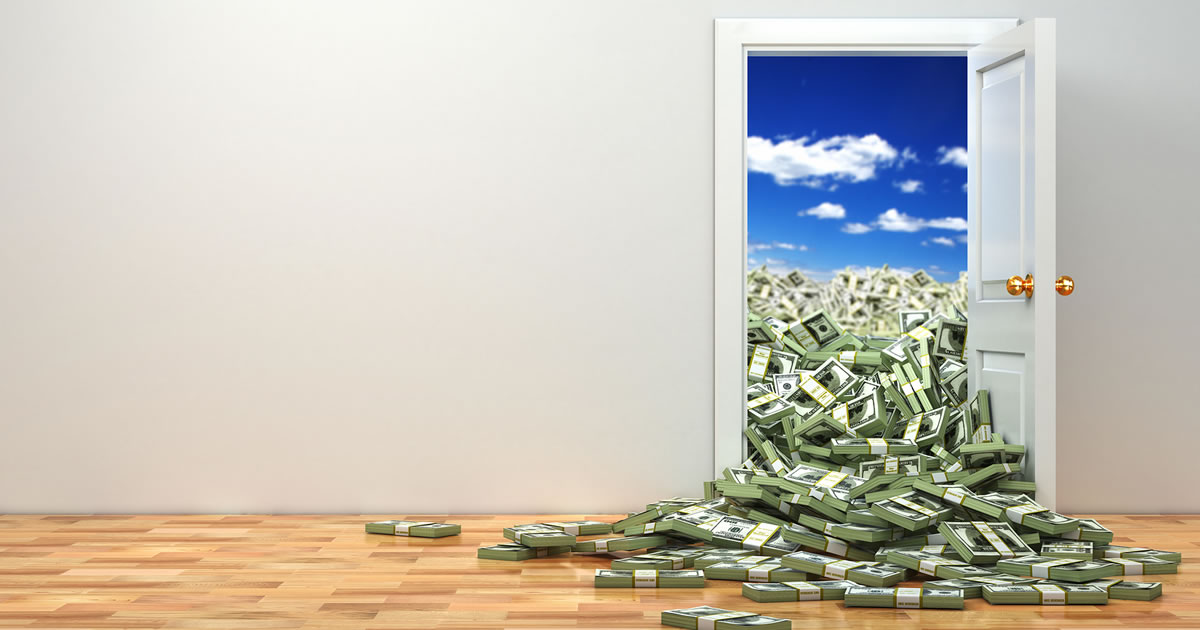 Imagine sending an email to a potential client … and having them respond minutes later …
Or better yet, having not just one but several potential clients reaching out, trying to convince YOU to write for them. Your toughest decisions will be which one to work with and how fast you can get started.
Getting clients might be one of my favorite benefits of writing a Money-Making Website (next to the passive income, of course!). Yet oddly enough, it's a benefit that's often overlooked or ignored …
Your website is an incredibly valuable self-marketing tool that gets your foot in the door with any client you want to work for …
And immediately demonstrates your writing ability and expertise. It's literally the perfect writing sample.
In fact, if I were starting a new freelance writing business tomorrow, I'd start with a Money-Making Website.
If you're not familiar, I'm talking about a website that provides information on a specific topic. In this case, your website would be on a topic relevant to the niche in which you'd like to land clients. You can learn more about them here, but let me show what I mean with this example …
Let's say your writing niche is the infant safety market. Your ideal clients are companies who sell safety products and services to new moms.
You might put up a Money-Making Website filled with content geared toward first-time moms, addressing their most pressing fears and concerns about caring for their new little babies.
On your website, you may have how-to articles, training videos, a community forum, and reviews of various products and services they'd be interested in (the ones sold by your dream clients!).
Your website now becomes a place where new moms can find answers to their questions, solutions to their problems, and connect with other moms.
But, here's how your website becomes the foundation for your perfect client-getting marketing strategy …
First, your Money-Making Website positions you as an expert in your field. It gives you instant, undisputed credibility with clients.
Second, your Money-Making Website is your best writing sample. All the copy and content you put on your website demonstrates your writing ability, and also proves your in-depth understanding of your industry.
And third, your Money-Making Website is an immediate conversation starter. Any time you want to approach a new client, your site gives you a relevant reason to reach out, and a valuable reason for them to respond.
Remember, as a Money-Making Website owner, you're not just a freelancer looking for work …
You're a colleague in the industry. You already have a relationship with the audience your client is looking to reach.
So whenever you want to get your foot in the door, use your website as the starting point to connect with your client.
How exactly do you do this? Let's look at three ways that are proven to work …
Get Your Foot in the Door Strategy #1: Write Product Reviews
Your ideal clients have products they want and need to sell. After all, that's why they're in business …
People coming to your website want your advice on which products to buy.
You're a trustworthy source for information … they're looking to you for relevant and useful product reviews.
Those reviews can directly drive sales to your ideal clients. So whenever you write one, let the client know the review has been posted on your website.
I guarantee they will immediately go to your website and read the review. They will then go on to review your entire website …
After all, they want to know how reputable the reviewer is, and what kind of exposure the review can give them.
They get to see firsthand just how knowledgeable you are, and how well you can write relevant copy and content.
It's like getting an open audition anytime you want one!
And the same thing happens with the next strategy too …
Get Your Foot in the Door Strategy #2: Write Sales Pages
One of the many ways you earn income with a Money-Making Website is by selling other people's products on your website in exchange for a commission — in essence, you become an "affiliate."
It's the perfect win-win …
You get an inventory of products to sell, without having to spend any time, money, or risk developing them. And, companies get a "sales rep" they only have to pay when there's a sale.
Just like with the reviews, whenever you write a sales page on your website for the product, ask the client to review it for accuracy. Once again, they'll see exactly what you can do for them!
Which leads me to the third way you can use your Money-Making Website to get your foot in the door …
Get Your Foot in the Door Strategy #3: Give Free Publicity
On your Money-Making Website, you're going to be writing and posting fresh content on a regular basis. And, one of the best ways to make your content stronger (and make your site the authority on the topic) is to include proof and credibility in the form of quotes from reputable sources in the same industry.
On the flip side, one of the best ways for a company to stay relevant, and prove their own credibility, is to be quoted by a third-party source.
Once again, a win-win for you and your potential clients.
By asking your ideal clients for quotes, and ultimately showing them examples of other companies' quotes, you'll once again help them see the value and credibility of your website.
You'll also establish that your emails are important and need to be opened quickly. (They don't want someone else being quoted!)
Now it's just a matter of expanding the relationship …
If you use any of these three strategies (or all of them), you will quickly establish a relationship with your dream clients.
Once you have a relationship, the door is open to explore different ways to work together, which can lead to more projects, and ultimately more income. It's just a matter of saying these 17 words …
"You've seen what I can do on my own website. Let me do the same for you."
If you have a question about Money-Making Websites that hasn't been answered yet, or you have a question about any of the strategies I talked about in this issue, be sure to post them in the comments below.
Editorial Note: Ready to get started? Go here to see how quickly you can put up a Money-Making Website.

How to Write Your Own Money-Making Websites
Learn how to write an information website in your spare time and earn $1000, $3000, even $5000 a month in passive income. Learn More »

Published: January 4, 2019