Use this Fold Principle to Impress Web Copywriting Clients and Get Gigs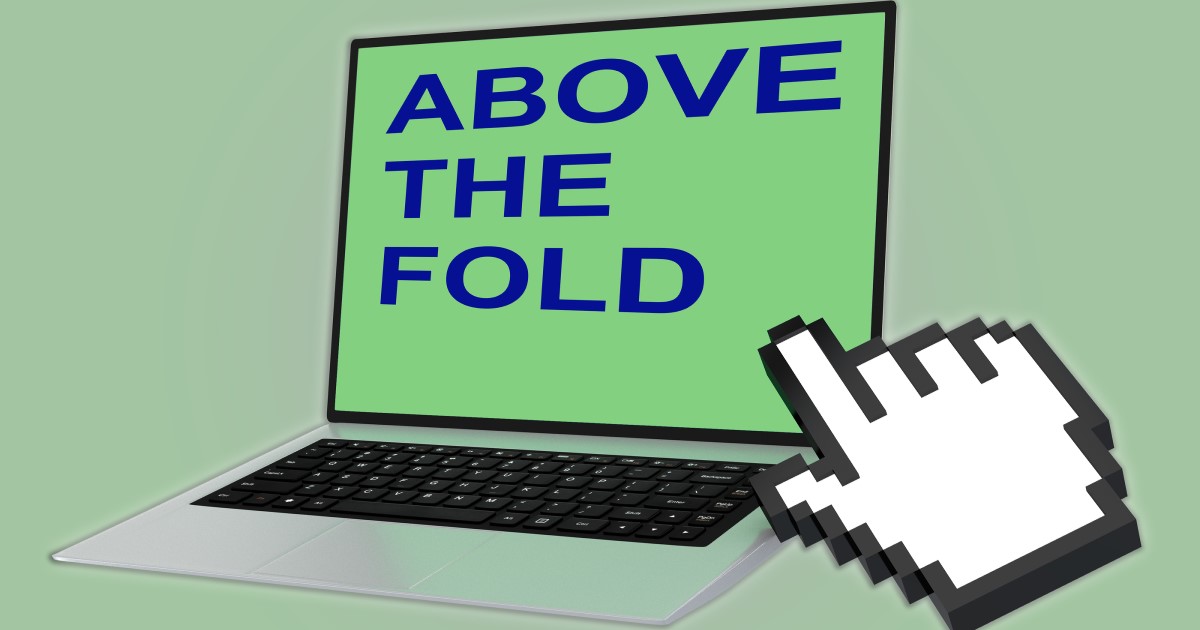 Websites are judged "swiftly and ruthlessly," as noted in a recent study of website first impressions.
A fascinating statistic from that study is this: "It takes 2.6 seconds for a user's eyes to land on the area of a website that most influences their first impression."
With such a short window of opportunity, websites need to make a solid, positive first impression. And where do web visitors get that first impression?
Above the fold … which is the top section of a website that appears on a laptop, tablet, or smartphone, before you have to scroll for more information. (If you're not familiar … The expression "above the fold" comes from an old newspaper term. It referenced the headlines and copy appearing above where the newspaper was folded in half.)
Now, think about websites you visit. What's the first thing you see, and what turns you away? Quite likely, it's the information "above the fold," right?
If the information is clear, helpful, and meets your expectations (telling you, yes — we have what you need) — that's a great impression.
But if the "above the fold" first impression is a giant, slow-loading slide show or a large, text-free image that dominates the entire space — that's NOT a great impression.
To web usability experts, it's common knowledge that the area above the fold is more and more critical in a cluttered marketplace, in just about every industry.
Here's why, and what it means to your web copywriting career.
When people search for solutions via Google and other search engines, they want to find websites that deliver those solutions.
For instance, in the B2C (Business-to-Consumer) world, they want to find answers to a "how-to" question or find the perfect eco-friendly baby gift or perhaps find a local car repair shop.
Or in the B2B (Business-to-Business) world, professionals might be looking for a company that provides safety training, sales management software, or equipment to run their operations.
When these prospects click and land on a company website, that first impression fold area must do the heavy-lifting to keep the prospect interested … or it's back to Google.
The opportunity is instantly lost for that company. Ouch.
The concept of the Fold Principle is simple. Websites live and die by their first impressions, which are mainly established above the fold.
As a web copywriter, you have an incredible opportunity to help companies fix their first impressions and bring in more leads and sales.
Imagine the value you'll bring to clients when you're the one who can show them how to turn their first impression and ALL their web content into MORE SALES.
You'll impress them with your smarts.
You'll prove that you're a great resource for them.
And, you'll land writing work with them, because they'll want more and more help to make sure web visitors turn into sales leads and buyers.
So, how do you show companies how to improve their websites?
Here's three quick ways to audit their site for the following:
"Above the fold" first impression: Headlines, message presentation, etc.
How the company presents itself as offering the BEST solution: Whether or not it's positioned competitively to be the obvious choice.
What's next: How the website leads the visitor from the headline/clear promise to the next step: get a free report, watch a demo, sign up for a free trial, etc.
Of course, there's more ways you can help improve a client's website by performing a Site Audit, which is a simple way to conduct a thorough, highly valuable review of the client's website, pinpointing problems to fix. Using a Site Audit checklist, you can evaluate each component of the content such as:
Overall messages (clear and customer-focused)
Location and "readability" of messages (easy to see right away)
Navigation clarity (visitors can find what they need very quickly)
Links (easy to spot, guiding visitors to the next step)
Calls-to-action (getting visitors to ACT and get something of value)
The use of search engine keywords within the content
And more
Web copywriters are paid quite nicely to conduct these valuable Site Audits … as much as $1,000 to $2,500 on up, depending on the scope.
And then … here's the best part …
Once you conduct a Site Audit and show clients where they may be missing opportunities to bring in more sales, you'll then present a proposal to fix all the issues you found.
You'll offer to revise the web content, so it brings in greater results for the client. That can lead to a major web copywriting gig, since most clients have dozens of web pages to improve.
See how the Fold Principle can be your brilliant door-opener as a web copywriter?
Give it a try by looking at websites you visit and considering the first impressions they project to you. It's great practice for doing this with clients who need your help.

Site Audits Made Simple: Consult Your Way to Lucrative Web Copywriting Projects
Pam Foster reveals how you can make as much as $2,500 auditing websites while setting yourself up for even bigger web copywriting projects. Learn More »

Published: January 21, 2019