February Issue: Gateway trick to higher fees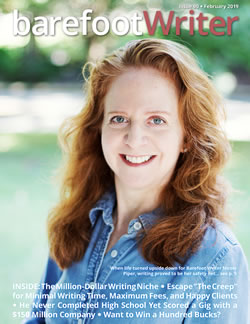 Potlucks. That's the thing I miss most from my days in the corporate world.
Really, it's the only thing I miss.
Partly because nothing beats homemade food that's cooked for you by someone else …
But mostly because of the communal spirit, where everybody contributes something and nobody gets left out.
I thought I'd never find that in the writing world … yet I couldn't have been more wrong!
The "potluck" version of the writing world happens when others pitch in to help you get off the ground.
You see it when someone guides you toward a niche … or reviews your copy … or critiques your website.
You see it in the supportive posts from our Facebook community … in the glowing testimonials about our live events that bring people together … and in the comments section of our articles on the AWAI site.
In the world of Barefoot Writing, your community is here for you. And I want to use this opportunity to encourage you to make friends within the writing world.
Why?
Because there's a hidden payoff in reaching out and being an active part of this community. Beyond the encouragement, it's also a gateway to more projects and higher fees.
If you want to see that practice in action, you'll love this month's Barefoot Writer. It includes
the story of a high school dropout who scored entry into a $150 million company.
an article on how a little-known social platform is making waves helping people find clients and connections in their hometowns
a tactful way to maximize your fees with minimal writing time and happier clients
one writer's story about making her career more portable … and taking it all the way to India!
Finally, I think you'll get a thrill — as I did — out of our interview with financial publisher and writer Aaron DeHoog, who reveals strategies I'd never heard of for landing the type of writing projects that could bring you avalanches of royalties.
Click here now to read your February issue of Barefoot Writer.
Love our new cover look? We do too … but more than that, we love the story behind it. See page 5 to find out why Barefoot Writer Nicole Piper is smiling.
Are you ready to get paid to write, be your own boss, and work from home? A lot of writers want this. What holds them back is needing a roadmap.
Let me introduce you to our Barefoot Writer Club. It's a group of writers who have crossed over from "hopeful" or "wannabe" to high-earning professional writer status.
The Barefoot Writer Club puts you on the fast-track to living the writer's life of your dreams. It shares proven strategies that make all the difference when you're just starting out and as you grow your writing career. Strategies like …
Where to find guaranteed writing gigs that pay, and pay well
Plans you can follow to make a living as a writer
Tips to jump-start your creativity
Advice on how to write your way to a passive income
Stories and advice from your fellow writers (successful, independent, money-making writers!)
Proven productivity tips
Roadmaps on how to build a writing platform so people who'll pay you to write can find you
And so much more beyond that! The Barefoot Writer Club also gives you private access to our Members-Only Facebook page where you can ask for and get advice on your writing goals.
Hands down, it's THE way to get a profitable writing career up and running. Proven, tested, and FUN. Get the details here.

The Barefoot Writer
Discover a lucrative style of writing that will give you as much freedom as you can have while earning a great income at the same time. Learn More »

Published: February 1, 2019