How to Overcome the Fear of Getting Started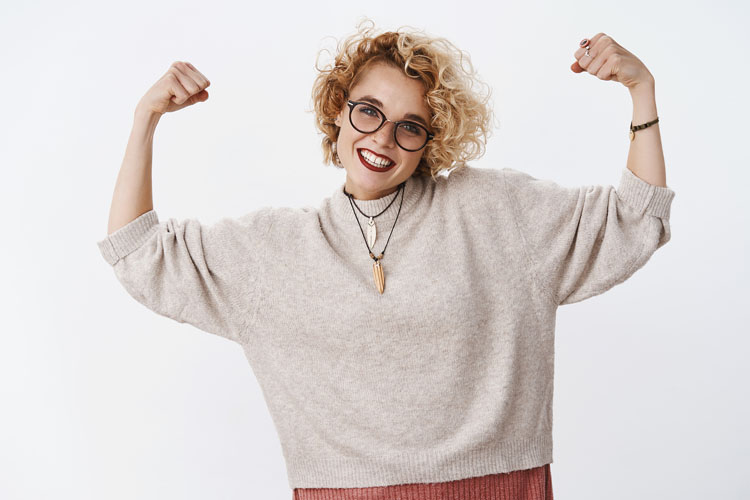 It's a catch-22 … confidence is hard when you don't have any confidence.
As a beginner copywriter, you may have experienced the fear of getting started.
How to start.
Where to start.
Then you have to pick a niche.
Then you have to find that first client.
You're new to writing. You don't have a track record.
And you wonder: "Can I really do this?"
Plus, for perfectionists, the issue is, "I must be able to do this flawlessly in order to even start."
Ridiculous, I know. But that's how we think.
Some of us fear failure and some may also have a fear of success.
That one threw me at first. Why would anyone fear achieving a goal?
But then someone explained what it really means …
It's when you know your life will change.
The fear is that you don't know how it will change. Where will it take you?
So, you put on the proverbial brakes. Maybe even unconsciously self-sabotage in order to avoid the changes. Maybe you even fall back on those convenient perfectionist excuses.
There's a phrase aligned with both of those fears …
It's called your "comfort zone."
You probably think of your comfort zone as a happy place. After all, it's right there in the title.
It's comfortable.
We all want to stay safe and comfortable.
In fact, science has even discovered that we all respond to change in pretty much the same way …
We go out of our way to avoid it.
You know that saying by Jack Heath:
"Better the devil you know than the devil you don't."
Yep, that's your comfort zone talking.
So you avoid and procrastinate. You grab another shiny object instead of getting down to it.
You spend time on things that seem important, but don't move your business forward.
Fear Is a Common Experience
Of course, going into a B2B niche seems like it should be easier.
After all, a lot of us leverage our prior professional experience when choosing a specialty.
That way, you have industry — or even product knowledge — right from the start, which can help you feel like you're not quite so far outside of your comfort zone.
Yet, as a copywriter, you're coming at it from a different angle and utilizing new skills.
But you know what …
When you think about it … comfortable is nothing other than the enemy of progress.
"If you're interested, you'll come up with stories, excuses, reasons, and circumstances about why you can't or why you won't. If you're committed, those go out the window. You just do whatever it takes." ~ John Assaraf
Goodbye Comfort Zone — Hello Growth!
Here's my idea: How about if we just say goodbye to the comfort zone?
Let's erase that phrase from our vocabulary.
Because here's the real truth.
Those feelings that we refer to as discomfort … anxiety … or even fear … They're actually good things.
They're growth!
Here's an example … Have you ever started a new workout and ended up with sore muscles the next day?
Every trainer will tell you that's because those muscles are getting stronger. The ache is a sign of stretching, growing, and becoming mightier.
And you totally accept that as part of the process.
So why do we expect we can stretch our brains and our talents and our abilities without any growing pains?
We can't. Growing pains are a necessary part of the process.
So from now on, instead of fear, let's call it growth.
Anxiety and uncertainty? Nope! That's momentum.
Growth isn't scary.
Growth is what makes you better … and stronger … and ultimately successful.
Growth is exciting … and challenging … and fun!
Growth eliminates complacence. Growth makes room for innovation and coming up with new ideas.
"When you change the way you look at things, the things you look at change!" ~ Max Planck
So no more fear of failure or success, okay?
Only excitement for how much fun you will have as you grow today.
Because if you can get comfortable with being uncomfortable, your confidence will grow bigger with every next step.
You can get excited because you get to learn something new.
You get to challenge yourself to create something you've never created before.
You get to feel the satisfaction when your client tells you how well the piece did.
Don't feel it? Then you're not stretching far enough.
Go to Bootcamp. Yes, you'll hear great speakers. And you'll make friends. But mostly you'll gain camaraderie. You're not in this alone. Join a tribe of others who are growing and changing and pushing out of their comfort zones.
Welcome Change and Accelerate Your Momentum
To motivate yourself, you should set goals. And as soon as you achieve a goal, you should immediately look for the next goal.
Yet the fear of the unknown may still hold you back. The fear that someone will ask you to do something you're not totally prepared for. Or haven't done yet.
No problem. Because you've erased comfort zone from your vocabulary.
And the good news is, you can easily practice.
I remember the first time someone asked me what I did and I answered, "I write promotional materials for businesses."
They didn't laugh in my face.
Practice saying what you do out loud once. The second and third time it won't feel weird.
And after that, you'll start to believe it. Once you believe it, everything else gets easier.
Don't think of it as, I'm afraid to get clients or I need to get clients. Instead, think of it as who can you help. "I'm here to help you …" is so much more of a positive position to be in.
You won't fear samples, you'll want to create them. And once you become excited by this new path, that's when it all starts happening.
Practice every day. Even before you have clients. Practice is your confidence.
The truth is, you don't need a client to create a sample. Pick a product from your niche on Amazon or online. Write an article promoting it. Now you have a sample.
AWAI has specs open year round, including at B2B Writing Success.
It will be a confidence booster AND a sample.
Once you have things like these under your belt, it will be easier to keep moving forward toward your goals.
Remember … You're not here to stay comfortable. You're here because you want change.
Take your comfort zone out of the equation, fear of failure goes away.
Take your comfort zone out of the equation, fear of success goes away.
Eliminate those fears and celebrate your growing momentum. Believe you can create a writer's life that works for you, and you'll have the confidence to achieve it.
This article, How to Overcome the Fear of Getting Started, was originally published by B2B Writing Success.

How to Write White Papers that Command Top Fees
Marketing managers of B2B companies are desperate for good white paper writers. Get on their go-to list and start commanding thousands of dollars for a 5 to 10-page project. Learn More »

Published: February 21, 2019