My 5-Step Plan to Earn Passive Writing Income … Here's How You Can Do It Too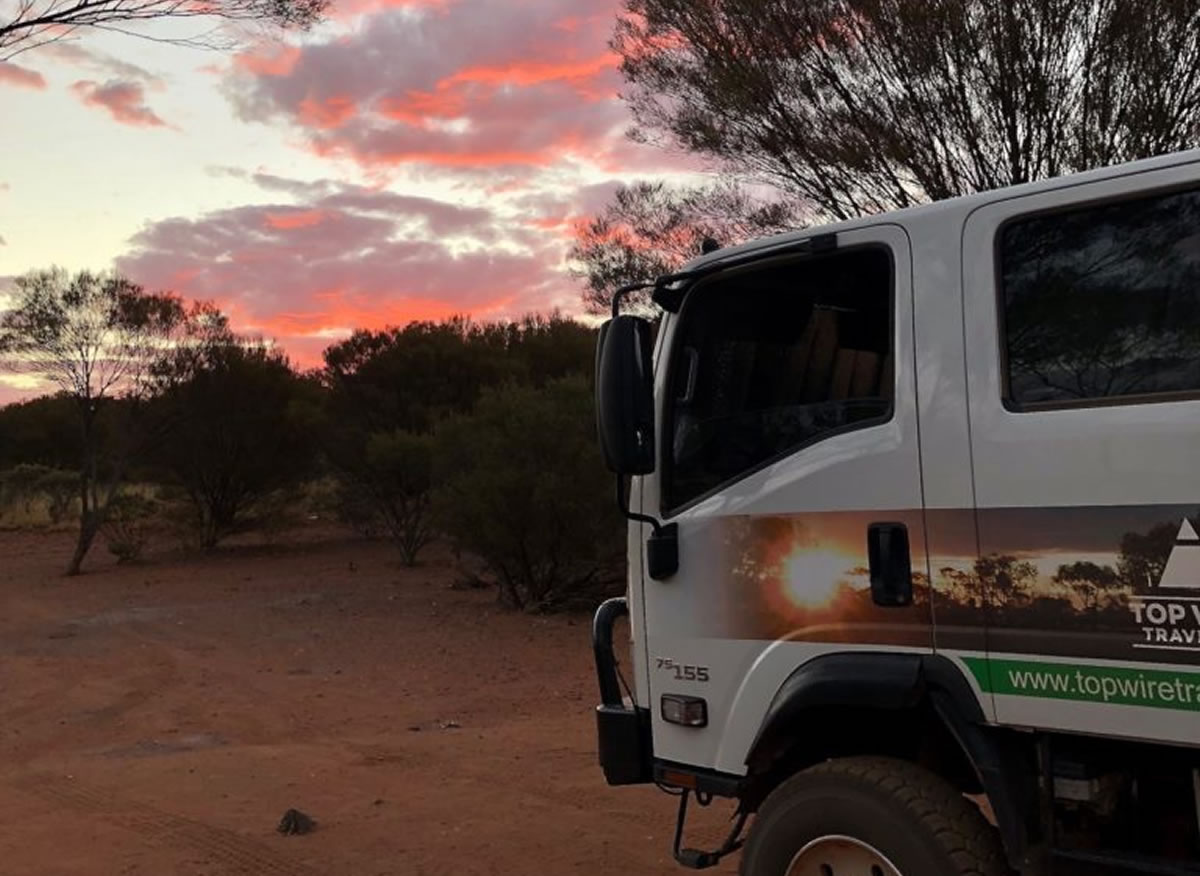 Sunset at Yarla-Kutjarra campground Australia (photo courtesy of Top Wire Traveller)
Would you like to decide how much you earn and how many hours you work? Would you enjoy the satisfaction of earning passive income from your writing? You know, money that comes in whether you're working … or camping in Australia?
It is possible … I've done it. How? I'll break down my five steps in just a moment …
But the big key is to build a Money-Making Website. Build a brand, decide how much effort you want to put in, then watch it grow into a passive income stream.
The results are up to you. You're in control.
If you just need a few dollars for a rainy day, then great. Or if you'd like to build your Money-Making Website into an insane income-earning monster, you can do that too.
But how do you get started? How do you make the leap from your day job into the world of Money-Making Websites?
We'll go through my journey and find out how I made the transition from self-employed engineer to actually getting started … taking my first steps towards the writer's life.
A Journey of Discovery
I was the owner of a small engineering business near Sydney, Australia, servicing the manufacturing sector. We supplied specialized components for high-speed manufacturing machines.
At first, it was highly profitable. The companies we dealt with were large and fat. They didn't really care so much about price, more so service and high-quality components. After all, component failures could cost them several thousand dollars for every minute their machines weren't producing.
Then the GFC (Global Financial Crisis) hit and companies stopped spending overnight. I'm not kidding. In the space of a single day, most of our orders were cancelled and the money dried up.
The glory days were over. With no work and no prospect of work, my wife Peta and I made a split-second decision to rent out our house and travel around Australia with our two kids for 12 months.
One thing led to another. Peta and I decided this nomadic lifestyle suited us fine, so we made a long-term plan to be back on the road full-time in 2018 … and we did!
In the interim, I kept a lookout for work I could do on the road. Sure enough, AWAI appeared on my radar and I found what I was looking for … a new career perfectly suited to the nomadic lifestyle.
I took a few courses and set myself up as a web content writer, in the 4x4 and camping accessories niche.
Then I discovered Money-Making Websites.
This was ideal for us. We could build a business around remote and outback travel in Australia, and earn an income from it. So our website Top Wire Traveller was born.
But how did we get started? How did we go from the kernel of an idea through to a living, breathing business?
I'll share a few tips and shortcuts you can use. Steps you can take to get your Money-Making Website out of your head and onto your screen.
First, Learn the Basics
If you're new to copywriting, learn the basics first.
Step #1: Learn the science of copywriting
Learn how to write persuasively, how to understand the emotions that drive people to buy, learn the importance of addressing the reader's needs rather than pushing your own agenda, understand why simple words and language are so important, and so on.
These skills are absolutely critical if your website is to be successful. I completed AWAI's Accelerated Program for Six-Figure Copywriting and let me tell you, it completely changed how I write.
Step #2: Learn from the experts
Sign up for a couple of newsletters written by influencers in the copywriting industry. Have a look here on AWAI's website. All of these people have years of knowledge and experience in the copywriting industry. Their newsletters and websites are packed with useful information.
You'll find one or two who resonate with your personality. For example, I don't like writing overblown hype or high-energy sales pitches. It's not who I am, it makes me uncomfortable. So I follow a couple of successful copywriters who promote low-key, understated writing styles.
Once I learned how to write, I then thought about two critical questions, which helped me decide my future path.
Just Another Job or Your Passion?
Chances are, you're either working for someone or working for yourself right now. You might be looking to supplement your income. Or maybe you're like us, interested in building a Money-Making Website into your main source of income.
If you already have ideas for topics, great! However you need to ask yourself some key questions … and you need to be completely honest when answering them.
Step #3: Ask yourself what you enjoy most in life, what's your passion?
For instance, our Money-Making Website could have been in the health and wellness space or tiny houses or even finance. The thing is, none of these are my passion. In fact, they don't really interest me much at all.
In theory, I could make good money in these niches. But I wouldn't enjoy it. And I probably would have given up long ago.
The same goes for engineering. I could easily build an engineering-based website and it would be highly profitable. I have nearly 30 years of in-depth knowledge of the industry. I know exactly what information engineers are looking for.
But I've lost the passion. I have no desire to write about engineering now. Fifteen years ago, yes. Now, no way.
Step #4: Decide if you can make money from your topic … does it have money-making potential?
Before you dismiss a topic as unprofitable, read on.
Nick Usborne's excellent How to Write Your Own Money-Making Websites program spends plenty of time answering this question. He teaches you how to choose a topic that suits you and how to determine whether it has money-making potential.
After all, if you don't get these two critical foundations in place, then chances are your website won't succeed or you'll lose interest.
Nick has several techniques to tease out the money-making potential of a topic. And he spends a lot of time explaining how you can discover whether a given topic is popular online. You might be surprised with some of the ways you can make money from what at first seems an unprofitable niche.
After spending many hours investigating several topics, "remote and outback travel in Australia" was clearly my passion. Not just another job, but a passion.
And that's what you need to think about. Will you still be happy writing about this topic three years from now?
A Hobby or a Business?
Think about what you want to achieve. Will your Money-Making Website be a hobby or a business? Either answer is fine — it's a matter of what fits with your goals.
Step #5: Branding
If you want to make a fair amount of money, then it's a business. You have to treat it as a business and think about branding. A Money-Making Website is cheap to launch, but you still need to spend money on a host server, maybe a website theme, a few online tools to help you investigate keywords, and so on.
And this is good. Once you start spending money, you'll want to recoup the cost … you want a return on your investment. Now you have a tangible incentive to make this project a success!
So I chose my niche and decided remote and outback travel in Australia was both a passion and potentially profitable. Then I looked at how to brand Top Wire Traveller. Where would it sit, who are our audience, what are they looking for? These are questions you need to ask too.
How is your audience going to find you? Via Google searches and social media? Or maybe you'll buy advertising space on a search engine. Or maybe all of the above.
Nick's program teaches you how to use social media and other ways to get the word out about your shiny new website. We took his advice and launched Top Wire Traveller as a website, on Facebook, Pinterest, and Twitter.
Put simply, we created a brand. A business brand where our Money-Making Website and social media channels are intertwined.
And it's not hard to do. You just have to be consistent. Post a new article every day, every week, every two weeks … whatever you decide. Just be consistent. Then share each post to social media.
Congratulations, you've created a brand!
That's how we started in April 2017. And I'm still doing the same thing every week. I publish two articles per week, and then post them to Facebook, Twitter, and Pinterest.
All videos are on our YouTube channel. If a video's embedded within an article, then that video has links back to the article. I do the same with Pinterest. Every pin (post) is linked back to a related article on our website.
Week in, week out. Consistently.
The Rewards
If any of this sounds a bit difficult, believe me it's not. After all, what are you doing now?
You might wake at 5:00 a.m., drive for an hour to work, spend 8 to 12 hours doing the same thing you did yesterday and the day before, take an hour to drive home … then get up the next day, week, month, year, even decade and do it all over again.
All this time, you're making someone else rich.
So why not flip this and commit to spending some time every day or every other day writing about your passion? And build your own business at the same time.
Yes, it takes time and commitment. But it's worth the effort.
Building your very own Money-Making Website is a rewarding experience. You've built something from the ground up … and now it's generating an income. It doesn't get much better than that!
Just one small favor … a caution, really. Don't put this off only to look back three years from now and say, "Gee I wish I'd started this earlier."
If you want to know more about how much money I'm making from my Money-Making Website — and more details about how I'm making it work day-to-day — I'm chronicling my journey as the Reality Blogger for Wealthy Web Writer.
If you have any questions on how to get started on your Money-Making Website, please share in the comments below.

How to Write Your Own Money-Making Websites
Learn how to write an information website in your spare time and earn $1000, $3000, even $5000 a month in passive income. Learn More »

Published: February 25, 2019