9 Ways to Save on Your
Business Start-Up Costs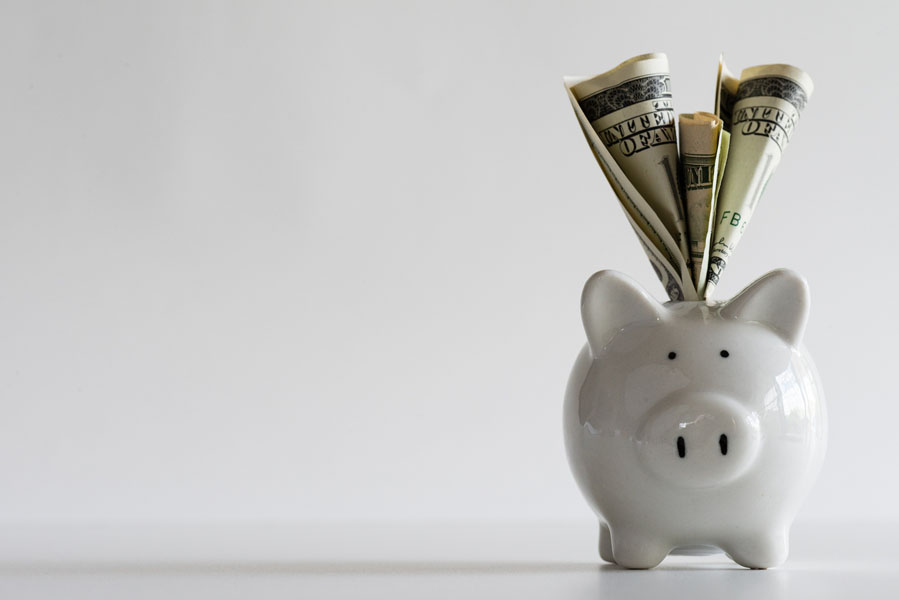 When you're starting your freelance business, it's easy to spend more money than you can afford. There's software, hardware, furniture, office supplies, and plenty of other potential expenses. It can add up pretty quickly, but starting your business doesn't have to break the bank.
Here are nine ways you can save on your freelance start-up costs (plus one bonus) so you don't spend more than necessary.
1. Buy secondhand
You may think that buying used equipment or other items is just for people who produce a physical product, but it's not.
Buying used (or secondhand) furniture and equipment can save you hundreds of dollars on things you need for your business. Like the perfect desk, chair, filing cabinet, or bookcase. Or high-powered printer.
You can save a lot of money over time buying secondhand and you'll be doing the planet a solid by keeping those items from the landfill. Win-win.
2. Keep your overhead low
One of the perks of having your own freelance business is the freedom to work from wherever you like.
Personally, I love my 10-foot commute to my home office as it only takes me a minute.
As a freelancer, you can work from home, either in a dedicated home office or at your kitchen table. You'll save money on office rent, which can be expensive.
Additionally, you may even be able to claim part of your home costs (rent or mortgage) on your income tax every year (check your country's tax laws for the specifics).
3. Hire help only as you need it
There are times when you may need help with your freelance business, like deep research, editing, or uploading content to a website, and so on. They are essential tasks for your business, but can be time-consuming to handle. Your time is better spent doing your core business, so if you need help from a virtual assistant, editor/proofreader, web developer, or accountant consider hiring them on a contract basis.
4. Track your time
Most freelancers are worried about how much time it takes them to complete client work, but it's also important to know how much time you spend on the other tasks involved in running your business.
When you're first starting out, you won't know how much time you spend on administrative tasks and marketing, but getting a handle on your time right away can help you in the long run.
Administrative tasks are important, but are low-value for your overall business, since they don't always earn you money. Remember, you want to spend the majority of your time on high-value tasks that generate income for your business.
Before you start any of these tasks, use a task timer, the timer on your smartphone or watch, or write down the start and end time for the tasks. Just remember to track the time whenever you do these tasks and you'll know where your time is going.
5. Use free or freemium cloud software
With all the cloud software out there, you can spend hundreds of dollars a month pretty quickly.
When you're starting out, however, you're probably not sure what tools you need, which will work best for you and your business, and if the price is worth it.
Start small, with just the main software you need and then expand from there. That way, you'll save on the initial start-up costs and also give yourself a chance to give the software a good workout.
I can't tell you the number of times I've signed up for a free trial and then run out of time on it because I forgot I signed up!
6. Negotiate on prices (where appropriate)
A friend of mine is a car salesman and he says that his work has really opened his eyes to how many places you can actually negotiate on price. He's negotiated better deals on electronics, furniture, even for haircuts! It's not something we often think to do, but as my friend discovered, you can!
I did this with my invoicing and accounting software, as they're a Canadian company and I'm a Canadian business, but they charge me in U.S. dollars. They gave me a 10% discount on the subscription fee because they value my business and help defray my higher exchange rate costs.
So when you're starting out, negotiating may save you a lot of money.
7. Get in the habit of asking for discounts for early payments
Similar to the negotiation tactic is asking for discounts on early payments. This is something you need to get in the habit of doing right from the start of your business, as it can really save you a lot of money over the long-term. Many software products offer this discount as a regular thing, but if you don't see it offered anywhere, ask for it! And ask for it often. You may be surprised where you can save some money.
8. Keep track of all your fixed expenses
This is something I'd wished I'd started sooner in my business. Since everything is so new to you, it's easy to lose track of where the money's going … until you get to the bottom of your bank account and there's nothing left.
By keeping track of all of your expenses, you'll know where the money went, and more importantly, if you want to keep paying that bill. After all, not everything is going to be useful to you over time.
9. Sign up for a business bank account
It's hard enough keeping track of all your business expenses, but if you're trying to separate them out from your personal ones, it can be an even bigger headache.
When you're just starting out, sign up for a separate business bank account at your bank. Choose the least expensive option and start funneling all your expenses through your business account. You may need to deposit some start-up money to begin with, but at least it'll be easier to sort out everything later.
Bonus tip: Regularly review your expenses
While not exclusively a start-up "cost," many new freelance business owners don't do enough reviewing in their first few years of business. They just spend on all sorts of new toys and tools for the business and keep moving forward. While forward momentum is important, you also need to know where your money is going and whether it's being spent well.
Take some time on a regular basis to review what you're spending on and if it's worth it to your business. Some people do it on a monthly basis, others quarterly, but whatever the schedule, just make sure you do it regularly.
I've saved hundreds of dollars every year by reviewing my cloud software subscriptions every quarter. That way I know when things expire and I can put a reminder in my calendar to cancel it if I'm not using it.
In the excitement of starting your new freelance business, you may be spending a lot of money. Use these tips to save on your freelance start-up costs and as your business grows. They'll save you money now and in the future.
Do you have any other tips for your fellow freelance business owners? What would you have done differently to save money when you were just starting out? Share your tips in the comments!
This article, 9 Ways to Save on Your Business Start-Up Costs, was originally published by Wealthy Web Writer.

How to Write Your Own Money-Making Websites
Learn how to write an information website in your spare time and earn $1000, $3000, even $5000 a month in passive income. Learn More »

Published: March 28, 2019