Bootcamp 2019 Features
Landmark Marketer and Inspirational
Speaker Jon Morrow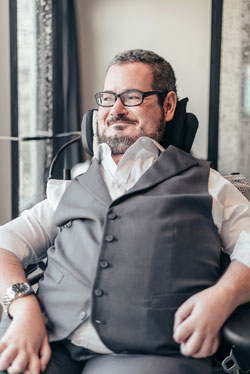 Jon Morrow can't move anything but his face.
His van once got pulverized by a car accelerating through an intersection at 85 miles per hour, shattering every bone in his legs …
He's had pneumonia 16 times …
And that's not even half the hardship he's faced in his life.
Jon has had every excuse to quit and then some. But instead of holding him back, his condition — muscular dystrophy — along with the many other unfortunate cards life has dealt him, have pushed him to always be the hardest worker in the room.
In fact, it was Jon's crazy work ethic, when he actually followed through on a seemingly unrealistic request and wrote a hundred headlines a day, that helped get him his break writing for Brian Clark's renowned site, Copyblogger.
That was a little more than a decade ago. Since then, Jon has built a seven-figure empire writing some of the most widely-read blog posts in the world and earning praise from major influencers like Tim Ferriss and James Altucher along the way.
That's why we are so proud to let you know that Jon will be joining us at our 2019 Bootcamp, May 14-17 in Delray Beach, Florida!
Not only does he have one of the most inspiring stories you'll ever hear — you'll learn so much from him about becoming a better writer and reaching your audience in profound ways.
If you're not yet signed up for Bootcamp, you need to do so now. There's so much to learn … all you need to do is start. Check out the details here.
Published: March 25, 2019