Build a Profitable Business by Becoming an "Idea Machine"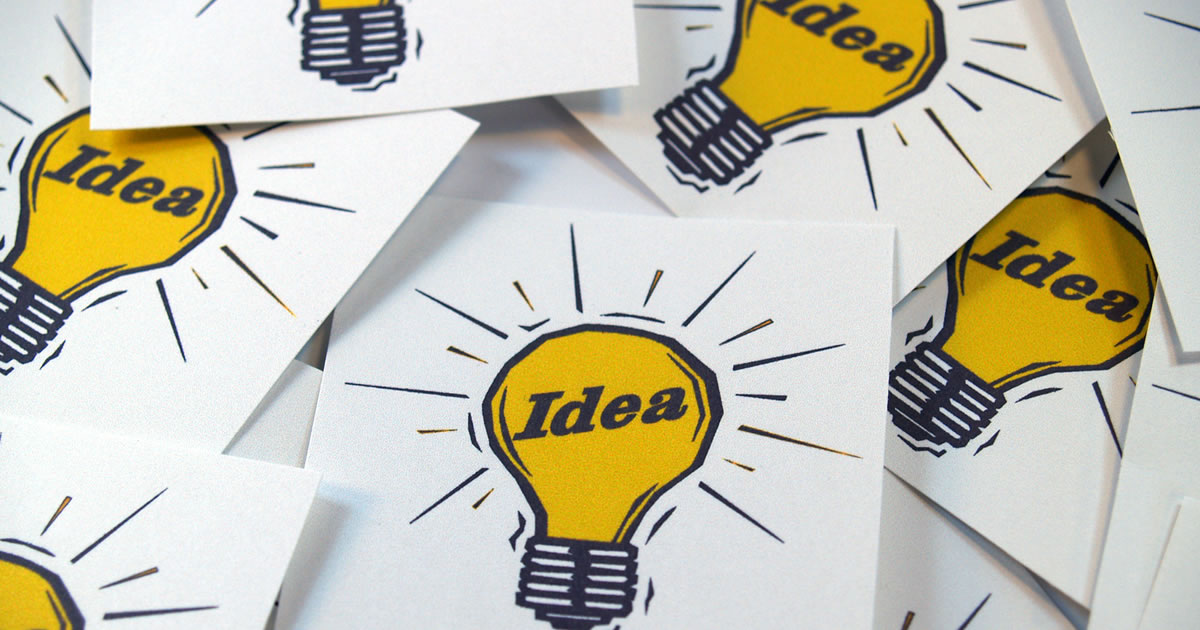 Can you come up with 10 ideas right now? Think about it, if you took a piece of paper and challenged yourself to write down 10 blog post ideas, e-book ideas, or dinner ideas, how easy would it be?
The first five or six might come easily, but for many, the balance might be tougher. That's okay. According to entrepreneur, chess master, and venture capitalist, James Altucher, they don't have to be good ideas — that's not the point. The point is to exercise your brain and build your "idea muscle" so you find it easier to come up with ideas.
In fact, Altucher advocates coming up with "10 Ideas a Day."
He says that "ideas are the currency of life" and he credits the ability to come up with good ideas as a way to turn around struggling relationships, businesses, jobs, and anything else life throws your way.
When it comes to keeping and retaining clients as a freelance business owner, generating good ideas for them can help you create a thriving business you love.
In this article, I'll share proven techniques to train your brain to come up with more ideas, but first, let's look at how this can impact your freelance writing business.
Rebecca Matter recommends becoming an "idea machine" because it makes you more valuable to the client. She encourages writers to let everyone you encounter know you're a thinker … and that you provide value on a regular basis. Marketers and business owners always need new ideas. And if you can get in the habit of offering new ideas, you'll land more clients and become a valuable part of their team.
For example, imagine that you have an assignment to write a series of emails. In the course of doing your research, you come with an idea for a new bonus report (which requires another landing page and more emails). You send your original assignment in along with your idea for the additional report. If the client says "yes," then you've just landed another assignment along with the ability to help your client make more money.
Don't you think they'll find that valuable?
You can apply this idea-generating concept for both copy and content.
For copy, having fresh ideas helps you take a new approach for the client to test.
When it comes to content, every content marketer needs to fill an Editorial Calendar to stay on track and ensure their blogs and articles support the company's goals.
6 Ways Freelance Writers Can Enhance Their "Idea Muscle"
Imagine if you will, sending every assignment in with a follow-up idea. For example, you submit a blog assignment and you suggest another idea (or two). When you suggest suitable topics, it makes the editor's job much easier which means they're going to keep giving you assignments. Plus, you're more likely to be recommended to others.
Here are six ways you can train your brain and generate new ideas:
1. Work Out Your "Idea Muscle" — If you're not used to coming up with ideas, you may find it difficult at first. That's okay. It will improve with practice. For example, you can sit down to write 10 potential article topics for your blog, or you may generate 10 business concepts, or think of 10 clients you'd like to work with. And you don't have to stick to business either … You could make a list of 10 vacation ideas or hotels in a particular city.
Altucher says it will be hard for the first six months. But push past this and you'll be able to generate better ideas quickly. He recommends daily practice.
2. Review Industry Publications — Most weeks, I spend a half hour or so browsing trade journals in my niches. I see what the buzzy topics are so I can craft ideas for my clients. After all, which do you think is an easier sell? A relevant hot topic or one that's been written about 1,000 times already?
3. Be Specific — Editors and marketing types are busy. They may be juggling multiple publications or roles, so make their job easier by being specific about your idea. For example, instead of saying, "I write case studies." Say, "I think a case study on xxxxx would appeal to your target audience." It shows you're paying attention to their business and audience which helps you stand out.
Likewise, if you're proposing article ideas, give them titles and share a brief bit about what you'll include in the article.
If you write regularly for clients with active blogs, you might even offer them several article ideas at a time. You might even mention that your goal is to help them fill out their Editorial Calendar for the coming month or quarter.
4. Read Widely for Trends — Monitor social media, popular magazines, news sites and Buzzfeed, New York Times Best Sellers Lists, for example. All of these are fodder for idea generation. The key is mix up your sources so you're seeing a different perspective. If you can, visit a bookstore and browse the latest best sellers and the magazine rack for "new-to-you" magazines and topics.
Look for ideas from pop culture, current events, or new innovations that you can borrow and reframe in a new way for a different industry. For example, the international shipping industry uses electronic chips to track shipments. At some point, someone thought to put them in pets.
5. Make a List — What's already selling in your particular industry? What are the subjects your audience is already interested in or excited about? Brainstorm a way to put your own new spin on it. For example, there are dozens of coaches selling spiritual retreats in beautiful locations. What else interests that audience? Well, attendees may also enjoy organic foods, living in flow, high vibrations, abundance thinking, and yoga.
How can you connect the two in a fresh way? Maybe something like, "Eat your way into a positive vibe."
6. Watch Ted Talks — Ted Talks are full of well-told and inspiring stories. Plus, they're short. In about 20 minutes, you can discover a whole new perspective on a common topic. Take best-selling author Mel Robbins' "5 Minute Rule" where she recommends listening to and following your instincts within five minutes or your brain will take over.
By its nature, writing is a solitary profession. It's up to us to constantly exercise our idea muscle. Steve Jobs said, "Creativity is just connecting things."
The more things you can connect, the more good ideas you'll have and the easier you'll find it to build a profitable business.
Will you try your hand at coming up with 10 ideas today? Please share with us in the comments below.

The Professional Writers' Alliance
At last, a professional organization that caters to the needs of direct-response industry writers. Find out how membership can change the course of your career. Learn More »

Published: March 12, 2019