The Source of the Most High-Paying Copywriting Jobs Right Now
Let a Veteran of This Industry Guide You to
Long-Term Success as a Freelancer
Nick Usborne, who's been a freelance copywriter for 30 years, has focused exclusively on writing for the web since 1997. That makes him a pioneer in this industry. And, says Nick, this market is still wide open to new web copywriters with plenty of copywriting jobs to go around.
In fact, with so many businesses large and small embracing marketing online (spending more than $67 billion in a year), there are more opportunities and more clients than ever.
As Nick, who himself has written for MSN, The Getty Trust, Wells Fargo Bank, the U.S. Navy, The New York Times, Encyclopedia Britannica, Disney, Intuit, and America Online, and others, wrote recently:
"The online copywriting profession has been amazingly good to me. A great salary … earned as my own boss … with all the flexibility anyone could want.

"I don't for a second think this opportunity has passed. Far from it. As the Web grows … and it's still growing incredibly fast … the demand for copywriters who understand how to write online will continue to grow.

"This is a dream career at a time when demand is growing like crazy.

"And yes, if I had to start over today, with a blank slate, I would follow the exact same advice I'm giving you … get the training and launch your career as an online copywriter."
In recent years, Nick has transitioned to a role as a mentor and teacher to new web copywriters. Through his program, Web Copywriting 2.0: Your Complete Guide to Writing Web Copy that Converts, you'll master all the different types of copy companies doing business online need, including web pages … landing pages … email campaigns … e-newsletters … blogs … sales pages … and more.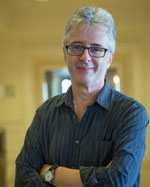 Nick Usborne
These are high-paying projects too — you could earn as much as $1,500 in a couple of days writing a 500 to 600-word piece of copy.
And that's just the start, as this program alum found out:
"Nick's Web Copywriting 2.0 program helped me have the confidence to get an excellent client who paid me $15,000 …" – Leslie Ehrin
It's clear why none other than Bob Bly, six-figure copywriter and past AWAI Copywriter of the Year (an honor Nick earned too), calls Web Copywriting 2.0 the 'Bible of Website Copywriting.'
Says Bob:
"Few copywriters are as experienced in web copy as my friend Nick Usborne, and certainly no one teaches how to write for business websites better. You should study Nick's program as if it were the 'Bible' of website copywriting … which it is."
You can sign up for Nick's program and get on the path to a lucrative web writing career here.

Web Copywriting 2.0: Your Complete Guide to Writing Web Copy that Converts
Learn how to become an in-demand online copywriter for companies big and small. Online copywriting expert Nick Usborne shows you how to write web copy that converts. Learn More »

Published: March 6, 2019