Expert Career Coach, Ilise Benun, Will Walk You Through Finding (and Landing) Your "Dream" Clients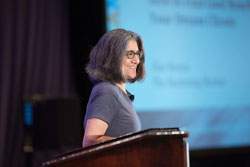 Ilise Benun is the ultimate coach for teaching freelancers how to market their services effectively and confidently. She's become a favorite at Bootcamp because of her knowledge and her generosity to members throughout the entire event. We love that about her!
Ilise is the founder of Marketing Mentor, and a national speaker and business coach … author of 7 books, including The Art of Self Promotion and Stop Pushing Me Around!: A Workplace Guide for the Timid, Shy, and Less Assertive … writer of the Marketing Mix Blog … and host of the #HOWLive podcast and the Marketing Mentor Podcast.
For the past 25 years, Ilise has focused her energy on helping copywriters, graphic designers, and other freelancers find better clients, navigate fee negotiations, and finally gain the confidence to market their skills.
This year at Bootcamp, she'll help you lock in on your perfect target market, play on your unique strengths, and start confidently landing "dream" clients with higher fees.
If you're not yet signed up for AWAI's 2019 Bootcamp, happening May 14-17, you need to do so now …
You don't want to miss Ilise's Bootcamp presentation, or any of the other two dozen experts who will be speaking.
But hurry! The event is very close to selling out.
Get all the details and guarantee your spot here before it's too late.
Published: March 15, 2019