Mistakes … I've Made a Few (And So Will You)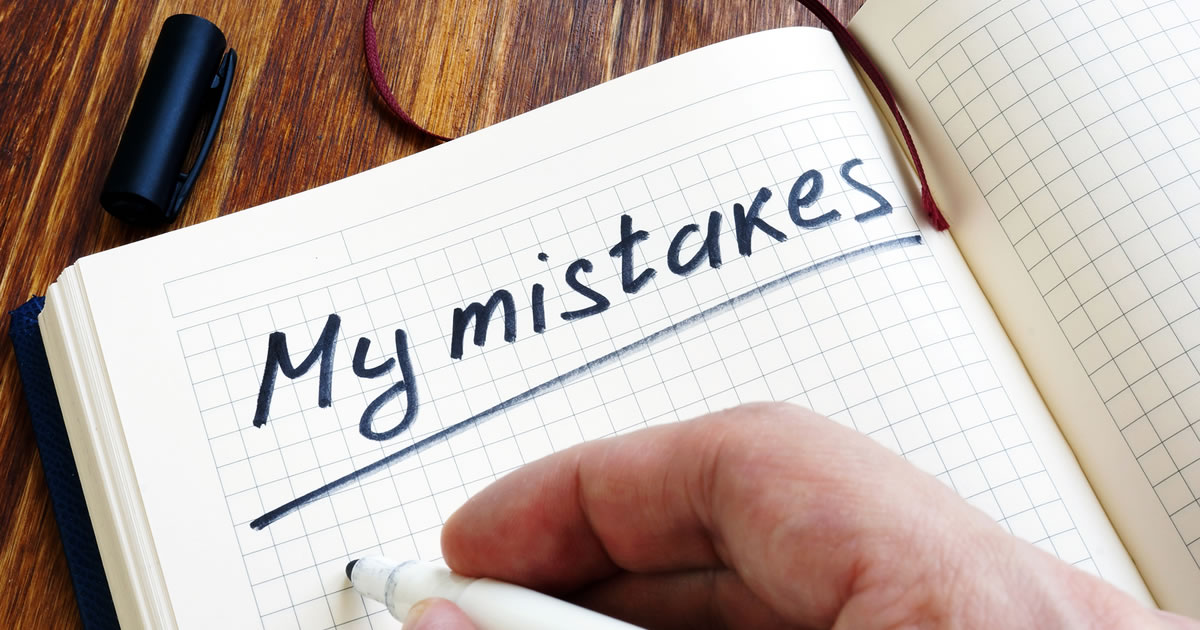 A few years ago, at the annual AWAI Bootcamp, I was on-stage to share my "success story."
I'm sure everybody expected me to get up there and talk about exactly how I went from engineer to six-figure copywriter in just over a year.
But that's not what I did. (I'll include the video below.) Instead, I flipped the script a bit and talked about failure. And I did that for one very important reason …
While writing copy isn't rocket science, becoming a successful, well-paid copywriter doesn't follow a one-size-fits-all path to freedom.
And while we're always eager to share success stories in marketing, we rarely talk about the other side of the coin.
The truth is, you're going to struggle to get started and with self-doubt and even fear. We all do.
You're going to make mistakes.
You're going to experience failure and rejection … and you'll get frustrated.
And if you're not prepared for all of that, you will lose faith in your ability to become a well-paid writer.
That's why today, I want to make sure you know you're not alone. I'd like to share some of my mistakes and failures.
But more importantly, I want you to realize it's all part of the journey. And if you can stick it out and learn from your mistakes and failures, you WILL find success.
Don't Chase Money … Remember Why You Started This
I started my journey to the writer's life while I was still working full-time as an aerospace engineer. I worked well over 40 hours a week and I already made well into six-figures.
I knew if I was going to make the transition from engineer to full-time copywriter, I had a high replacement income to consistently hit.
That led me to chase money at the beginning rather than focusing on development.
Don't get me wrong, I developed as a copywriter with each and every project. But because I was chasing the money, I took on too many clients at a time.
I overpromised my time. I struggled to hit some deadlines. And my health suffered as well.
Remember what brought you into this amazing opportunity. It wasn't just about the money. It was about freedom. Less stress. And control over your future.
Don't discard that — or worse, sabotage it — chasing dollars from the start.
Even if becoming a six-figure copywriter is your goal, understand it won't happen overnight.
Instead, I want you to lay out several milestones to hit on your way to reaching your final income goal and move from one to the next. Once you've got a realistic plan in place …
Make Sure You Allow Time for Life to Happen
When I first started my journey, I was still working full-time as an engineer. But because I was motivated to make my transition, I also set aside 40 hours a week for copywriting.
In short, I worked about 15 hours a day, seven days a week for two years to jump-start my writer's life.
It was an insane schedule. And I paid the price.
I made a huge mistake not setting aside enough time for life. I planned for perfect, assuming everything would go as planned.
And then when my wife or kids got sick … Or I got sick … Or unexpected trips or events popped up on the calendar … I missed deadlines and fell far behind in all aspects of my life.
Even worse, my overall health suffered, which only made things worse at times.
I might have been better able to handle this, but the biggest mistake I made was trying to do it all alone. So …
Don't Go It Alone!
Coach. Mentor. Accountability partner. Fellow writers. Spouse. Friend.
I don't care who it is … and I don't care if you choose to pay someone or not.
But please, find someone to help you on your journey to the writer's life.
Some days, you may just need someone to provide a pick-me-up for a day that didn't go as planned. Other days, you might want to share some Big Ideas or get some copy reviewed.
If you've been trying to go it alone so far, one of the best things you can do is start getting involved in the communities and Facebook groups. Get to know the other writers and mentors. Go to Bootcamp and create an accountability group.
Then share your highs and lows … your questions … and your doubts and fears.
Because there's one thing I know for sure …
It's Okay … We Got You
These days, there's no shortage of companies and personal coaches teaching copywriting, marketing, and other related topics.
But the one thing I believe has always set AWAI apart is the community they've built over the last 21 years.
They were there for me when I got started. There were people in the office to answer my questions. There were other working writers in the community to review copy and offer guidance. And there were professional copywriters engaging with the rest of us in Facebook groups. And I've made valuable connections at each Bootcamp and Job Fair.
And hopefully articles like this help in their own small way also. So to recap …
Even if a six-figure income is your goal, don't just chase the money. Put a plan in place with milestones along the way and try to follow a sane path to the writer's life. Both you and your clients will be the better for it.
Allow time for life to happen. Don't overbook yourself and don't assume everything will go as planned. It won't, so leave yourself plenty of "spare" time.
Don't go it alone. As an AWAI member, there is a wide range of support available, both free and paid. Take advantage of it. At a minimum, find an accountability partner (a supportive spouse or friend counts!) — someone to help keep you on track, hitting small goals along the way.
The truth is, I probably didn't leverage the contacts through AWAI as much as I should have. That's a mistake I can't fix anymore.
But as a member of this community … and as someone who is now living the dream and helping others when I can, I can say one thing for sure.
Whatever mistakes you've made so far … Whatever perceived failures you've endured …
It's okay. We've got you.
I'm living the writer's life. And you can, too.
Here's the Bootcamp presentation I mentioned. I invite you to check it out (it's short) …
Bootcamp has had a huge impact on my life. I've earned almost $800,000 from copywriting in four years!
There's no limit on what you can do … once you make the commitment to start. Don't wait another year — sign up for Bootcamp this May while there are still seats available. Check out the details and my five-step plan for how I did it here.

The Professional Writers' Alliance
At last, a professional organization that caters to the needs of direct-response industry writers. Find out how membership can change the course of your career. Learn More »

Published: March 29, 2019