Defining Your Writer's Life … What Does It Mean to YOU?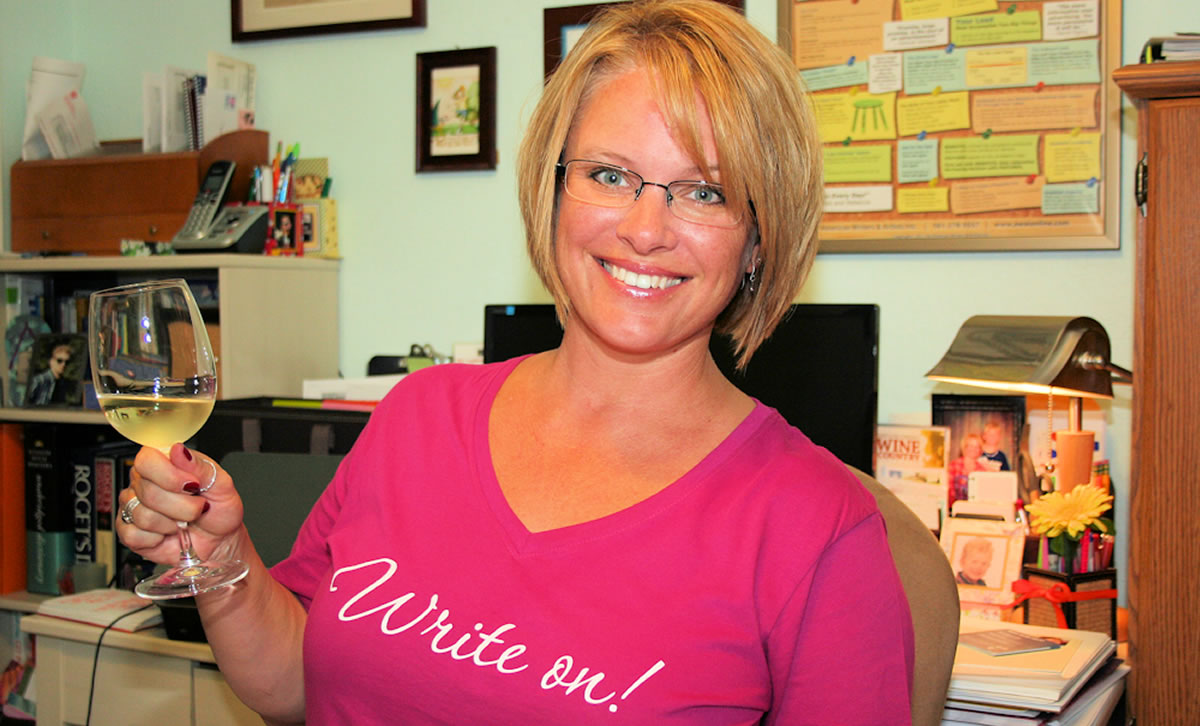 What if you could feel like you're on vacation every single day because you love your life that much?
Is it really possible to love your entire life … your family and friends, AND your occupation, the people you associate with, and the clients you serve?
Yes.
Yes, it is.
I didn't always think so, though. I've put in my 8-5 at a variety of jobs. I've spent mind-numbing hours making sales cold calls from a cookie-cutter cubicle. I've spent spirit crushing hours at a corporate desk job managing production details. I've had retail jobs, customer service jobs, administrative jobs, even the coveted management office …
And I was never really happy at work. I lived for Friday and dreaded Monday mornings. Vacations were too few and too far between.
Does all that sound familiar? You, too?
I was making a living, but not a life. At least not one I completely loved.
But no more.
Now — as a writer — I happily face Monday mornings, and Friday is just another day that I get to spend doing what I love. Sometimes I put in an 8-5 day (or 10-7, or whatever other block of time I choose). Other days, it's just a few hours of work and then I choose to play for the rest of the day.
You see, my writer's life gives me the freedom to choose how I live each day. I have the financial security that comes from being completely in control of my own destiny. And the cherry on top is that I'm doing work that is fulfilling … that I feel good about.
Freedom
For me — and for most of the writers that I know — the writer's life means freedom. The freedom to choose the who, what, where, and when of our workday.
When who you work with is up to you, it's like being a kid in a candy store. You can choose all one flavor, or mix and match if you prefer. It's your choice. And if you get a client you don't like, you never have to choose that flavor ever again.
For example, I love working with professionals with a solo practice (insurance agents, attorneys, real estate agents, coaches, consultants, etc.), and I also enjoy helping info-marketers.
I have a few clients outside this circle of favorites, and that's okay, too. Because I could have said "No, thank you" when they approached me for help. It was my choice to let them in. My choice to take them on as clients.
Same thing with what projects you choose to work on. If you love writing long copy sales letters, great! Pursue those jobs. If you prefer writing emails or case studies, go for it.
Personally, I enjoy a variety of web copywriting projects, so those are the jobs I accept.
The freedom to choose is SO empowering!
As far as the freedom to work from anywhere in the world that you choose … I always imagined that meant working in fun, exotic places. And while that sounds awesome, it's not realistic with a husband who has a location-specific job and a kid in school.
I've found that the reality of being able to work from anywhere is even better than I imagined.
I've worked from coffee shops, hotel rooms, beach house balconies, hotel lobbies, airports, airplanes, mountain cabin decks, and the passenger seat of my car. I've also worked from hospital waiting rooms, baseball field parking lots, and my recliner when my back was out and that was the only place I could be relatively comfortable.
We writers can work from wherever we need to be at any given time. There aren't many other occupations that can offer that kind of freedom.
Of course, we writers also have complete flexibility over our work hours. My son plays baseball, and I've never missed a game because of work. My boss (me!) lets me take all the personal time off I need as long as the work gets done and turned in to my clients on time.
So I was able to go on field trips with him when he was younger. I attend every after-school game. I can go to medical appointments with my parents, or let service providers into the homes of my friends. I can do my grocery shopping in the middle of the day when the stores aren't crowded!
Freedom, indeed!
And that's not all …
Financial Security
If you've been laid off from a job through no fault of your own … if you've been a victim of corporate downsizing or a business closing its doors … if you've not gotten a promotion because it went to a member of the boss's family …
Then you know the feelings of helplessness and frustration — even panic — when you're unsure of your next paycheck.
I've been there and never want to be again. That's part of why the writer's life was so appealing to me …
Being in charge of your own destiny … Having the ultimate say in how much money you make …
The thought of it was exciting, and maybe a little too good to be true. Ever thought so too?
But then I met fellow writers who really were living my dream. And I realized they were real people … people just like me. You'll "meet" some of my writing friends in the video I'm going to share in a minute.
You'll meet Janice Sakata-Schultze, a successful writer, and also a San Francisco Giants fan and mother … like me.
You'll meet Li Vasquez-Noone, a successful writer, and also the wife of a winemaker … like me.
You'll meet my writer friends Christina Gillick, Steve Maurer, and Jerry Bures, and a few others who you'll discover are real people just like you and me. And they're all enjoying their version of the writer's life … like me.
And like you could, too.
But before I share the video with you, let me tell you about one more thing the writer's life brings me …
Fulfillment
The writer's life has brought me fulfillment that I've never felt from any other of the many jobs I've held.
It satisfies my creative soul to know that the words I write are helping people. They help my clients make more money. They help my clients' customers find and decide to try my clients' solutions to their problems. They help me feed, clothe, and house my family.
And I do all that with simple words (as you can see, my writing isn't fancy) that I string into sentences and paragraphs. Simple words that pay me well.
For me, the writer's life is meaningful in ways that all of my other occupations were not. The words I write are out there changing lives. Making an impact.
I am changing lives and making an impact.
And you can, too.
The Writer's Life
The writer's life is real. And as you'll see in this brief, fun video (spoiler alert: the tune will stick with you for a while!), the writer's life means something different to all of us.
What does it mean — what could it mean — to YOU?
Watch the video. Get inspired! Then tell us what the writer's life means to you in a comment below. How do you define your writer's life?

SEO Copywriting Success: Grow Your Business by Driving Targeted Traffic to Clients
1 out of every 2 writing jobs require SEO skills! Every web copywriter should know how to combine persuasive copywriting with SEO best practices. Learn this valuable skill now to make more money on your web copywriting projects. Learn More »

Published: March 25, 2019