April Issue: Channel Your Inner Seinfeld for Unforgettable Writing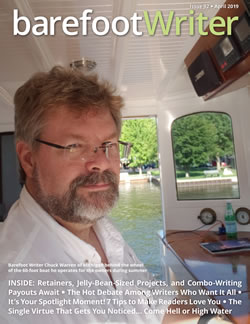 Ever wonder why sitcoms are so captivating?
You might say it's because they're funny … or have great story lines. Maybe you really enjoy the actors.
But at the root of it, sitcoms — as over-the-top as they often seem — give us radical insight into our own strengths and weaknesses.
Think about your favorite sitcoms and their beloved characters. They suffer, they enjoy, they're self-involved, they're brilliant. And always, they have trouble hiding what they feel. They say what they think. Their desires are blatant. Inappropriate. Hilarious. Shocking.
Which makes them lovable, endearing, and memorable.
On the other hand, writers like you and me tend to hold back, especially online. We wear masks and talk about ourselves in third person, often erasing any trace of personality from our online identities.
Far too many of us hide our true selves in stilted, formal, four-syllable language …
Especially when we write LinkedIn profiles, website About-Me pages, pretty much any kind of resume, contributor blurbs, and even social media.
This makes us boring and forgettable.
Here's the simple truth …
Authenticity is the tried-and-true key to getting noticed, having your work read (and admired), being offered a contract, and getting paid. In short, it gives us everything we writers want.
I'm not advising you to adopt sitcom antics entirely, but you will be a more authentic, more memorable writer if you're open about your goals, your hopes, and even your limitations.
To get you started down that road, our April issue of Barefoot Writer is chock-full of insight into putting yourself out there — beginning with an eye-opening interview with author and consultant John Nemo, who pretty much did the opposite of the norm when he set out as a freelancer (then made $135,000 in his first 90 days, showing that his way works).
And then these pieces continue the conversation:
Your spotlight moment: 7 tips to make readers love you
The single virtue that gets you noticed … come hell or high water
Retainers, jelly-bean-sized projects, and combo-writing payouts
"Why I couldn't wait to quit the highest-paying job I ever had"
The hot debate among writers who want it all
Click here now to read your April issue of Barefoot Writer.
You'll find that interview with John Nemo on page 9 … Click here to read it now.
If you're serious about getting paid to write for a living, consider becoming a member of our Barefoot Writer Club. Along with your 12-month Barefoot Writer Magazine subscription, you'll get …
Unlimited access to all back issues (nearly 4,000 pages of proven tips designed to help you write better, faster, and for more profit!).
Admittance to the Barefoot Writer Private Facebook Group where your fellow writers actively engage in growing their businesses, sharing advice, and answering the burning questions that might be holding you back.
And of course a whole lot more …
Membership into the Barefoot Writer Club is the quickest route I know to life as a paid writer: Join the Barefoot Writer Club today.

The Barefoot Writer
Discover a lucrative style of writing that will give you as much freedom as you can have while earning a great income at the same time. Learn More »

Published: April 6, 2019