This company paid out $26,000 in writing fees in ONE month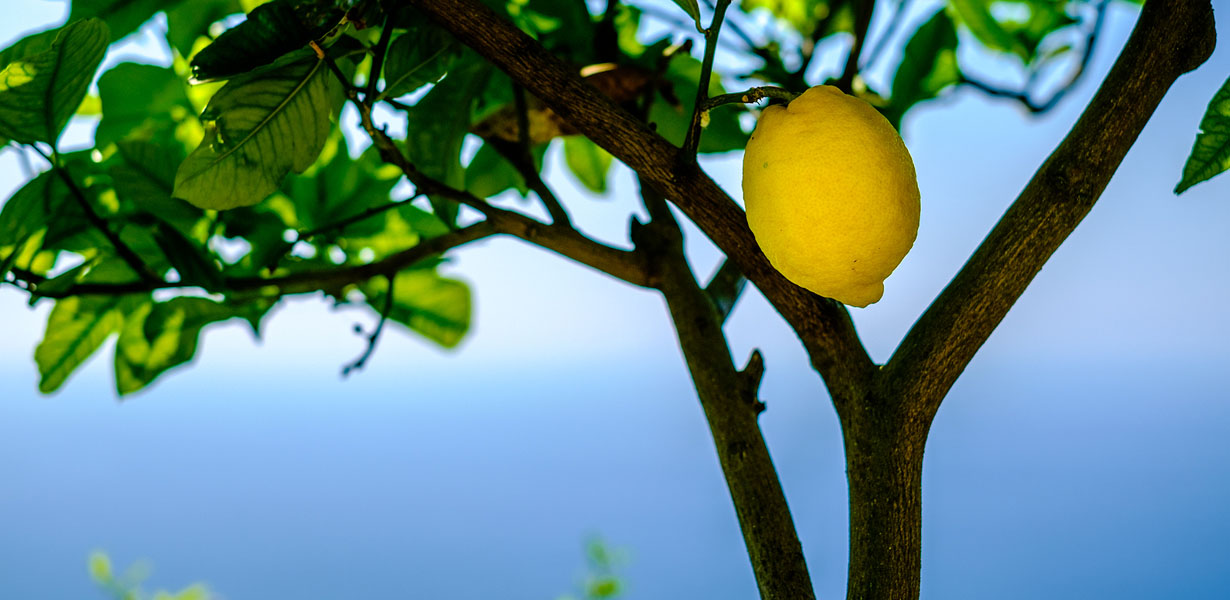 Bill Bonner, the Founder of Agora and my boss for 28 years, wrote one of the longest-running controls in direct mail … The subscription letter for International Living.
Here's the classic opening: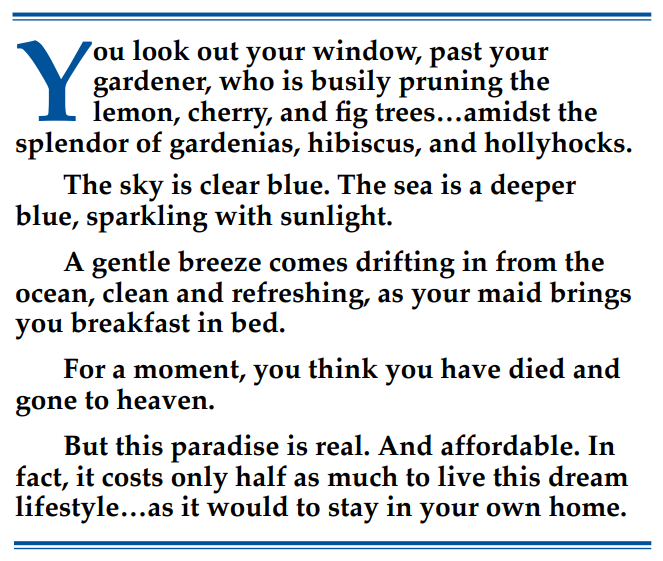 That was over 30 years ago, and yet it still paints the picture of the perfect lifestyle!
International Living is a powerhouse. In fact, one of Agora's companies that publishes the popular International Living magazine paid out over $26,000 in writing fees in ONE month. And they aren't the only publishers who need travel writers. Others include:
Travel & Leisure
Coastal Living
Food & Wine
Today's Traveler
Southern Living
Travel Weekly
Conde Nast Traveler
That's just a partial list. The travel industry has mushroomed into a $7.6 trillion industry, so there's an endless list of publications, websites, and blogs that are looking for travel writers.
It's really a matter of you deciding which one you want to write for and then going after the projects.
If you're wondering about ways to get started, here are five quick tips to get you up and writing:
Create a digital billboard of your writing. If you want to be a travel writer, showcase your skills by writing articles and essays and posting them on your website or blog. It's a great way to show clients you've got the skills they need.
Choose a destination or niche. Is there a particular area that interests you, such as the Caribbean or Europe? Pick a place in the world you like and become an expert in it. Write about it. This shows you're an authority on that subject.
Have a good idea. You've got an edge here because, as a copywriter, you know the foundation of a sales package is a good idea. The same is true with travel writing. Come up with a good idea to write about and then start writing.
Start small, and then go big. Pitch your travel story ideas to your local newspaper or travel agencies. Once they use your writing materials, you can share that with bigger clients to show them you've gotten paid assignments and are ready for more.
Always network. Clients won't come to you, so you have to go get them. Network at local events, meetings, and conferences. Talk to people. Spread the word about what you do. Gather business cards so you can write follow-up emails or do phone calls.
Besides the writing, you'll often find you get to enjoy some cool perks, like paid vacations, or airfare and hotel upgrades … even private tours of your favorite places.
Look, if you're unsure about traditional copywriting at this time in your life … if you're looking for a way to break into the writing world quickly and easily … and enjoy the potential to earn $40,000 and up — in addition to all the fun and perks that come with this niche of the writing world …
Then travel writing is definitely something you should consider.
If you want in, you can learn more about travel writing careers right here.
Editorial Note: Free perks every time you travel. The fees you make for published articles, essays, and blog posts are only the beginning of what you gain as a travel writer. Because you also get to enjoy a massive amount of free "perks," such as complimentary vacations or discounted press rates that can add up to a massive value for you.
Touring the country on someone else's dime, all while enjoying life-changing trips through some of the world's most stunning destinations … now that's the beauty of travel writing. Here's how to get started earning money as a travel writer.

The Professional Writers' Alliance
At last, a professional organization that caters to the needs of direct-response industry writers. Find out how membership can change the course of your career. Learn More »

Published: April 1, 2019