How Do You Know When You're READY to Take on Well-Paid Writing Assignments?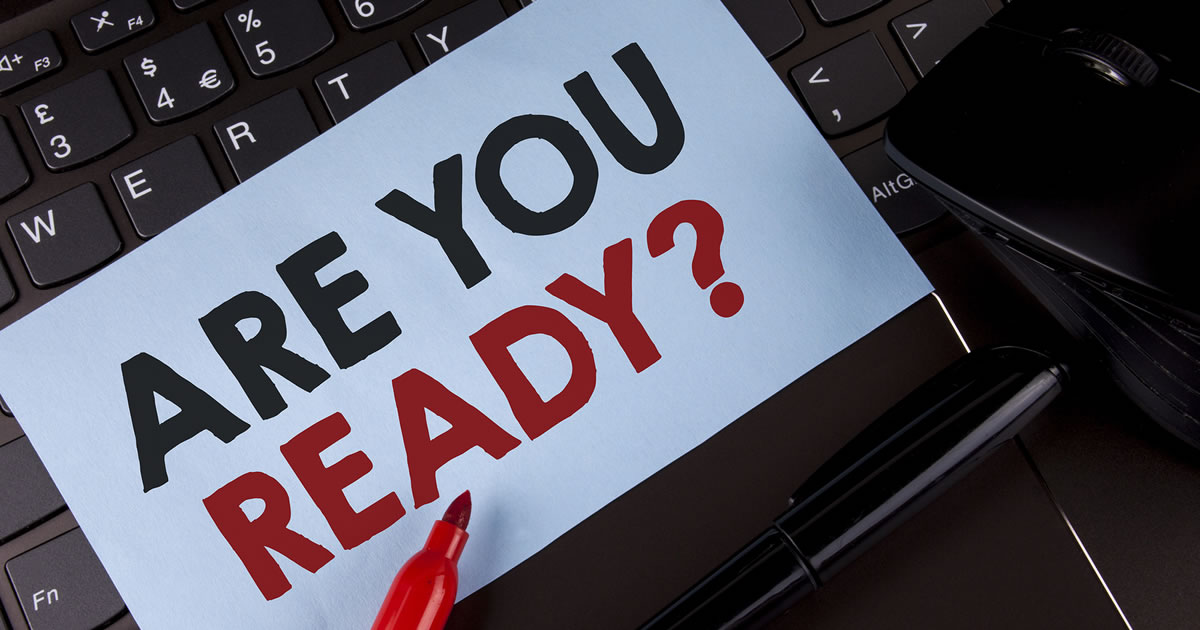 Have you ever spent weeks, months, years preparing for something but when it arrived you still didn't feel quite "ready" for it?
My guess is, you have.
College comes to mind as many students aren't mentally ready to graduate (I sure wasn't!) even though they've fulfilled all the requirements.
Maybe that's how you feel about fulfilling your dream of becoming a highly paid copywriter. You've taken the courses, but you don't quite feel "ready" to go after your first clients.
That's okay. The not feeling ready part.
You know what the key is? Do it anyway.
We'll talk about imposter syndrome in a moment, but first, know that it's okay to feel nervous. That's normal.
Here's the thing — if you've done the prep work and study time, you DO know enough to help another business owner.
Recently, I read about an aspiring writer who was thinking of specializing in the medical niche. It turns out that he'd attended a few semesters of medical school. Yet, because he didn't complete the program and become a doctor, he didn't feel confident in billing himself as a medical writer.
Do you think most medical writers are MDs? They're not. They're simply freelance writers who've developed a specialty.
Now, of course, I do recommend practicing the type of writing you want to start out doing. Take blogging, for instance. If you want to sell blogging, learn how to write a blog post by writing a few posts for yourself or other sites. You get practice and you get samples to show your would-be clients.
But after that, it's all about stepping outside of your comfort zone and telling that little voice in your head that it's okay.
The Problem with Imposter Syndrome
You've probably heard of "imposter syndrome" or the fear of not being "ready." It's a perfectly normal reaction to doing something new. You can have studied and practiced something for ages, but when it comes time to do it, you freeze.
That's simply your mind's way of keeping you "safe." Unfortunately, that part of your brain can't tell the difference between a raging lion galloping your way and pressing "Publish" on WordPress.
In other words, it's a completely fabricated thought.
The only way to shut that voice up and to break through is to take a deep breath and do it anyway. Scary, I know. But if you have been studying, you know more than you think and you're more capable than you know.
Still not convinced? Review these five points and see if you agree with any of them.
Five Ways to Know You're Ready for Your First Paid Client
1. You've Already Taken One or More Writing Courses — Whether it's The Accelerated Program for Six-Figure Copywriting or any one of the dozens of courses offered by AWAI, you've already spent more time thinking about and practicing writing than your potential client.
2. You're Already Writing — Whether it's for your own Money-Making Website or blog, or writing you've done on a job, leverage your existing skills!
3. People Come to You with Writing Requests — If you're the one that your family, friends, and co-workers always come to when they need something written, then that should boost your confidence.
4. You Know Your Industry Intimately — You have been working in your industry long enough to know the market setup, the jargon, and the competitive landscape. You know the problems customers are having and the solutions they're searching for. You have inside knowledge and experience that sets you apart from other writers. That sets you up to help prospective clients in ways others can't.
5. You've Identified a Type of Client and Type of Writing — To use the blogging example, it's not that hard to ask a business with an active blog if they need additional writers. Likewise, with case studies or emails or any other type of writing they already use. Make it easy on yourself by approaching would-be clients who already use the type of writing you offer.
Here's the bottom line … No matter how many courses you complete or certifications you collect, at some point, landing your first client requires that you let people know that you're "open for business."
In fact, my very first client was a friend I told that I was offering web writing services, "Yay! I'll be your first client." she said. You can land yours by telling your friends and family that you're accepting writing clients (it helps if you can point to those samples).
Because the truth is, no one ever feels completely "ready" 100% of the time.
If you need more information on eliminating imposter syndrome or moving past fear, check out these articles:
And keep in mind … As your business grows, you'll take on bigger clients and new projects and yes, there will be times you won't feel "ready" all over again. But keep believing that you can do this and you'll boost your confidence as you take each step forward.
Do you have any questions about getting started? Share with us in the comments below so we can help.

The Professional Writers' Alliance
At last, a professional organization that caters to the needs of direct-response industry writers. Find out how membership can change the course of your career. Learn More »

Published: April 9, 2019