Countdown to Bootcamp! Write for AWAI and the Many Other Clients Looking to Hire New Talent this Year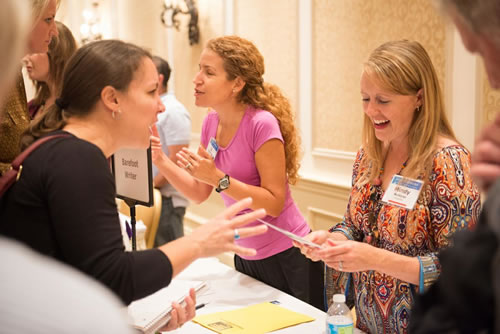 Heather Robson, Managing Editor of Wealthy Web Writer, loves attending Bootcamp every year. She writes a Live Blog for the website, keeping members up-to-date on presentations as they're happening.
She is also partnering with Nick Usborne for a presentation titled, "How Web Copy Works — What You Need to Know in 2019." No doubt that will be very informative and valuable!
Heather also dedicates time to meet new writers who may be interested in writing for the site.
Of course, Heather isn't the only one looking for writers.
Mindy McHorse is another popular person at AWAI's Job Fair. For writers who want the chance to submit articles to Barefoot Writer, meeting Mindy, the Executive Editor, in person is a great way to start a relationship. Every year after Job Fair, Mindy hires several new writers (sometimes dozens!) to write for the monthly magazine.
AWAI is just one of many companies who come to Job Fair now. When Job Fair first started over 20 years ago, most of the marketers were from financial and health publishers. They knew we turned out the most capable direct-response copywriters.
But as word spread about AWAI, and about the caliber of writers who were "graduating" from our copywriting training programs, a wider variety of companies started making the annual trek to Delray Beach …
Now, several dozen companies come to find writers who can bring new ideas, and to hire the next batch of new copywriters who are going to help them exceed their marketing goals.
Bootcamp attendees can meet people like Heather, Mindy, and several dozen other marketers who are searching for trained and enthusiastic writers!
AWAI's 2019 Bootcamp is Sold Out but you can join us live! Go here for all the details.