Announcing a Product So Rare,
You Can't Have It!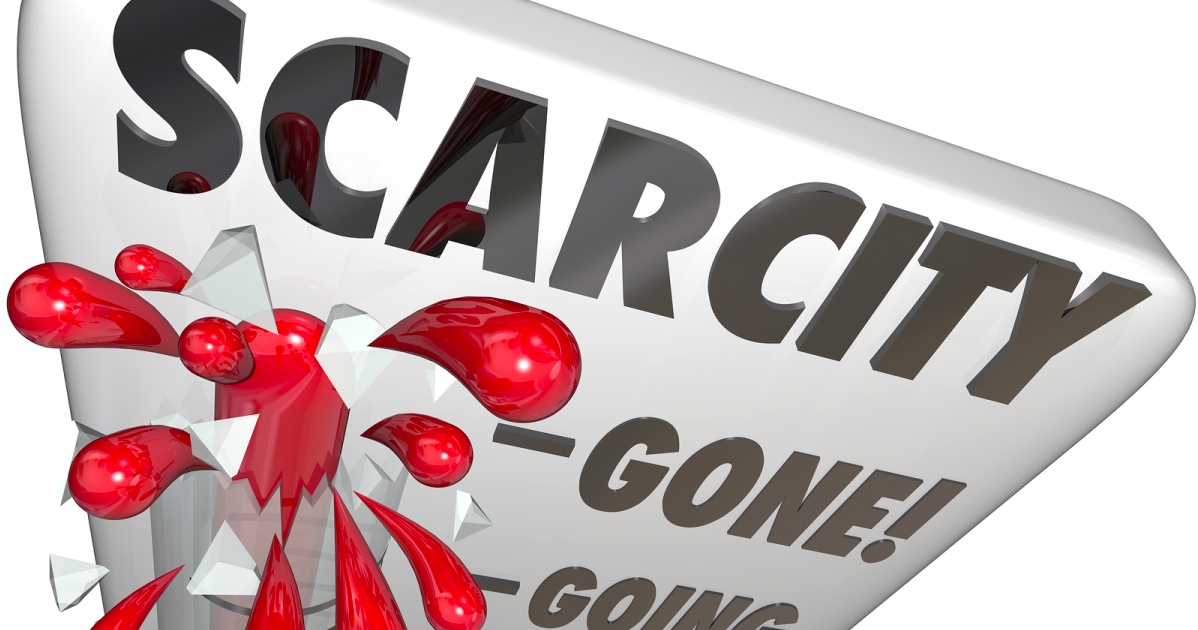 For nearly 40 years, I've kept an article by Bruce McCall in The New Yorker on my typing stand so I can see it every day. It's a parody of a typical magazine ad from the Franklin Mint, which used to be one of most famous mail-order companies of its day.
The Franklin Mint's advertisements always emphasized the rarity and scarcity of their collectible products, and The New Yorker's satire took this to a ridiculous extreme.
Under a headline that said, "HERE'S AN OFFER SO LIMITED THAT YOU CAN'T HAVE IT!" the copy began with these three hilarious lines:
"Imagine a collector's item so exquisitely detailed that each is actually invisible to the naked eye."
"Think of an heirloom so limited in availability that when you order it, the mint specifically constructed to craft it will be demolished."
"Picture an item so precious that its value has actually tripled since you began reading this."
Why have I kept a copy of this parody on my desk for 40 years?
Well, for one thing, it never fails to crack me up, so I start every morning with a smile on my face.
Secondly, it reminds me not to take what I do for a living too seriously.
Third, Bruce McCall's article — even though it's a satire — contains an important lesson for copywriters:
One of the most significant triggers of desire in human psychology is scarcity. Nothing makes you want a product more, in other words, than finding out you can't have it!
Speaking of satire, I wrote a satirical novel recently called THE DON CON. It tells the story of a washed-up actor who gets involved with a Mafia don, winds up going to jail, and then tries to get his revenge on the gangster by playing an elaborate con game on him.
In order to write the novel, I had to do a lot of research into con artists and how they operate. As I was doing this research, I was surprised — but not too surprised! — to discover that many of the techniques, tactics, and tricks used by con artists are the exact same ones we use in copywriting!
This is not to say that copywriters are con artists. They are not. Because con artists have something lawyers call "criminal intent." Con artists try to steal money from their victims and get out of town before the victim even knows he's been taken.
Copywriters, on the other hand, try to provide a product to their customers that is worth as much, or even more, than the money they're charging for it. We copywriters also try to build long-term relationships with our customers so they will buy from us again and again. You can't do that if the customer feels like he's been conned.
Nevertheless, I was able to identify exactly 44 tricks that con artists use which also can be used by copywriters and, in fact, by anyone who needs to be persuasive, whether it's in their professional or personal lives.
To illustrate this point, let me tell you a peculiar story.
Many years ago, I was living in New York City, and one day I was on my way out the door to do some shopping at Macy's when my wife stopped me and said:
"If you see a board game called 'Trivial Pursuit,' buy it."
A board game? Neither my wife nor I had played a board game in years.
"Why would you want a board game?" I asked.
She said, "Everyone's playing it, it's supposed to be fun."
I said, "Well, I don't really like board games, but if you want it, I'll buy it."
So after I'd finished my shopping at Macy's, I asked the clerk, "I also need to buy a board game called Trivial Pursuit, but I didn't see it on the shelves."
He laughed at me.
"Of course, you didn't see it on the shelves," he said. "We've been sold out for months. We're supposed to get some more in about six weeks from now."
That's interesting, I thought. So I went across the street to Gimbels and said, "I'm looking for a board game called Trivial Pursuit."
The clerk said, "Yeah, right. You and everybody else. I could put your name on a waiting list, but we probably won't call you until next summer."
So it went for store after store. Nobody had it for sale. Everybody wanted to buy it. And nobody wanted it more than me! After a few hours of looking for it all over Manhattan, I was consumed with a burning, salivating, unquenchable desire for Trivial Pursuit.
Let's examine my behavior. At the beginning of the day, I didn't know what Trivial Pursuit was and had absolutely no interest in it. By the end of the day, I would've paid any price, borne any burden, supported any friend, opposed any enemy … just to get my hands on Trivial Pursuit.
What made the difference?
Scarcity! The mere fact that it was hard to get made me want it as badly as I'd ever wanted anything.
The truth is that human beings are hardwired to put a high value on anything that is rare, scarce, or hard to find — even if they have no particular desire to possess that item in the first place.
Are you familiar with the type of mushroom called white truffles, for example?
Chances are, you've never eaten a white truffle because relatively few Americans have. After all, it's just a mushroom, so who really cares, right? You've probably never eaten a fried grasshopper, either, but I doubt if you're losing any sleep over it.
What if I told you, however, that truffles were impossible to cultivate domestically … So if you want one, you have to find it growing wild in the forest.
What if I told there are only a handful of places in the entire world where they grow wild — the mountainous Piedmont region of Italy and a few remote parts of southern France …
What if I told you they are so hard to find that truffle hunters have to use dogs or even pigs to sniff them out …
What if I told you the taste of truffles has been described as "sublime" … "intoxicating" … "addictive" … "unlike any other flavor in the world."
What if I told you that many people would pay $100 or more to have one-tenth of an ounce of truffles grated over scrambled eggs? (Can you imagine paying a hundred bucks for a plate of scrambled eggs?!)
What if I told you that if you order white truffles in a restaurant, the waiter will actually bring a small electronic scale to the table to make sure he doesn't accidentally give you too much … or too little …
Would you like to try a truffle now?
I bet you would! And if I told you that you could have some white truffles for just $10 instead of the usual $100, I bet you'd reach for your wallet faster than Wyatt Earp could go for his gun.
That's the power of scarcity.
But what does a copywriter do if your product isn't actually scarce or rare? What do you do if you're selling a book or newsletter, for example? Your customer knows full well that if you run out of books, all you have to do is call the printer and order more of them. How do you invoke scarcity in that situation?
That's where the deadline comes in.
Even if the item you're selling is not particularly scarce, you can make it scarce if you can come up with some credible reason why you can no longer sell it after a certain date.
We're all familiar with the "limited time offer" … "sale ends at midnight" … "everything must go before our lease expires" sales. These ticking time-bomb offers serve three purposes:
First, they overcome the customer's inertia and get him to buy now; second, they trigger the mark's FOMO instinct (fear of missing out); and third, they interfere with the customer's ability to think rationally.
I mean, let's get real! Do you honestly believe that if a car dealer is willing to give you a $1,000 discount off the sticker price on President's Day that they won't give you the exact same deal on the day after President's Day?
Oh, yes, they might make a little dog-and-pony show out of it. "Well, I talked with my sales manager, and guess what? He said he's willing to extend the sale for 24 more hours just for you!" Who says the Age of Miracles has passed?
But if you're going to use the ticking time-bomb trick, you've got to make sure the bomb doesn't blow up in your face. If you apply too much time pressure, if the deadline is too soon, or if you apply the pressure too early in the persuasion process, the customer may very well back off and say to himself, "Well, I can't make a decision on this right way, so I'll have to pass."
Like so many of the tricks and secrets used by copywriters (and con artists), they have to be applied with a gentle touch.
You can get a copy of my new novel, The Don Con, on Amazon.

The Professional Writers' Alliance
At last, a professional organization that caters to the needs of direct-response industry writers. Find out how membership can change the course of your career. Learn More »

Published: May 27, 2019