May Issue: Kitchen Sink
Escape-Plan For Writers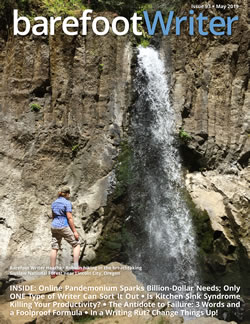 Just about every Barefoot Writer I've ever met is an optimist by nature.
You almost have to be …
How else can you summon up the guts it takes to break the everyday mold of settling for the hand you're dealt …
And turn it into an all-aces lifestyle where you call the shots, cards be hanged?
There's just one thing you have to watch out for.
It's the risk that comes with wanting to do everything and optimistically thinking you can pull it off. Like when you're certain this next thing and that next thing are vital to your success …
To the point where you wind up overwhelmed and overworked, mixed up and mired down by all the goals and benchmarks you've set for yourself.
Tell me if this sounds familiar:
I want to make a living writing autoresponders, so I'm going to study email copy.

And even though alternative health is my top niche choice, I need to make extra sure, so I'm going to research other options.

Then I'll learn about landing pages and opt-in boxes. And how to write websites and blogs. It's all related.

And I'll work on those only after my daily journal writing. And my affirmations. And after I check in with my writing group.

Although … I should probably find some clients so I'm ready to go once I've learned everything about writing for the web.

Which means that first, I need to research clients. I'll also set up my own website. And I need a new Twitter profile. And a Facebook page. And probably an Instagram account, too.

So today I'll buy a domain name — after I decide for sure on my niche. Maybe I'll spend my first 20 minutes today looking at other niches. After I do my journal writing.
Can you see how this optimistic, misguided writer is never going to get started?
It's a case of Kitchen Sink Syndrome, an aptly titled challenge we Barefoot Writers grapple with.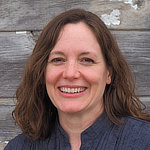 That term was coined by writer Heather Robson, our Featured Interviewee for May. She's spot-on in her assessment that as writers, we tend to want to get good at everything before we venture out into actually doing something.
But you can't get good at everything.
Thankfully, Heather offers a solution so easy, you'll find yourself doing less overall … yet getting more done.
Go to your May issue now and flip to page 18 to read more about Heather's take on Kitchen Sink Syndrome.
When you're finished with that, turn to these eye-openers and discover
the online pandemonium sparking billion-dollar needs for just one type of writer,
the antidote to failure: 3 words and this foolproof formula,
4 fast ways to find a viable home for your writing, and
how to escape a writing rut: 5 simple ways to change things up!
Click here now to read your May issue of Barefoot Writer.
If you're serious about getting paid to write for a living, consider becoming a member of our Barefoot Writer Club. Along with your 12-month Barefoot Writer Magazine subscription, you'll get …
Admittance to the Barefoot Writer Private Facebook Group where your fellow writers actively engage in growing their businesses, sharing advice, and answering the burning questions that might be holding you back.
Unlimited access to all back issues (over 90 issues of content designed to help you write better, faster, and for more profit!).
Access to special discounts for writers ready to take the plunge into paid writing careers
And, of course, a whole lot more …
Membership into the Barefoot Writer Club is literally the quickest route I know to life as a paid writer: Join the Barefoot Writer Club today.

The Barefoot Writer
Discover a lucrative style of writing that will give you as much freedom as you can have while earning a great income at the same time. Learn More »

Published: May 4, 2019