June Issue: Karma for writers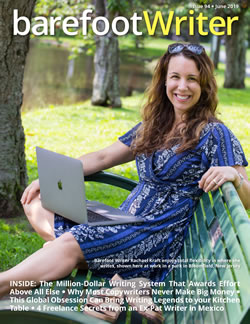 I'm always a little embarrassed when I think back on my attitude as a fledgling writer …
Ten years ago, I was brand-new to Barefoot Writing. So I joined AWAI's Circle of Success, which is a mentored, interactive, support and training program for writers who want to go far.
There were 12 of us in the group I'd been assigned, filled with writers from across the globe. Only … one other writer, a guy named Greg, was from Albuquerque … like me.
Much like a gunslinger in a western movie, I remember thinking this town ain't big enough for the both of us. I saw him as my competition.
Which goes to show how little I knew about the world of Barefoot Writing. Demand for well-trained persuasive writers continues to outstrip supply today, just as it did back when I started.
Greg, who eventually became my friend, helped me realize something key:
Fellow writers aren't your competition. They're your teammates.
Since then, I've seen countless acts of kindness and encouragement from other writers, from critiquing copy to goal-planning to cheering others' successes.
And in the Barefoot Writer world, what goes around, comes around.
It's like tangible karma. After all, karma is the recognition that causes have effects. And throughout our writing careers, our actions produce outcomes — sometimes good, sometimes bad.
Your writing karma is the sum total of how you navigate your writing career. It's steered by a vast accumulation of prior circumstances, actions, thoughts, and feelings — everything that brought you to where you are today.
There's a challenging side to it, of course. Just as our positive actions bring about an effect, so do our negative actions. Over time, those negative thoughts can become habits and tendencies. That's where we run into roadblocks like procrastination, self-doubt, and fear.
Here in the Barefoot Writing Community, you have the opportunity to create new karma. The door is open to venture out into the world of paid writing. And while it won't feel familiar at first, knowing others are on the same journey is a considerable help. Watching and connecting with other writers, and reading about their wins and challenges, helps your own negative habits disappear.
It also brings you the tools you need to make it as a paid writer, such as confidence and connections — like setting in motion a cause that will have a future effect.
You can start now and reshape your karma as a writer by choosing to channel your thoughts and actions in a new and positive direction.
Maybe that means introducing yourself to another writer … or sharing a recommendation.
Maybe it means opening up about your freelancing fears and asking for help.
Or, maybe it means connecting a fellow writer to a potential client, or writing a testimonial for a colleague.
Nowhere have I seen this concept of karma more clearly than in the story of Henry Bingaman, our Featured Interview this month. In the ten years I've known him, he's been the driving force behind countless acts of kindness and humility toward other writers.
And this year, Henry will make over $1 million from his writing.
Karma?
I think so.
Along with Henry's powerful story, this month's issue also sheds light on:
The million-dollar writing system that awards effort above all else
Why most copywriters never make big money — and how to be the exception
4 freelance secrets from an ex-pat writer in Mexico
3 ways you might be sabotaging your success (and surprisingly simple solutions
Click here now to read your June issue of Barefoot Writer.
If you're really serious about launching your writing career — and fast — then I HIGHLY recommend you check out our Barefoot Writer Club. It's for folks like you, interested in making a living writing and getting paid for it, and ready to step up and take control of their lives.
Along with a full subscription to each new Barefoot Writer Magazine, you also get access to our treasure trove of over 90 back issues, each one packed with tools and tips to help you launch your writing career fast.
And if that weren't enough, Club Membership also gets you admission to our Barefoot Writer Private Facebook Group where your fellow writers actively engage in growing their businesses, sharing advice, and answering the burning questions that might be holding you back.
You'll also get our value-packed writing opportunity reports, including The $500 Email Secret, Get Paid to Surf the Web, The Secret of the 1-Hour Work Week, and The Lazy Writer's Path to a Six-Figure Income.
Each bonus has been specifically designed to give Club Members the best information possible for getting a successful writer's life up and moving at lightning speed.
THIS is the time to take that step … click here to learn more.