The Victory Strategy Used by an Almost-Millionaire Writer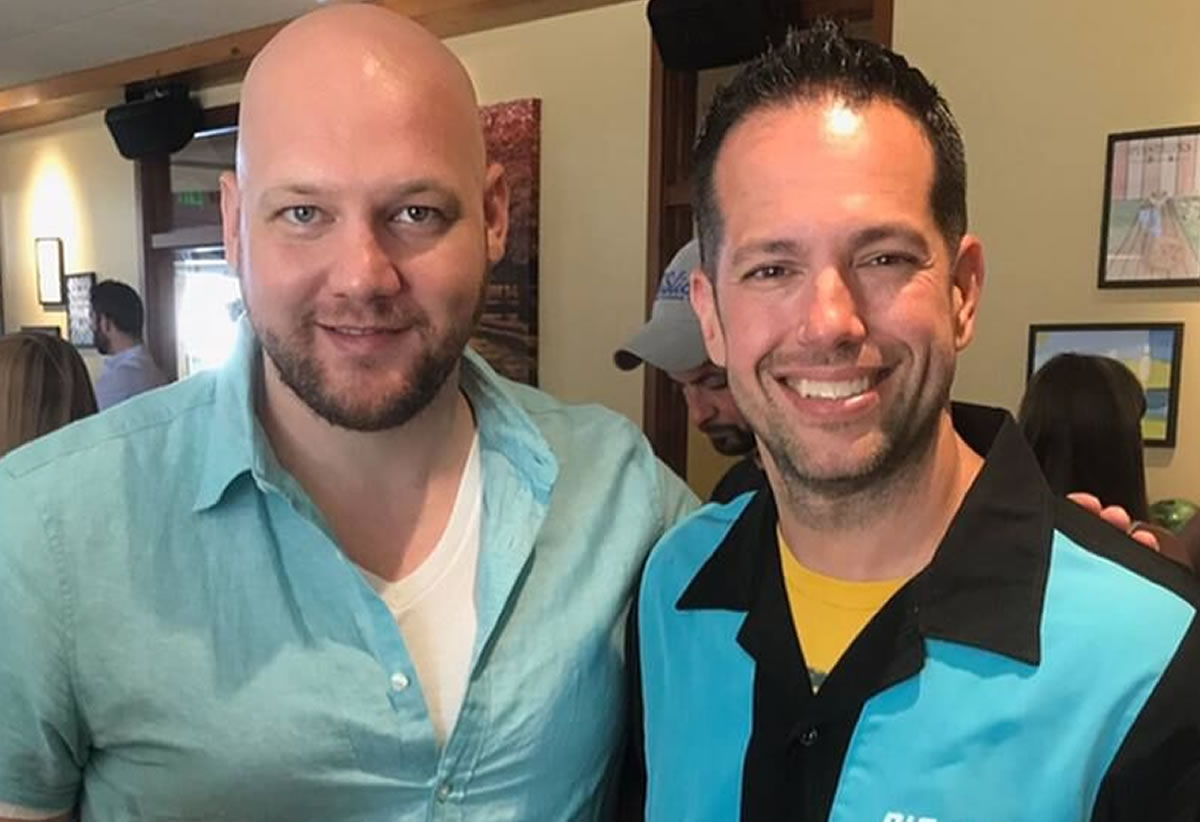 AWAI Member Henry Bingaman with fellow copywriter, mentor, and friend, Jedd Canty
Do you remember that lesson taught to kids far and wide at summer camps, about how a single twig can be snapped in half in the blink of an eye?
Yet if you gather a few twigs together — make a stack of them, even — they hold strong?
Writers are the same way.
Alone, we may break. With support from other writers, we're strong.
Understanding that single lesson, right there, could make the difference between your high-earning success as a respected writer …
Versus fizzling out and not making your dream to write a reality.
I realize that's quite a statement. But here's why I stand by it …
Most people who come into our world of writing and profound freedom, will at one point feel paralyzed by fear and ineptitude.
They read the things others have written, and feel like they'll never measure up.
Then they sit down to write things like others have written, and in essence prove they don't measure up.
This is the point where some give up and walk away.
But what of the people who keep right on going? Who persevere beyond the realization that writing, and especially persuasive writing, is a finely hewn skill developed over years of practice and study, plus feedback from others?
I remember being a new writer and sending in assignments, thinking, 'This is pretty good! I think I nailed it!'
And then I remember getting back documents stained red with corrections and suggestions.
Initially, I was crushed. I obviously wasn't a natural. Or nearly as clever as I thought.
Gradually, I realized that every suggestion from an editor, a proofreader, or a marketer, was only meant to make my copy stronger.
And gradually, I came to look forward to the many lines of red that inevitably cover my first drafts. I value the lesson they hold.
It helped me realize I was never on the judgment stand for my writing. That I'd never have to answer the question, Am I good enough?
Because the real questions you should ask yourself are, What can I learn from this experience? Whom can I ask for help?
And most importantly, Who's in this with me?
Questions like that were part of Henry Bingaman's journey as a copywriter.
He shared several stories and photos of those who've been there for him along the way in a fascinating interview for our June issue of Barefoot Writer.
Henry, whenever possible, switches accolades for gratitude and counters any praise directed at him with a long list of those who helped him get his copy to the level it is now.
So if you're having trouble wrapping your head around a project … or worried that your writing is the problem … or stumped on how to get better …
Then ask.
Ask for feedback. Ask for critiques. Ask for suggestions.
AWAI is here to help you. We have multiple Facebook groups you can turn to for guidance, plus several mentoring programs you can join. AWAI also offers several opportunities to train with an expert and get personal feedback and group support. Take advantage of one in the copywriting specialty you'd like to focus on.
Most towns have in-person writing clubs.
And just about all of us have at least one friend or family member in our lives we can turn to for appraisal.
So push past the nerves and trepidation … past the pride … past the fear … and ask for feedback. Ask for help. Turn to others for guidance. Henry is proof — you'll be glad you did.
For the full scoop on Henry's experiences with mentors, partners, and friends, and whether he has reached an aggressive income goal he set years ago, check out our June issue of Barefoot Writer. And if you'd like a safe, supportive place full of writers with similar goals to yours who are happy and willing to offer feedback, join our Barefoot Writer Club. Find out more here.
Do you have any questions about getting started? Share with us in the comments.

The Professional Writers' Alliance
At last, a professional organization that caters to the needs of direct-response industry writers. Find out how membership can change the course of your career. Learn More »

Published: June 18, 2019