Outback Road-Tripper Finds
Fame through Writing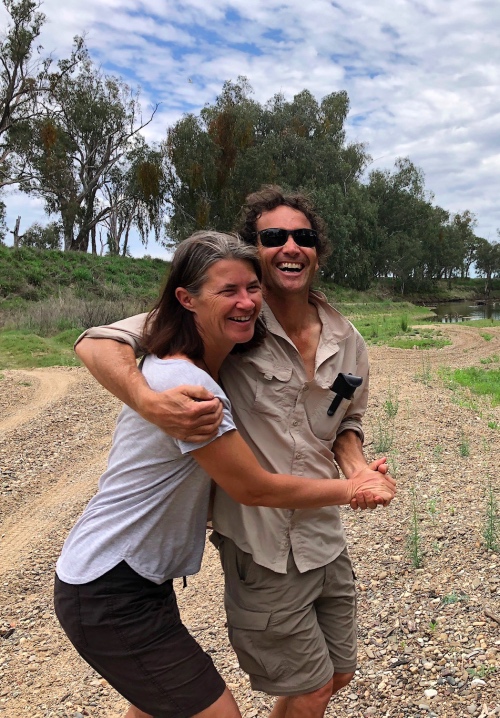 Peta and Andrew relaxing beside an Outback river, making the
most of the shade from their "house on wheels"
Andrew Murray experienced the trip of a lifetime when he took a 12-month journey around Australia, and from that moment on vowed never to be stuck in one place again. But to make his dream a reality, he needed a reliable, mobile source of income. And that's where Barefoot Writing entered the picture …
What did you do before writing?
I was a mechanical engineer. My wife, Peta, and I owned our own company and made spare parts for manufacturing machines. How did that lead to freelance writing? I was looking for something that we could do on the road. Peta and I did a trip around Australia for 12 months with our two kids in 2010. As soon as we got back, we realized there was more to life than working nonstop. So we started to plan how we could do it full-time. And obviously a part of that was, How do I generate an income? Then I came across that classic AWAI promotion — I can't remember the headline … Was it, "Can You Write a Letter Like This One?" That's it! That grabbed my attention and that's where the copywriting journey started. At the time, the spare-parts business was declining. I was doing some contract, hourly-rate engineering work for a large company. As I transitioned to writing, I just reduced the number of contract hours that I did. Then I'd spend a day at home doing copywriting, and then gradually two days at home, then three. It was probably a 12-month transition.
Can you tell us about your Money Making Website?
It's Top Wire Traveller, an outback travel website. I started the website in April 2016, and then later in the year I took Nick Usborne's How To Write Your Own Money Making Websites program. We travel around, explore places, and do product reviews related to outback travel and equipment. We also travel in a four-wheel-drive truck, not a pick-up or a utility. We provide a lot of detail about each destination that we write about. There are a lot of websites on all different destinations around Australia, but there aren't many that go into detail. We have our website name written down the side of the truck so our truck is a mobile advertisement. We get a lot of people coming up to us and asking what we do.
Did Nick's program shorten your learning curve in getting your site going?
Definitely, yes. It was excellent. He really knows what he's talking about. In fact, right now I am rewriting a website for a company and I have Nick's Web Copy Apprentice course open beside me.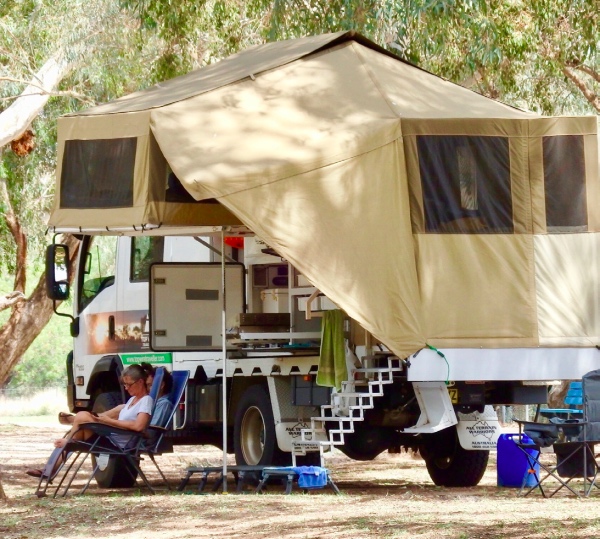 Peta and Andrew enjoying the freedom of their lifestyle in Outback Australia
You're currently the Wealthy Web Writer's Reality Blogger. How about your other copywriting work?
I started a web-content writing business before I started the Money Making Website. It's in a related niche with our four-by-four and camping accessories. But it sort of faded away, because my website generates the work. For example, I'm rewriting a website right now. The project is a direct result of someone in the industry who knew us through Top Wire Traveller and hired me to rewrite their website. And I've sent a proposal in for writing another website, where we got to know the people through Top Wire Traveller.
It's just like Rebecca Matter says, about a Money Making Website helping you build authority in your copywriting niche.
Yes! I remember clearly reading exactly that from Rebecca a few years ago and thinking, Yeah, maybe … But it is actually true.
What's your advice for a new copywriter?
Number one would be to take the advice that you read from the experts at AWAI. It's not going to happen overnight. You need to learn the basics first. What these people are telling you is correct. The second one is believe in yourself, stick with it, and don't give up. That's really important. Don't listen to the doubts that say, I'm not getting anywhere. I'm not making any money. This is not working. Keep going, stick with it, and be committed.
Is there anything you weren't anticipating that you've learned because of your writing?
What is totally unexpected is … being noticed. When we're camping, people come up to us and say, "Ah, Andrew and Peta, I know you." We didn't expect that at all.
If you could pick any new hobby and money was no object, what would you do?
I can think of about 5,000 … Ah, I know: I'd be a helicopter pilot. I'd buy my own helicopter.

The Barefoot Writer
Discover a lucrative style of writing that will give you as much freedom as you can have while earning a great income at the same time. Learn More »

Published: July 5, 2019