Time for Recess: Supercharge Your Writing Career by Taking Time to Play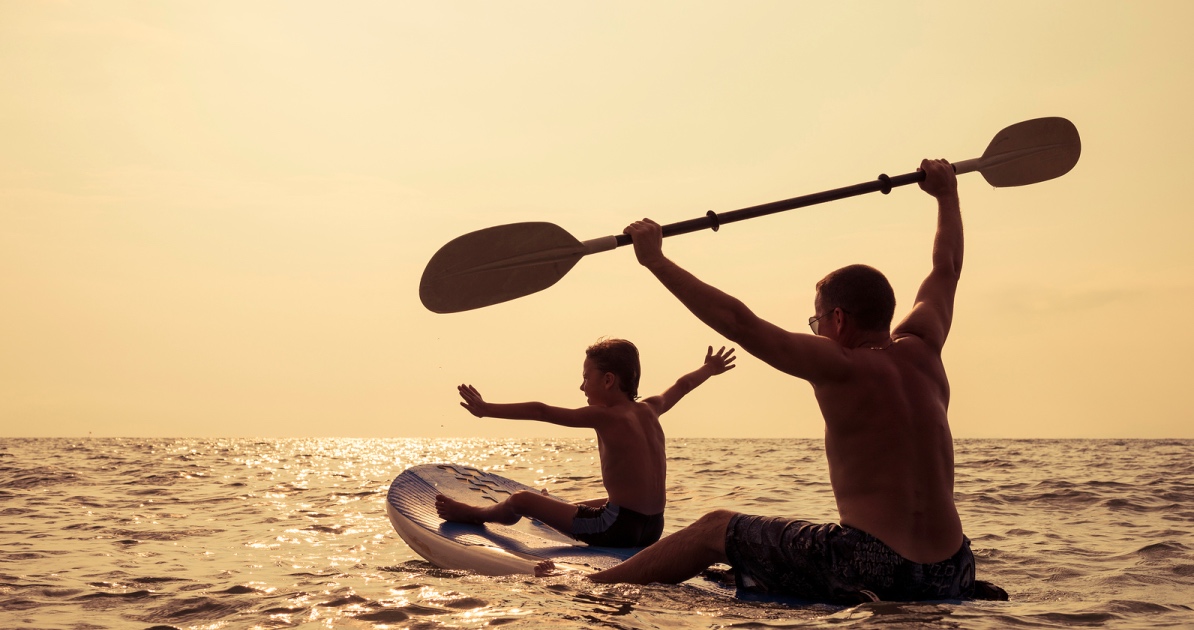 Let's start with a little quiz …
Do you know who wrote this?
"Oh, it was heaven! Nothing like it. Nothing like that rushing through the water at what seemed to you a speed of about 200 miles an hour; all the way in from the far distant raft, until you arrived, gently slowing down, on the beach, and foundered among the soft flowing waves."
In 1922, a pioneer of surfing wrote this about the fun and exhilaration of learning to ride the waves.
If you're wondering why this is relevant, the plot thickens. This surfer was a pioneer of writing, too, becoming a best-selling novelist and playwright whose books and characters are still loved today.
This writer also loved to dance, roller skate, and swim.
I'll tell you who this person is and exactly how famous they are shortly. But, what's important now is this: This person was a prolific writer in part because they knew how to play.
How Does Taking Time to Play Help You As a Writer?
Play has many benefits for writers. For everyone, really. It's unfortunate that we tend to forget how important it is, as we settle into adulthood. As you read on, you'll discover how each benefit of play supercharges your writer's life with positive effects.
Creativity and Your "Triple F Factor"
Creativity is vital for writers. It's like the blood running through your veins.
Anxiously waiting and hoping creativity will show up – when and if it feels like it – is not an option for you. You need it to flow constantly. On demand.
When you realize the importance of play and act on it, you boost three vital elements you need as a writer – imagination, creativity and problem-solving skills.
I like to call it turbocharging your mind with the "Triple F Factor": Free your imagination, Fuel your creativity, and Fix your problems.
Here's what happens to your writer's brain when you play, have fun, and relax …
Free your imagination
When you play, your mind feels safe and free. Your squad of gatekeepers – your inner critics, logic, your analytical mind, routine – have all left the building.
Your imagination wakes up and realizes it has permission to run free and wild. It's not worried about doing the wrong thing, because there's no one to censor your thoughts and ideas.
Now, your mind has the opportunity to explore the unknown, imagine endless possibilities, and try out new ideas. And it's safe, because it's okay to fail.
Fuel your creativity
As your mind explores all these new and exciting ideas, your creativity no longer hides behind a wall of fear and uncertainty. Fresh ideas tumble out.
Fix your problems
The neurons (nerve pathways) in your brain relax, and you're able to gather insights and make connections your analytical work brain would never think of. Creative insights are easier to spot, and you can use them to solve problems or find innovative solutions to make your ideas work.
The effect of play on your mind is like this …
Think of a route you drive daily, such as going to work or taking the kids to school. Your focus is on reaching your destination in the quickest, easiest way. You know the route so well, it's like travelling on autopilot. You're like a racehorse charging down the course with blinkers on, and you don't slow down or take notice of what's along the way.
A play break let's your mind slow down and change gears.
Now, instead of driving a pre-determined route, you find yourself in a beautiful forest at a point where several paths meet. You can wander down any path and discover what's there. Because it's all new, your senses are heightened … you're more observant of your surroundings as you take them in and make sense of them. You can go down one path and then take a new path and discover something completely different.
Imagination is what allows you to dream up new possibilities and advance. From there you use your creativity and problem solving to find new paths, methods, and solutions for those innovations.
Prime Your Productivity Pump – Do Better, Do More and Enjoy It
Your success at work doesn't depend on the amount of time you work, but rather the quality of your work.
It's tempting to think the best way to cope with an ever-increasing work load is to work longer and harder. But, without recreational time, it's more likely to suffer. You deplete your creativity, become overwhelmed and exhausted, and you eventually burn out.
Play and recreation help you produce better quality work and give you greater job satisfaction and enjoyment.
When your next project hits an obstacle, rather than working harder and becoming overwhelmed, take a recess and have some light-hearted fun. You'll replenish yourself and be able to tackle those problems with greater creativity and innovation.
Mind, Body, and Emotions All Feel Better
Play helps you reap health benefits in all areas. You'll feel mentally, emotionally and physically better for having spent time having fun.
One of the scary parts of being a freelance writer or solopreneur is thinking about what happens if you get sick. When you're not working, work stops and so does your income.
Working long and hard without a break depletes your health on all fronts. Your perseverance wanes, your joy fades, and everything becomes a struggle.
Play helps your health in these three areas:
Mentally, it:
Improves your brain function by helping you stay sharp and keep your memory and thinking skills fine-tuned.
Supercharges your learning. Play fuels fun and joy. When you try new things, these two ingredients become catalysts to help you absorb knowledge naturally and easily.
Relaxes and refreshes your mind.
Emotionally, it:
Nurtures positive emotions as it relieves stress.
Helps to ward off depression and anxiety – espeically when you make time for fun with family and friends.
Physically, it:
Releases endorphins, your body's feel-good hormones. Endorphins help you relax and promote a sense of well-being and vitality.
Increases your energy, boosts your immune system, and prevents burnout.
Play Enhances Human Connections
Sharing fun and playing with others does more than help you connect with them. It also fosters understanding, empathy, and compassion.
These are powerful tools for writers. As a copywriter, you need to be a master of understanding your prospect, so you can get "inside their shoes," empathize with them, and experience life and problems as they do.
When you do, you write copy that speaks to your prospect, makes them feel understood, and engages with them both emotionally and mentally.
Having a playful nature around others helps you loosen up in stressful situations. So, the next time you're dreading that networking event, remember a playful attitude will help you break the ice with strangers, make new friends, and build new business relationships.
What Defines Play for Adults?
Dr. Stuart Brown is the founder and leader of the National Institute for Play. He's a clinical psychiatrist who believes play is so important to our lives, he has spent most of his career studying it. This is how he defines it:
"Play is something done for its own sake. It's voluntary, it's pleasurable, it offers a sense of engagement, it takes you out of time. And the act itself is more important than the outcome."
So, the essence of play boils down to this …
There doesn't need to be any point to the activity you're doing, beyond having fun and enjoying yourself. You need to focus on the experience and not accomplishing a goal.
Play is around us all the time and comes in many forms. The attitude you take with you also determines how enjoyable and recreational your activity will be. You may be working, but you can choose to have a playful attitude. As you pass through your day, the seeds of play will sprout and take effect.
Play is finding amusement, joy, and wonder in everyday life.
Are you ready to get serious about incorporating play into your schedule? If you've been neglecting this necessary activity in your life, these eight tips will get you playing again …
1. Change the way you think about play.
It's not careless and frivolous. It has so many benefits for your career and your life that it's essential to your well-being as a writer and a person.
2. Set a goal to play more.
Goals aren't only for the serious things in life. The benefits of play are so significant, it's just as important to set a goal to play more if you've been neglecting it in your life.
3. Decide what fun means for you.
Often, we get so caught up in adulting with all its commitments and responsibilities, we can't remember what fun is. If this is you, take a play history. Recall what you did as a child or teenager that excited you, gave you pleasure and made you laugh. Use these clues to decide how you can recreate those activities today.
Play is as unique as your personality, so there isn't a "one size fits all" formula. What is fun and recreational for me may be something you hate. Because of this, the list of play activities is endless.
4. Put it in your schedule.
When you were at school, break time was scheduled into your time table, and you couldn't wait for the bell to ring so you could race to the playground.
Important activities like meetings, exercise, and study go into your schedule … so, it's as important to schedule time for play, too. You can even use it as an incentive. Once you've completed a difficult task, you have the reward of looking forward to something fun. It will help to curb the procrastination and the slog. Plus, you'll be ready to take on the next task with revived creativity and energy.
Set aside time daily, weekly and monthly for play. Even short breaks give you great benefits. Longer breaks, like vacations, should have at least one to two weeks dedicated to fun, playful activities.
5. Have a play date with someone special.
When you were a kid, finding out your parents had organized a play date with your best friend was so exciting. There's no reason why you can't do the same thing now and share the magic of play with someone else.
6. Spend time with a playful person.
Activity and attitude are what make play enjoyable. Spending time with someone who has a playful outlook rubs off on you. It helps you to relax, improves your mood and makes you more positive.
7. Play with kids.
Coloring books, race cars, Lego … even a simple blanket fort – kids are masters of play. They'll remind you how to have fun, look at the world with wonder and curiosity, and enjoy being in the present moment.
8. Turn off your devices and step away from the screen.
Having a short break to play a game of solitaire or build your Minecraft world is fine, but screen time shouldn't make up the bulk of your play activities.
As a professional writer, you spend a lot of time working with electronic devices. To gain the real benefits of play and rejuvenate yourself, it's better to enjoy activities that don't involve the sensory overload of technology.
Play is not for kids and pets only … we all need it, regardless of our age. It's not a frivolous activity you indulge in occasionally when everything else is done. Taking time to replenish yourself through play is one of the best ways to help your career.
It's an investment you make in yourself and your writing business. Together, the benefits offer a substantial return on investment.
The Mystery Revealed …
Who is our surfer and novelist who loved to play?
Known as the "Queen of Mystery," she wrote mystery and romance novels and plays.
She is one of the most famous and best-selling novelists of all time, and her works have sold over four billion copies. They have also been translated into more languages than any other individual writer.
Dame Agatha Christie was one of the first Britons to learn to surf and do so standing up, which was a remarkable feat for Europeans at the time. And of course, she was one of the earliest surfing correspondents, too.
Your Turn …
Now, take a moment to step away from your computer and go out there and play. Come back and let us know what you did and how it helped you.
This article, Time for Recess: Supercharge Your Writing Career by Taking Time to Play, was originally published by Wealthy Web Writer.

The Professional Writers' Alliance
At last, a professional organization that caters to the needs of direct-response industry writers. Find out how membership can change the course of your career. Learn More »

Published: July 10, 2019