August Issue:
672 Reasons to Celebrate YOU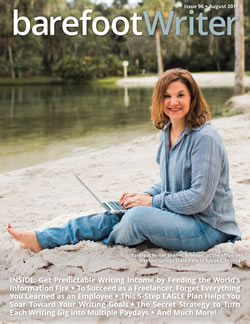 If I wanted to throw a party …
And if it were to celebrate you and all your writing wins …
Would you come?
Would you don a goofy party hat and eat pie with me?
Or would you frown and worry there's no reason to celebrate just yet?
Maybe you'd tell me you have yet to make the money you're hoping for. Or you're still at your day job. Or you haven't yet picked a niche or mastered a specialty or updated your LinkedIn profile to say "writer."
You know what?
None of that matters!
Because the glorious thing about writing for a living is that it's all wins. Because — and this may surprise you — the real joy is in the process, not the outcome.
I know we all set out in this world with specific goals in mind … Quit the day job … make buckets of money … move somewhere with a beach.
And those things can happen. Heck, they happen all the time! I know tons of writers who've done all those things.
But now they have new goals. Maybe to double that income that once seemed unreachable. Or to move somewhere high in the mountains. To be an expat. To learn to yodel.
The funny thing about goals once you're a writer is that they never stop.
It reminds me of a conversation I once had with a renowned sociologist. He'd studied income patterns of the rich and noted how earning goals never stay still. If you're making $50K a year, you fantasize about doubling that.
But those who make $100K think $500K is what they need.
And those in the $500K bracket have their sights on $1 million. It goes on and on, like a race with no finish line.
Which is fine, if you enjoy the race. And the process. Otherwise, you get stuck in a loop of discontent, always eyeing that next horizon, wanting everything that's bigger and better.
Here's something you should know: Life as a well-paid writer puts you in that race.
There's no limit to what you can achieve. There are no restrictions on how much you can write, or for whom, or where. There's no end to the goals you can check off while you're on this journey.
Which is amazing!
But, you'll quickly burn out, or get weighed down by restlessness, if you don't find happiness in all the wins along the way.
And there's a lot to celebrate along the way …
Like sitting down and just creating through words … Or meeting other writers and connecting with folks who understand your dream … Learning a new writing skill … Making contact with that first person who wants to pay you … Getting that check!
Even having the opportunity to pursue something you're interested in, to learn about and revel in because it fuels your creative desire … That's worth a celebration right there.
And here's another benefit to delighting in your wins: It helps you stay the course. If you can find joy in the little steps along your writing journey, you'll get greater satisfaction over the long haul, and you'll be better equipped to do what needs doing to get to each new horizon.
Our August issue is about exactly that: following through on the little wins and using regular, systematic processes to keep you focused. That includes
a 5-step EAGLE plan that helps you soar toward your writing goals,
a guide on "concentrated neural attention" that helps you stay the writing course,
the secret strategy to turn each writing gig into multiple paydays, and
tips for landing predictable writing income by feeding the world's information fire.
Plus, we have an interview with the great online writer Nick Usborne and his mammoth success in the world of writing — which all started with the goal to upgrade his sleeping situation.
Click here now to read your August issue of Barefoot Writer.
Have you redeemed your special invitation to join the Barefoot Writer Club? Because the clock is ticking … and I can pretty much guarantee it'll be the best decision you've ever made for your writing career.
Here's why:
The Barefoot Writer Club offers you a community of support like no other — literally. Plenty of folks out there want to make a living writing. Plenty just want to write.
But too many see the writing world as a place of competition and rivalry.
Yet it's NOT.
We know from experience — after watching hundreds of writers launch successful, paid writing careers — that the recipe for success is knowledge plus support.
Without support from people who understand your goals and your drive to write, it's too easy to fail.
As a member of the Barefoot Writer Club, that kind of thing doesn't happen. You'll be part of a genuinely supportive bunch of people who give free advice and critiques, who applaud your successes, and help you move past your hurdles.
Plus, the Barefoot Writer Club gives you access to loads of other benefits — like detailed reports that teach you shortcuts to money-making success, and discounts on the hottest writing guides.
In short, this Club is your win-win ticket to a life of access and satisfaction. Join the Barefoot Writer Club today and get ready to enjoy the paid writer's life you've always dreamed about.
Published: August 2, 2019