Choosing a Niche: Find Your Perfect Match for Clients and Lifestyle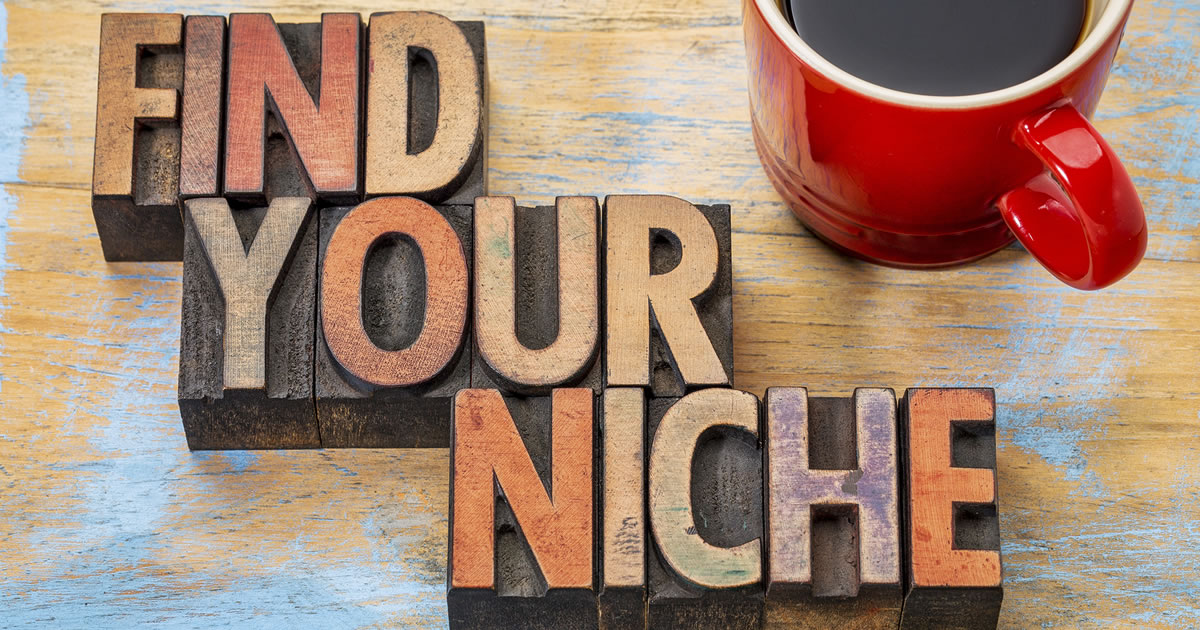 If you're wondering what it's like to connect with an ideal client in your niche, I want to give you an inside look today. You can use the tactic I discovered for your own writing business …
Now, if you've looked into copywriting at all, then you've probably already heard about choosing a niche … and about why it's so important.
Here are just a few of the reasons. A niche …
Sets you apart as an expert — which helps potential clients find you, AND allows you to charge higher fees …
Narrows your marketing efforts, so you can spend less time on marketing and more time on paid projects …
Makes conversations with new clients easier by establishing rapport earlier on …
Saves you time on researching your projects …
Lends you some clout and confidence as a new writer, even if you don't have a lot of writing samples yet …
So, with that in mind, here's what I recently discovered about one of my favorite clients …
Finding your "ideal match"
I write copy in the pet industry, because of my professional history as a veterinarian.
And there are plenty of clients there! Many of them great to work with.
Yet, in the last year, I realized something …
On average, the clients who were most likely to say "yes" to working with me after I sent a proposal … to be less price sensitive … and more interested in expertise in their industry than in finding the lowest priced copywriter …
… were clients in the veterinary industry — a specific subset of the larger pet industry.
And in particular, it was true for a client that owns several veterinary practices. They hired me for a fairly sizable project right off the bat … were quick to take my advice about what to include on their web pages and what to leave out … and always said "thank you" a lot and seemed to appreciate my writing …
We really seemed to be on the same page. And that's a great feeling when it comes to working with clients.
Really drilling down on your niche makes a big difference. It helps you find your perfect match, those most receptive to what you have to offer.
So, how do you choose a niche?
Here's a general overview of what to consider when deciding on your niche …
Your previous work and professional experience …
Your hobbies or interests (gardening, history, travel, etc.) …
Your life experiences (parenting, or coping with anxiety, for example) …
All of these areas of your life may give you ideas of where you have experience, including formal or informal education and training. Write down anything and everything you can think of. From there, you can choose some of your favorites, but you don't have to make a decision just yet.
You can further evaluate any potential niche by considering:
How large the industry is (in other words, if there will be enough clients for you) …
If there are professional associations — especially marketing associations and large events or trade shows (that's a good sign) …
If they produce a lot of copy, whether online or in print …
Whether you already know people in the industry (maybe former employers or colleagues) whom you can contact …
This is all a great place to start.
If you need more help, the topic of choosing a niche has been covered in-depth by copywriting experts such as Pam Foster and Steve Slaunwhite. And AWAI has many great articles and resources on the topic.
I highly recommend looking into those resources if you're just getting started.
Now, there are some other factors — both in terms of personal preference, and your work style — that may also be part of your decision …
Should your passion be your job?
There's a debate I always hear from new writers when it comes to choosing a niche: and that's whether to choose an area where they have professional experience, or to choose a topic that they're passionate about.
If you've already worked in a profession for many years, and you're tired of it, maybe you don't want that to be your niche …
Or, do you?
Here's the thing: Copywriting can be incredibly fun, even inspiring … but, it's still a job. And like any job, there can be some challenges, and some days when you'd rather be reading a book on the beach instead of researching your project or working to meet a deadline …
So, you have to ask yourself this: Do you want your passion to become your job?
Would you still enjoy your passion (whether that's travel, organic cooking, gardening, or any other personal interest you would enjoy writing about) if it was associated with pressure or obligations or deadlines?
Or, would it be better for you to base your niche on your professional experience, so you don't have to invest as much time into researching your copywriting projects? Keeping your passion purely just for fun, in your free time?
Many AWAI members have gotten their start in a copy niche connected to their professional experience, and then branched out to other opportunities.
Which direction you choose is an entirely personal decision, with no right or wrong answer. But, it's certainly something to consider.
What else can you bring to the table?
I have a friend who works as a copywriter in a very specific medical niche. And one of the benefits he offers his clients, is that he "tests" the copy on his colleagues in the industry.
In other words, he shows the copy to his colleagues, and gets their opinion. Asks them if it grabs their attention … asks them if they would sign up for the sample … and so on.
And because of this extra perk he offers clients, he is also able to charge more for his services.
In your niche, is there anything like that you could offer to your clients? Some sort of extra that would make it easier to market yourself, and make it easier for clients to say "yes" to your services?
Think outside the box and see what you come up with! And think about connections you may already have in your niche.
Are you good at marketing yourself and talking to new clients?
A lot of writers — myself included — may find that getting clients is the most challenging part of their business. We love the writing, but don't enjoy selling ourselves!
So, if that sounds like you … are you confident about reaching out to clients in your chosen niche?
If you picked an area where you already have a lot of experience — such as a previous profession, or big life experience like becoming a parent — then you likely will have more confidence, and establish rapport with a client who can immediately recognize that you have the expertise they're looking for.
For that reason, it may be easier for you to market yourself with confidence, when you go with what you know.
Again, there's no right or wrong answer here — just a piece of the puzzle to consider, when it comes to imagining what it will be like to work in your chosen niche.
What's your biggest priority?
Is it having fun doing a job that you like and that keeps you from getting bored? Is it earning a big income? Is it having more free time?
What about the pride of seeing your name in print? A desire to contribute to a good cause, like nonprofits? Or, some other factor?
Focusing on your biggest priority — your biggest "why" for getting started as a copywriter in the first place — could help you make a decision on your niche.
Some niches, such as financial newsletters, may have big financial payoffs, but also require more time investment from you, to keep up with current trends and hone your writing to compete with powerful control letters.
Others, like travel writing, may pay less but offer a ton of perks and allow you to travel more and live a great lifestyle.
Ask yourself what you're really looking for, and see if your chosen niche meets this goal.
To answer this question, you may need to do a bit of research, but it will be worth the time to do so.
And remember, whatever you choose, you can always change course and fine-tune your niche later. The most important thing is to get started. Because every step you take toward your goal is a step in the right direction.
And choosing a niche is a great way to make that first step toward your copywriting goals today!
Do you have any questions about choosing a niche for your writing business? Please share with us in the comments so we can help.

The Professional Writers' Alliance
At last, a professional organization that caters to the needs of direct-response industry writers. Find out how membership can change the course of your career. Learn More »

Published: August 5, 2019