Family Man Driven By His No. 1 Reason for Writing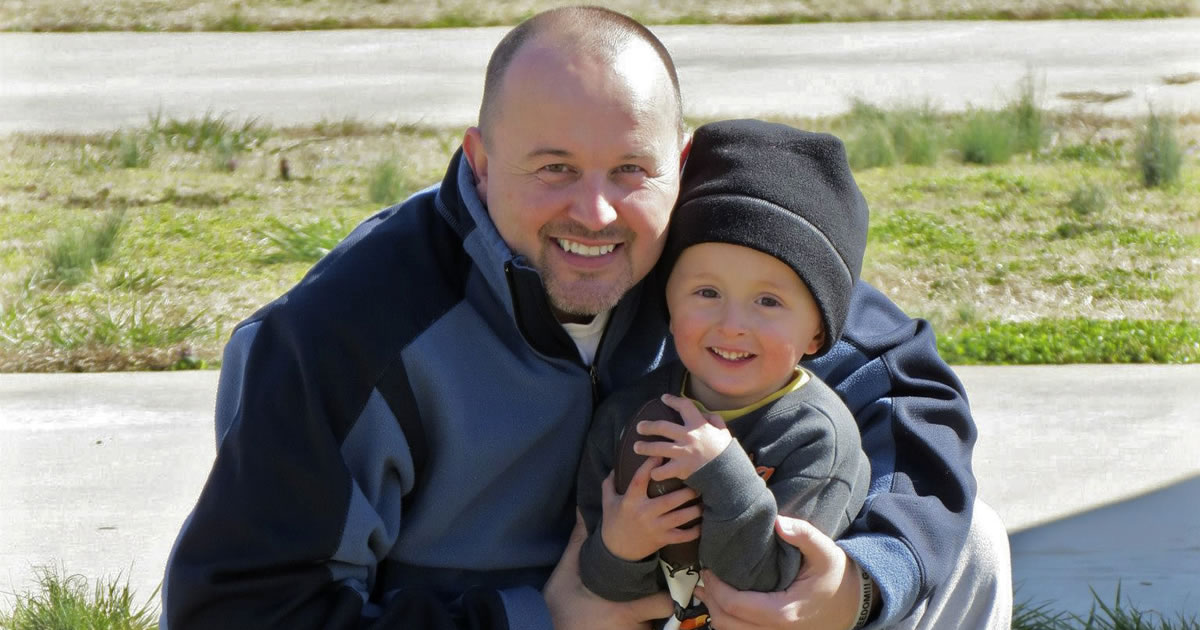 Joshua Vickery with his son
It's said that finding value in things before they're gone is the key to happiness … and if that's the case, Joshua Vickery has found that key.
A self-proclaimed family man, he knew for years he wanted to change his schedule to spend more time with his kids … but it wasn't until he discovered writing, and in turn, copywriting, that he was able to make his dream possible.
Enjoy Joshua's story and his tips for your own writer's life …
Why did you choose to pursue the writer's life?

I carry a letter in my pocket written by my son, Cross, when he was 7 years old: Dear DaD, i miss you so much and i love playing video games with you and we can Beat the zombies. Love Cross. P.S. i love you more than anything.

Sadly, the reason my son wrote me that letter was that most nights, I made it home just in time to put him to bed.

It had broken my heart having to watch my daughter grow up in pictures. While I was working late into the evenings, my wife would send me pictures of my daughter playing softball or winning a special award at school.

It also broke my heart having to drop my newborn baby boy off with the sitter every morning.

Though I didn't have a clue as to how I could earn a living from home, in 2009 I discovered my passion for writing. It was then that I had the vision of writing for a living, whether it was writing blogs, books, screenplays, or even this thing called "copy."

You ended up choosing a pretty large and unlikely niche … How did that happen?

I worked as the business development manager for a new-car dealership.

One day, my good friend and co-founder of my company, Bryan Newpher, called and asked, "Will that online stuff you've been talking about work in the car business?"

Though I was scared to death to take on one of the largest and most competitive industries in the world, I believed in what AWAI had taught me. I believed I had learned from the best in the world … and I set out to become the best in the automotive industry.

So I launched my automotive internet marketing consulting company, the Harvesters' Group, and now I write well-researched back-end SEO copy, along with front-end web-page content for automotive dealerships.

I especially enjoy writing email marketing copy and tracking the results. I guess you might say I'm also a "conversion geek."

What has been the project you're proudest of to date?

For me, it's always about my clients. If they don't succeed, then it brings me no joy whatsoever. And at the end of June 2018, I was able to present some mind-boggling results.

I had begun my SEO process for a dealership on April 5 (beginning of the second quarter), along with web-page optimization architecture and email marketing.

Now, this was a massive project from the get-go, because my client has three different websites, advertising seven different manufacturing brands. And, of course, he's competing in one of the largest and most competitive industries in the world …

I also enjoy delivering my data analysis with a little 'shock and awe' … so my report began by showing my client how from April to June his three websites actually had almost 5,000 fewer visitors. Which appeared to prove my SEO skills are horrific.

But then … I showed him the following:

Total Website Leads: Up 48% Quarter Over Quarter, and up 41.5% Year Over Year

Phone Calls: Up 86.8% QOQ, and up 47.6% YOY

… and this with almost 5,000 fewer site visitors!

What have been the most important steps you've taken to become successful as a freelancer?

Without question, the Infinity Program through AWAI. When I stumbled upon AWAI, I knew nothing about writing copy. But when I discovered the unlimited resources I could have through the Infinity Program, well … for me, I knew I'd stumbled upon something that would allow me at least the opportunity to one day experience the freedom of the writer's life.

Though I was skeptical, I began with The Accelerated Program for Six-Figure Copywriting, then dove headfirst into the other courses offered through the Infinity Program, and have never looked back.

In less than two months, I had completed The Accelerated Program, the Christian Program, the Money-Making Websites Program (where I literally learned to build a website in four days — which was a miracle for a dinosaur like me), the Customer Value Optimization, SEO Copywriting Success, Content Marketing, and Email List Building courses as well. And in less than two months, I had my Christian Copywriting business launched … website and all.

Then, seven months later, I took on and completely dominated an entire district in the automotive industry!

It sounds like you had an unshakable belief in the power of copy and the skills you learned. Like that's your superpower …

Without a doubt, I would love the power to help other people believe in themselves! And believe they were created to accomplish more than they could ever imagine …

Would you say that's the most important thing for up-and-coming writers to know?

That, and that you must know … your … why!

When launching my business — before walking into a potential client's office — I used to nervously pull my son's letter out of my shirt pocket, read it, shed a quick tear, then confidently slide it back into my pocket. My family is my "why."

Some people have been known to carry an ace in their back pocket. Me? I carry a "why" in my front pocket.

Now I have time-freedom to enjoy plenty of family fun!

With the success I've enjoyed, I truly have the confidence and belief that there is absolutely nothing I can't accomplish now when it comes to the direct-response and online marketing industries.
Share your "reason why" with us in the comments!

The Professional Writers' Alliance
At last, a professional organization that caters to the needs of direct-response industry writers. Find out how membership can change the course of your career. Learn More »

Published: August 30, 2019