Make Great Money Writing Any of These 5 Short-Form Copy Web Pages That Are in High Demand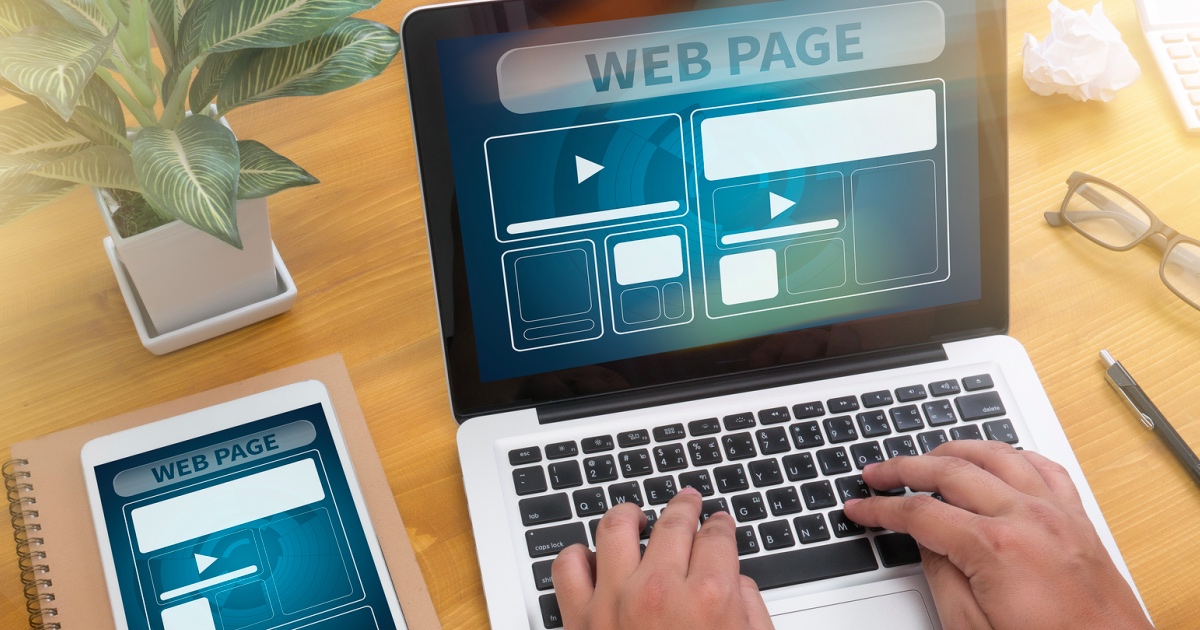 The Web is a powerful marketing entity — with online advertising spending on track to climb to $129.34 billion this year. And that has created a number of new opportunities for marketers to reach prospective buyers.
Yet all that "new" can also equal unfamiliar. On your journey to becoming a paid writer, you may encounter a number of projects that are unknown to you. The titles all sound similar, and you're not sure what's what.
Don't worry, that happens to everyone when they're learning and encountering something new.
Like Dorothy, the Tin Man, the Scarecrow, and the Cowardly Lion traveling to Oz, you may feel a bit unsure about how to proceed. So today, let's take a look behind the curtain at projects marketers need help with in today's internet-driven marketplace.
You'll see they're much more familiar than you imagined, and you'll have the power to identify the differences and talk to your clients about them with ease.
Along with an overview of these top five short-form web copy pages, I'll also share the average fee ranges for each project, according to AWAI's State of the Industry Copywriting Pricing Guide. You can see for yourself what great opportunities await you on this journey.
Learn how to write these five in-demand web projects, and you can make great money as a writer.
And we're off …
Homepage
The homepage is the opening page of a website, and a visitor's first impression of the company, so it's a critical piece to get right. Visitors have to immediately know they've landed in the right place, and that this site can answer their questions, and give them what they're searching for. They'll only give a site a few seconds to engage them.
Nick Usborne, the online marketing pioneer, says the primary purpose of the homepage is to welcome visitors and provide information and links to other pages on the site.
Since it has a lot of heavy-lifting to do, a homepage can also be one of the most challenging and difficult to write.
Here's an example of a homepage: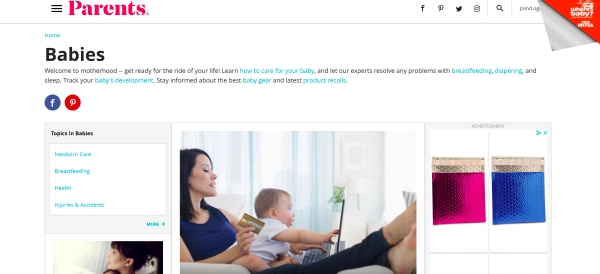 In our example, notice the text links in blue — how to care for your baby, baby's development, baby gear, etc. The reader can simply click on what they're interested in and go to other pages on the site.
While there's not a lot of copy on this homepage, it has been crafted to be search engine optimized as well.
Both the links and SEO keywords are skillfully woven into the copy to still seem like a natural welcome.
The skill required and importance of the homepage accounts for the fees companies are willing to pay a copywriter who can deliver effective copy.
Homepage Fee Range: $450 to $4,500
Squeeze Page
Nick describes a squeeze page like this: "A page whose sole purpose is to collect a person's name and email address. Also known as a capture page because it is designed to 'capture' information for future promotional use."
Because of its very specific purpose, a squeeze page typically has nothing else for the reader to do except sign up or leave. As the copywriter, your job is to write compelling copy that motivates them to sign up!
Here's an example of a squeeze page: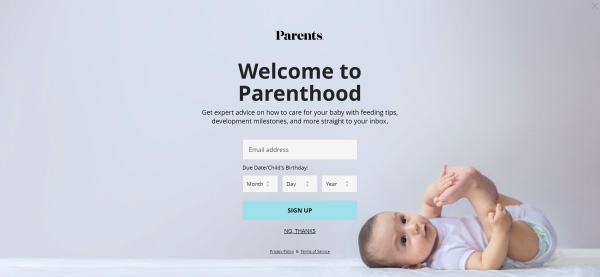 In this example, the visitor can enter their email address and their due date/child's birthday and then click the sign up button … or they can click "no thanks" and leave the page.
There are no suggestions of other things they may be interested in or links to other distracting pages. The page 'squeezes' their attention to just a single decision: sign up or not.
Squeeze pages usually take up just one screen, and they contain just enough copy to entice a sign-up. The copywriter also writes specific call-to-action copy (a few simple words) for the button.
While short by design, these pages also can pose a challenge. The copy has to be concise yet compelling. This is how a company is building their email list … which is one of their most valuable assets. So clients are willing to pay a professional writer to get it right.
Squeeze Page Fee Range: $500-$1,500
Subscription Page
A subscription web page is "designed to get someone to sign up for either a free or paid-for online service, such as a weekly e-newsletter," according to Nick.
The copy needs to persuade the visitor to take action, quickly, before they leave the page and move on.
Here's an example of a subscription page: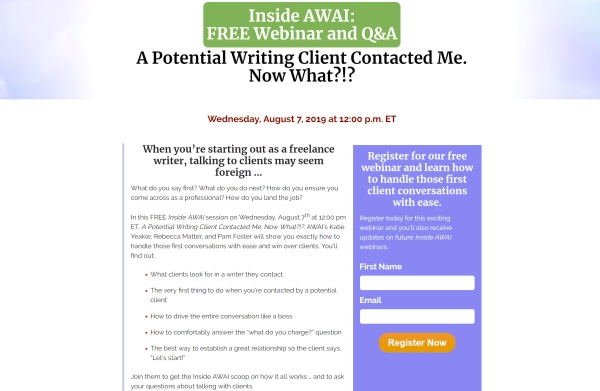 Like the squeeze page, a subscription page usually doesn't have any other links. The visitor has two choices … subscribe or leave the page.
A subscription page is generally longer than a squeeze page. The thing the visitor is signing up for is typically something that they will invest a little bit of time consuming — such as a weekly e-newsletter or a webinar, as is the case in this example. So they need to be shown the benefits they'll receive if they invest the time.
The copy still needs to be focused and concise. But there can be a bit more of it for one of these pages.
Subscription pages also build a company's email list to support their future promotional efforts, which make them important and valuable. You can charge accordingly.
Subscription Page Fee Range: $450 to $4,500
Information Page
In this case, the title seems obvious and descriptive — an information page is "a page on a website that is focused solely on delivering useful, helpful information, as opposed to selling the product or service," explains Nick.
The information page indirectly drives sales by generating excitement and enthusiasm around a product or service.
Here's an example of an information page: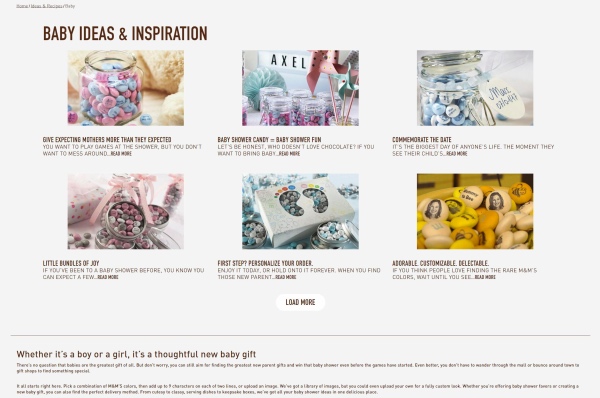 Expanded example (resulting from clicking the Read More text link on the Little Bundles of Joy title):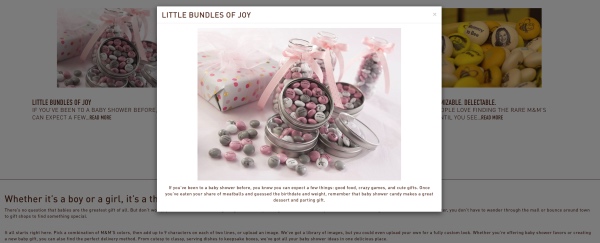 While there is no "buy now" button or call-to-action, the goal of an information page is still to move the sales process forward in some way.
In this example, M&M's® is giving ideas for using personalized candy for baby shower favors or new baby gifts. Of course, they're banking on the expectation that the ideas will spark the desire to buy the candy.
A copywriter uses an information page to give the reader vision and help them see how they could use and/or benefit from the product or service.
Even a page providing basic location information can be compelling with copy written by a good copywriter. A "four-level monument to the colorful fun of M&M's" sounds like an interesting place to visit when in Las Vegas, wouldn't you agree?
The copy on this information page entices an interest in visiting the store. And it's safe to assume that once there, the in-store experience is designed to lead to a sale (make that many sales!).
(Tip: If you're writing for a local business, a location information page offers a valuable opportunity to capture the attention of search engines as well as local potential customers.)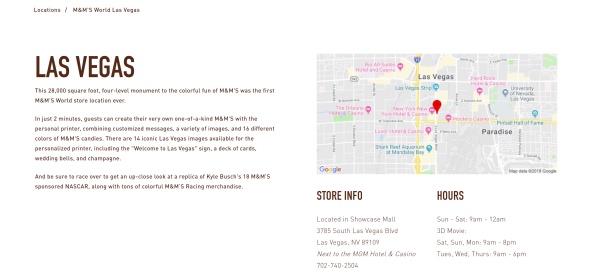 Information Page Fee Range: $250-$750
Product Page
Of course, a product is "anything being sold to a prospect, whether it's physically tangible or not." And a product page on a website is where you spotlight a specific product. You want to use the web "real estate" on a product page to highlight features and benefits, answer questions, and generate sales.
Here's an example of a product page: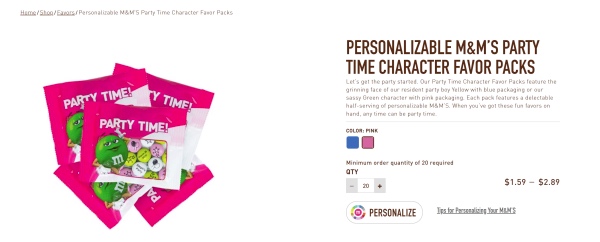 Generally, product pages have these elements: product photo(s), a product overview (including title, features, price, options, details for personalization), product description, specifications. social proof (user reviews and ratings), a call-to-action, Buy Now/Add to Cart button, and cross sell and upsell suggestions.
Product descriptions on product pages are usually just a paragraph or two. Generally, less than 100 words. They're written to generate a "gotta have it" response and to stimulate a "buy now" action.
There are exceptions, of course, but typically a reader doesn't have the time or desire to read lengthy product descriptions. So it's up to a copywriter to make every word of a product description count in persuading the reader to buy the item.
An effective product page directly affects a company's bottom line. Without compelling descriptions, there are no online sales. These little nuggets take skill to write well. But it's a skill that a good copywriter can develop rather quickly with proper guidance and practice.
Product Page Fee Range: $50-$100 (and up, for more complex products)
Short-Form Copy
With so much time being spent on mobile devices, web copy has evolved to be shorter and more concise. More easily consumed on mobile. Did you notice that all five of the web pages we've discussed here use short-form copy?
All the copywriting best practices still apply — and are even more important when every word counts. That's why you can still make great money even though you're writing fewer words.
Now that you're familiar with these pages, you'll see there's nothing to fear on the yellow brick road to your writer's life. Instead, there's a great adventure ahead for you!
Do you have any questions about these common web pages? Share with us in the comments.
Editorial Note: Learn how to write each of these in-demand web pages directly from a master! Nick Usborne is offering a limited number of up-and-coming writers the chance to become his apprentices for his Web Copywriting Masterclass. This is your chance to work directly with him and gain the tools and knowledge you need to be a well-paid web copywriter … in just 6 weeks!
He'll mentor you on today's most popular copy projects, and even coach you on getting quality clients to come to you when your training is complete.
This is an unbelievable opportunity to work with a man who's been writing for the Web since the beginning. Check it out here — today's your LAST CHANCE.

The Professional Writers' Alliance
At last, a professional organization that caters to the needs of direct-response industry writers. Find out how membership can change the course of your career. Learn More »

Published: August 29, 2019