Go from "I Like Writing" to "I Get Paid to Write"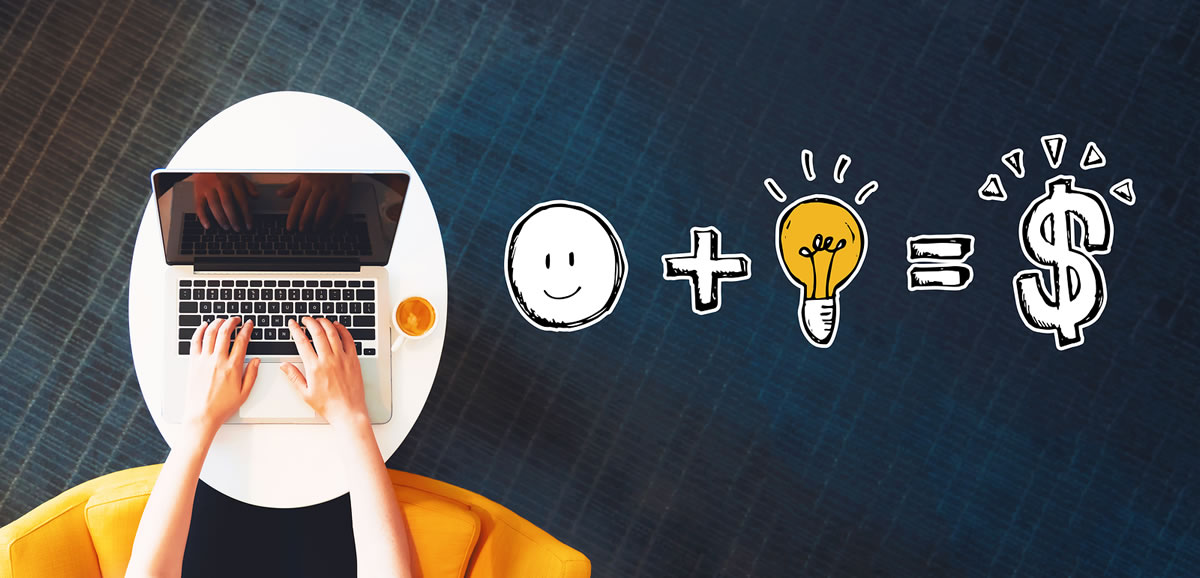 While a passion for writing is a helpful tool in your tool belt, it isn't the most important factor in determining your success as a freelance writer. In fact, there are several successful writers I know who admit they did poorly in English class.
But if you realize you want to get paid to write, I've found there are some simple actions that can help with your success.
Now, I'll admit, I'm one of the folks who has had a love of writing … yet I didn't pursue it as a career until recently.
One of the first times I realized I liked to write was back in high school, with a summer book review assignment my classmates and I had worked on for AP English. The teacher, who had high standards for assignments, told us that some were "above and beyond," and were entitled to bonus points.
As our papers were handed back to us, I noted the special bonus points marked on mine. It made me smile … And, I'd done it without formal training as a writer.
But, here's the thing …
While that story might be heartwarming to tell to my parents or my friends … my copywriting clients are NOT interested!
Because, even though innate writing ability can be very helpful as a copywriter — it's only one tool in your tool belt. And it's certainly not the most important factor in determining whether or not you will be successful.
Also, telling clients that you've "always loved writing" won't win you any paid assignments as a writer.
Instead, here's what will sway the odds in your favor …
How to convince clients to hire you
As a copywriter, sometimes the most challenging part of our job is getting clients. But, it's also a very important part of our job, since clients are the ones who pay us for our work.
I'll admit, this part of the job can still be hard for me — so if you're feeling intimidated about finding clients, I empathize with you!
But, there are a few things you can do to make the whole process easier. Things that will give you more confidence, and help demonstrate to clients that you're a professional through and through.
Here are my recommendations …
1. Change the focus of the conversation
The first is to focus on your abilities as a writer, not on how much you enjoy writing. Because your clients are focused on RESULTS.
So even though it's appropriate to include some personal stories so they can get to know you … you'll want to always keep the main focus of the conversation on how you can help your clients.
One easy way to do this? Ask about them, rather than talking about yourself. Ask them what they need. That will take off some of the pressure to impress them, and also show them that you're interested in getting real results for them.
2. Make sure your skills are up to par, by doing this …
For me, one of the hardest parts of reaching out to new clients is having the confidence to assure them they'll be happy with my work.
This was especially true when I was just starting out … and it still holds true today when I'm tackling big projects, or new types of projects I've never done before.
However, if you invest in yourself as a professional, it can make things a lot easier …
To be successful as a copywriter, I believe it's important to treat it as you would any other profession. That means, investing in continuing education.
Because no matter how much experience you have, there's always more to learn!
Here are a few ways you can invest in your continuing education:
Continue to learn through programs and courses.
Keep in mind, that doesn't mean you need to do everything at once, or to delay getting clients until you feel like you've studied "enough." But, it does mean that you'll want to strive to learn more, no matter how much experience you have. That sort of dedication can really set you apart.
Read and watch as much as you can.
There's plenty of free material online — including articles, blogs posts, videos, webinars, and more — about the latest tips and trends. Set aside some time each week to look through them, and learn something new. Start here with these free Inside AWAI webinars.
Attend live events.
Another great way to learn about the latest tips and trends is through live events, such as AWAI's Copywriting Bootcamp and Job Fair. In addition to offering top-notch continuing education, many live training events are also great places to network and meet potential clients, and connect with fellow writers who can keep you accountable and motivated.
Consider a mentorship program.
There are many successful copywriters out there who offer excellent training or mentorship programs, where you can work one-on-one with them. I've found this to be helpful at times when I feel "stuck" and not sure how to get to the next level.
For me, I like being part of AWAI's Infinity Membership. It means I get access to all of their copywriting training programs and business-building resources, including new ones that are created each year. Plus, I get templates for contracts and proposals, and discounts for Bootcamp and mentorship programs.
Your continuing education may look different. But for me, I love the convenience of having everything all in one place. It gives me the confidence to say "Yes!" to projects, even if I've never done one before.
For example, if I get an assignment for a white paper, a brochure, a video script, or something else I may not have any experience with, all I have to do is access the right program in my online library, and voila! … I know how to do it, and can deliver the finished project with confidence.
3. Make clients want to work with you
Besides your copywriting education and training, you can also make a great impression on clients by just being pleasant to work with, open to suggestions and revisions, and able to meet deadlines.
It's amazing how many writers don't do this! I hear complaints from clients all the time, as many of them have had bad experiences with freelance writers.
So, if you are pleasant and professional, you're already ahead of the pack.
If you can show clients the value you bring to them — by focusing on their needs, investing in your own training and skills, and being professional — in time you're sure to find plenty of clients to work with.
And get ready for even bigger and better things down the line!
Do you have questions about getting started with your training? Please share with us in the comments.

The Professional Writers' Alliance
At last, a professional organization that caters to the needs of direct-response industry writers. Find out how membership can change the course of your career. Learn More »

Published: September 12, 2019