Living the Writers Life: Karen McCauley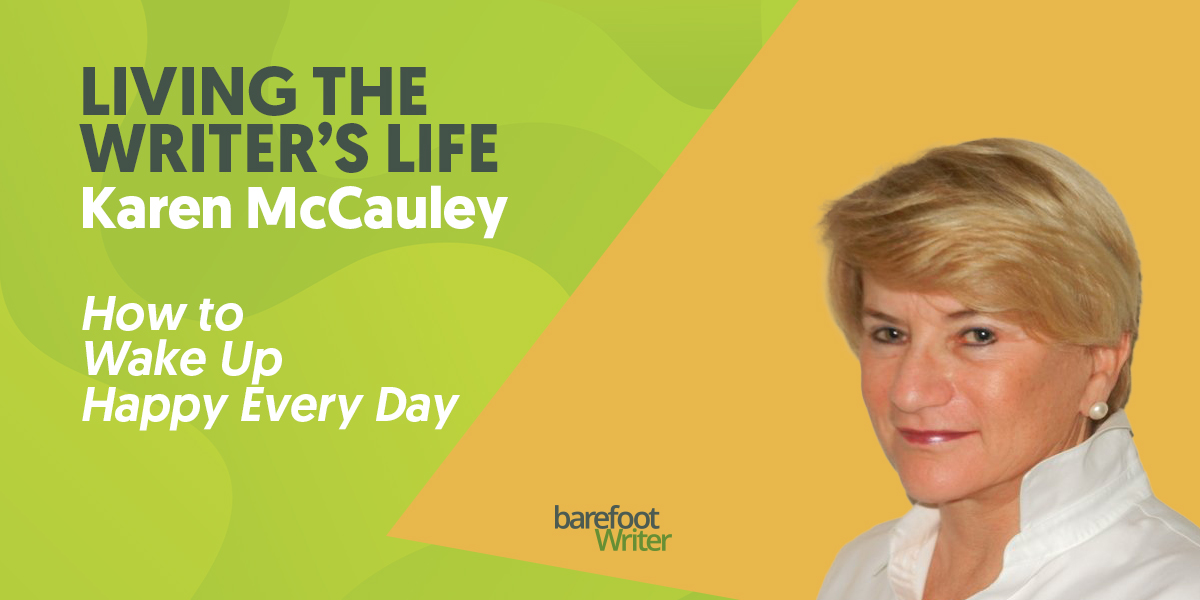 Why did you choose the life of a Barefoot Writer?
I worked every day of my life since I was 15 and I was tired of having to live my life around a corporate schedule. I wanted to live life on my own terms — with the ability to travel, spend leisure time with my husband, visit my grandchildren, and go to the beach, all without asking someone else for time off.
I always wanted to be a writer even as a child. I was accepted to a college for photo journalism, but somehow I won an academic scholarship for science. Since I was one of eight children, my dad pointed to my siblings and said, "Karen, there are seven more behind you that I have to put through school. Take the paid scholarship and become a nurse." It turned out okay; I climbed up the career ladder and entered the corporate side of healthcare.
So, when I finally made the decision to retire from my 9-to-5 job, I decided to try out writing. I may not be authoring the Great American Novel, but I am making very good money and enjoying life. I wake up happy every day!
What was your biggest fear before you started life as a Barefoot Writer?
My "What If" Fears. What if, after all these years of wanting to write, I found out I didn't have any talent? What if, after leaving my well-paying career, I could not make enough money? What if, I could not find any clients? What if, I didn't like writing? I had a lot of "What If" Fears.
How did you move past those fears?
It took me about five months to get over them. I think it was right after I returned from AWAI's Bootcamp. I came back so excited and energized, and shortly after I submitted my "restaurant" letter (an assignment from the Accelerated Program for Six-Figure Copywriting). I received a high mark and thought ― Hey, I can do this!
From there, I wrote down daily goals (so important) and within about 10 days of steady writing, I got over my "What If" Fears.
What kind of copy do you get paid to write?
This is rather amusing actually. I started out writing healthcare copy and I had a few good clients. Then a friend asked me to help him with his resume. I did a little research and created a dynamic resume for him. He sent it out to four companies and obtained three job interviews which resulted in two job offers. I thought, WOW! ― I must be good at this. So, I purchased AWAI's Resume Writing program and … well, I now write resumes.
I really enjoy it ― talking to every client, helping point out skills and talents they do not even realize they have. It's a great feeling.
I also write articles and blogs relating to the employment industry.
What's been your proudest writing moment?
I had an overflow of work, so I taught my daughter Beth how to write resumes and she started making extra money for herself. She's a single mom and really needed the money. In six months, she saved enough from resume writing to make a down payment on her first house for her and my little granddaughter. That was a very happy and proud moment for me.
What's your biggest writing-related or income goal right now?
I am working on my first e-book relating to the job search market. My goal is to have it completed and for sale on our website and Amazon by the end of the year. Also, we just started a program ― Resumes for Heroes ― where we offer 50% off our services for returning military and their families. I want to put a market push on that.
How do you measure your own success?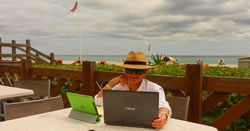 Honestly, I measure my success through my ability to assist others — such as my daughter and clients — achieve financial security. I love the feeling I get when someone lands a job through my resume.
That and being able to go to the beach any day I please!
What lessons has your writing life taught you that you can share with someone new?
That earning a living does not have to be so structured. It is a means to an end. You can achieve a very successful yet flexible career through writing.
There are so many different avenues — the possibilities are endless. Pick one and get started — you never know where your writing career will end up!
Karen's Living The Writer's Life story was originally published in Barefoot Writer. To learn more about how you can start living your dream writer's life too, click here.
What help do you need to move forward with your version of the writer's life? Let us know in the comments below so we can help guide you in the right direction.
Published: September 6, 2019