Making the Leap from "One Day" to "Day One"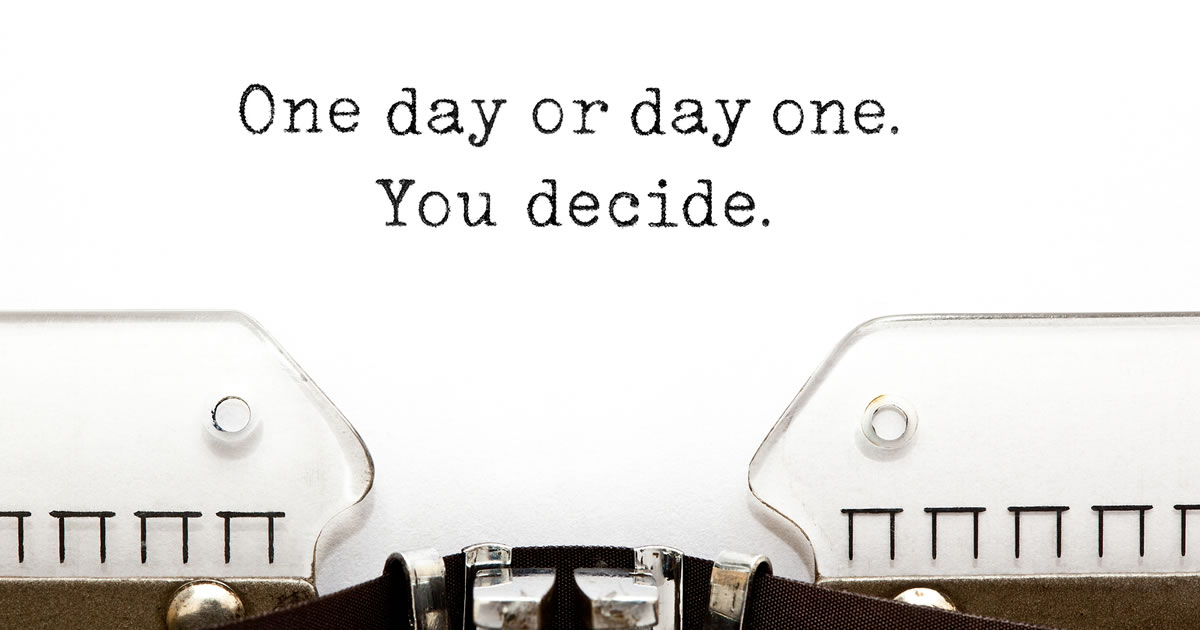 These two phrases may look similar, but their meanings are a world apart.
A "one day" person wakes up each morning dreaming about how nice it would be to make it as a writer. They imagine living life on their own terms, being in charge of their own schedule, and earning an income that puts their old job to shame.
But that's always where it stops … a dream for one day down the line.
They let a million excuses hold them back …
Not until we finish remodeling the house. Not until this debt is paid-off. Not until our kids are older. Not until I have a larger nest egg.
Not until … Not until … Not until …
A writer who has achieved "day one" has all of these same concerns in their lives. But rather than letting fear hold them back, they've made a commitment to make things work … no matter what.
These are the people who take positive action — big or small — towards their careers every single day.
They read one chapter in a copywriting book while waiting for a child's piano lesson to finish. Listen to one writing podcast while driving to work. And, write one email to a potential client before checking their Facebook status or Twitter feed.
When more time and energy are available, these same folks will …
Set aside a whole weekend to dive into Section 1 of The Accelerated Program for Six-Figure Copywriting. Use their evenings to write and submit a new Spec Assignment. And, spend precious vacation days going to industry events like AWAI's FastTrack to Copywriting Success Bootcamp and Job Fair.
Over time, this person will learn the craft, sharpen their skills, and gain all the confidence they need to attract new clients and build their dream career.
The Transition from "One Day" to "Day One"
It's not hard to find stories of successful AWAI copywriters who were able to transition from "one day" to "day one."
For $10K Challenge Winner Jon Stoltzfus, his "day one" came the moment he was laid off from an engineering job.
"I resolved that day to take control of my life and build a career as a copywriter. I still got another engineering job and juggled both up until last year when I finally left engineering for good."
World traveler Keith Trimels experienced his "day one" after finishing his first sales letter — for free — and realizing how his new skill could add $30K-$40K per year to his existing income.
Writing from the middle of the Mexico desert, he shared, "Usually, growth and success come when you move towards your fears rather than running away from them."
Then there's Lisa Christoffel — the Managing Editor of AWAI's B2B Writing Success …
In a way, Lisa had two "day ones." After being laid off from a corporate management job, Lisa took a whole year to explore the opportunities in copywriting.
"I had a blast: I took program after program, attended live events, fell in love with copywriting … and didn't go after a single client. I let fear of failure hold me back."
She returned to a corporate job — just as interested writing clients began popping out of the woodwork left and right. "As a consequence of my not taking early action, I built my freelance business while working a full-time global corporate job."
Chuck Warren often spends his days writing from his boat. He shared, "I was working full-time as an IT consultant, and part-time as a boat captain. January 1st of 2016 I made it my New Year's Resolution to get published. By September, I made it happen."
And finally, there's Kim Weitkamp. The first day she decided to be a freelance writer she had no job, no home, and was traveling in a foreign country on a tour bus — trying to read the AWAI sales letter "Can You Write a Letter Like This?" on her smartphone.
"I made a commitment that I was going to build a writing business and this was the best way to do it. It was a huge investment, of time and money, and that's what started me on this path."
7 Tips for How to Get Started
If you're ready to declare "day one" of your own writing career, here are some tips from fellow writers:
Chart your own path. We all have our own unique situations and our own ideal writer's life. Don't let someone else's story dictate yours. There a lot of paths, and one is sure to fit what you'd enjoy doing with your life. If you want a step-by-step blueprint for becoming a paid copywriter, start here with this free Inside AWAI webinar.
Make steady progress on your skills. Copywriting is not something you'll learn overnight. Set aside a small amount of time to learn every day and you'll make progress over time and continue to improve and excel.
Don't be afraid of failure. Writing for other people isn't easy. You're building a structure with no clear blueprints and may be unsure of what your client wants. Don't be so attached to what you wrote that you take change requests personally. Edits and rewrites are all a normal part of the journey. (If you want a confidence boost, check out the Inside AWAI free webinar: 5 Things You Must Do to Ensure Copywriter Success.)
Build a portfolio. You don't need clients to create writing samples. Start a blog, create a Facebook page about a topic of interest, build your own Money-Making Website, complete a Spec Assignment, or think up new promotion ideas for companies you admire. There's plenty of options to write, just get started. (Here's more ideas.)
Push forward despite your doubts. You've made a commitment to yourself. Now stick to it. A million tiny voices in your head may be jabbering for attention. Push towards your fears and you'll find growth and success.
Find a support network. A writing accountability group or support from your loved ones at home will help you get through the ups and downs. AWAI has active online social communities, you can find many others who are making their way in this new arena.
Keep your "why" front and center. There's an important reason why you've chosen this path. Stay on track by reminding yourself of this "why" regularly. Don't let outside forces distract you from your goal.
Remember, there's a big difference between "one day" and "day one." But with the right mindset and clear action, you can make the leap.
Ready to declare your "day one" today? Go for it!
Need more resources to move forward? Check out these free Inside AWAI webinars:
Do you have any questions about getting started? Tell us about it in the comments.

The Accelerated Program for Six-Figure Copywriting
Turn the ability to write a simple sales letter into a successful freelance career. Find out how you can make a six-figure income working from anywhere you want as a direct response copywriter. Learn More »

Published: September 3, 2019