A Peek into the Most Romantic Writer's Lives We Know (and How to Build One of Your Own!)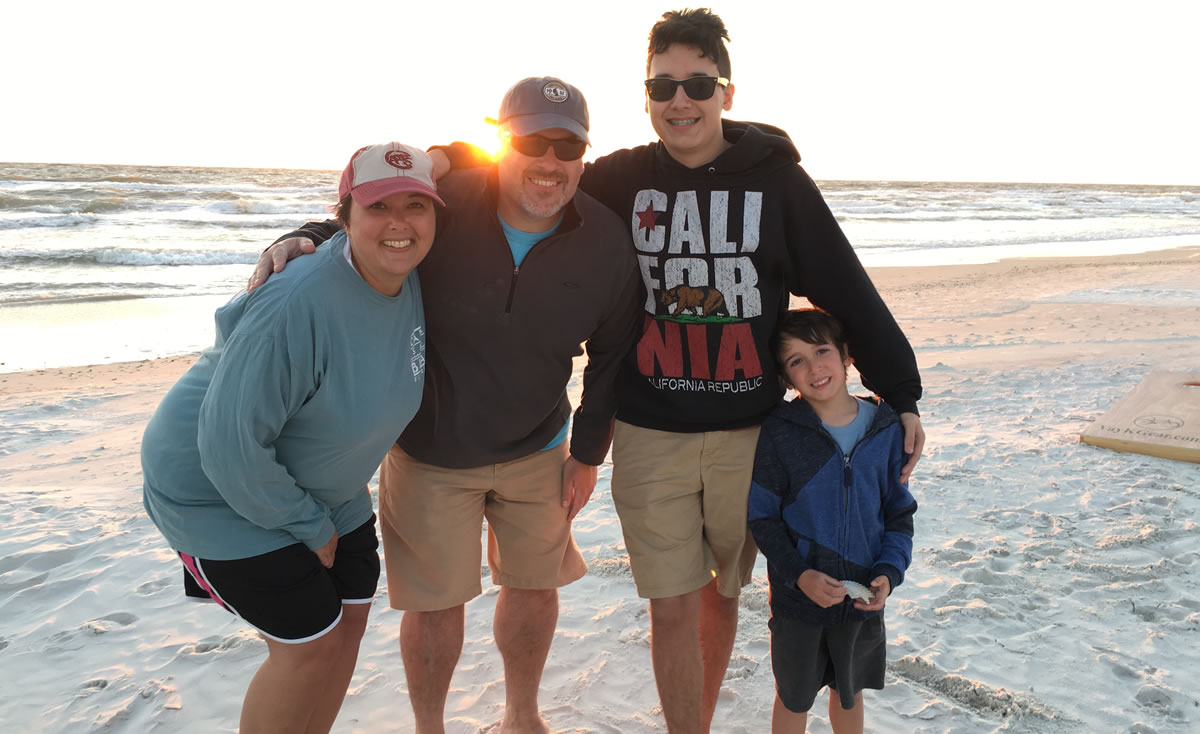 AWAI Member Ed Gandia on vacation with his wife, Jennifer, and their two sons in Florida
Do you find it hard to picture your ideal writer's life … simply because no one else you know is living it?
I do. Or did, I should say.
Listen, it takes courage to raise your hand and say you deserve better than the same 'ol, same 'ol everyone else you know is stuck with.
And it takes imagination to think outside the box and come up with a life grander, freer, and more enjoyable than perhaps anyone you currently know.
But if you get those two things down pat (and I have a shortcut for you here in a sec), then the rest comes easy.
Really, it does.
The writing part? That can be learned.
The picking your focus? That's trial and error.
And the linking up with paying clients part? That comes with some practice (and our proven processes can speed things up).
It'll come.
Stick with it, and it'll come.
Your dream life, on the other hand, won't just materialize without a little help. There's no handy Genie-lamp to rub and wish on that'll figure it all out for you.
So I want you to think in specifics. One specific at a time — you certainly don't need it all mapped out this instant!
But you do need to articulate what you want …
Is it money?
Romance?
Adventure?
Freedom?
A reason for being?
I find it helps if you have a little peek inside the lives of other happy writers. A little bit of I want what she's having! — but then tailored to your size.
Which is why I find it crazy exciting that the September issue of Barefoot Writer packs a wallop of recently-realized-writer dreams from cover to cover.
For example, have you ever …
Dreamed of meeting the love of your life in a far-off land?
Fantasized about moving abroad … perhaps to live in a quiet Dutch village, or on a lake in Estonia?
Wished you could snorkel with the rainbow fish of the Great Barrier Reef, or trek across the red sands of Australia's Outback?
Wanted to change the world with your words?
Because we've got stories — profiles — PICTURES! — with all those fantasies!
Only they're not fantasies. They're the real, living experiences of our Barefoot Writer contributors and interviewees.
So take the time to figure out where you want to go in your writer's life … and let us help you fill in the details with glimpses into real writer's lives.
If you'd like to get to know our writers more, go here to join the Barefoot Writer Club.
And if you're already a member and you'd like to read the September issue of the Barefoot Writer magazine, click here.
One last thing — it's okay if your ideal-life dream changes over time. Mine has. It took me a stretch to realize that dreams grow up just like people.
But they can't grow till you give them life in the first place.
So take a minute and start building in your mind that life you've always wanted as a writer …
And when you need ideas or glimpses into all that is possible, the Barefoot Writer Club is here to help.
Do you have any questions about how you can get started turning a dream of writing to a reality? Share with us in the comments.

The Barefoot Writer
Discover a lucrative style of writing that will give you as much freedom as you can have while earning a great income at the same time. Learn More »

Published: September 10, 2019