September Issue:
Writers Defeating Dorian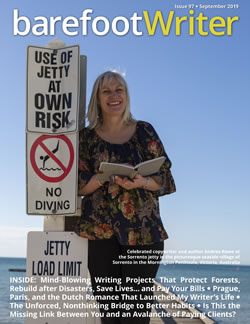 The images are all over the newsfeeds …
Entire communities strewn about like matchsticks … exhausted volunteers tugging boats through dirty floodwaters … terrified children peeking at the devastation through fingertips …
What if your writing could help?
The beautiful side of horrific disasters caused by the likes of hurricanes and earthquakes is that they bring people together.
This is the time when we want to donate money … send food … roll up our sleeves and help in some way, any way!
For most of us, right now that means sending small sums of money or dropping off donations to designated outlets bound for the Bahamas.
And that counts. It all counts.
But what if your writing could do even more?
What if your writing prompted people to open their wallets? Their minds? What if you used simple words to persuade a thousand people to make a difference in the lives of millions?
Because we've all felt the pain of watching others suffer and wishing we just had more to give.
So it is with great pleasure that I present to you our September issue of Barefoot Writer, which just happens to have a boatload of insight into how your writing can increase your impact by exponential amounts.
You'll discover …
mind-blowing writing projects that protect forests, rebuild after disasters, save lives … and pay your bills;
the missing link between you and an avalanche of paying clients;
how to build on past work experience and how to be your own boss; and
the unforced, nonthinking bridge to better habits.
You'll also read a delightful interview with copywriter Andrea Rowe, who gives back to the community with her writing while making a great living while having the freedom to roam the national parks of Australia with her family for months at a time.
Click here now to read your September issue of Barefoot Writer.
Our September issue also features two European love stories where paid writing played Cupid … See pages 7 and 27.
Loving the inspiration you get from Barefoot Writer magazine? Join our Barefoot Writer Club for even more support and guidance on how to get your paid writing career up and running. Membership includes:
Access to the next 12 months' of Barefoot Writer magazine, the preeminent publication for writers looking to make a great living while enjoying plenty of freedom
Member-only access to our private Facebook group where you can start a discussion about anything on your mind and get quick, honest answers
Your FREE copy of "The Secret of the $500 Email" by Jay White
Your FREE copy of "The One-Hour Work Week" by Nick Usborne
Your FREE copy of "Get Paid to Surf the Web" by Sandy Ferguson
Your FREE copy of "The Lazy Writer's Path to a Six-Figure Income" by Julien Sharp
Your FREE copy of "Get Paid to Take Your Next Vacation" by Jen Stevens
And so much more!
Click here to join the Barefoot Writer Club now.
Published: September 7, 2019