Seven Deadly Excuses on the
Path to Writing Success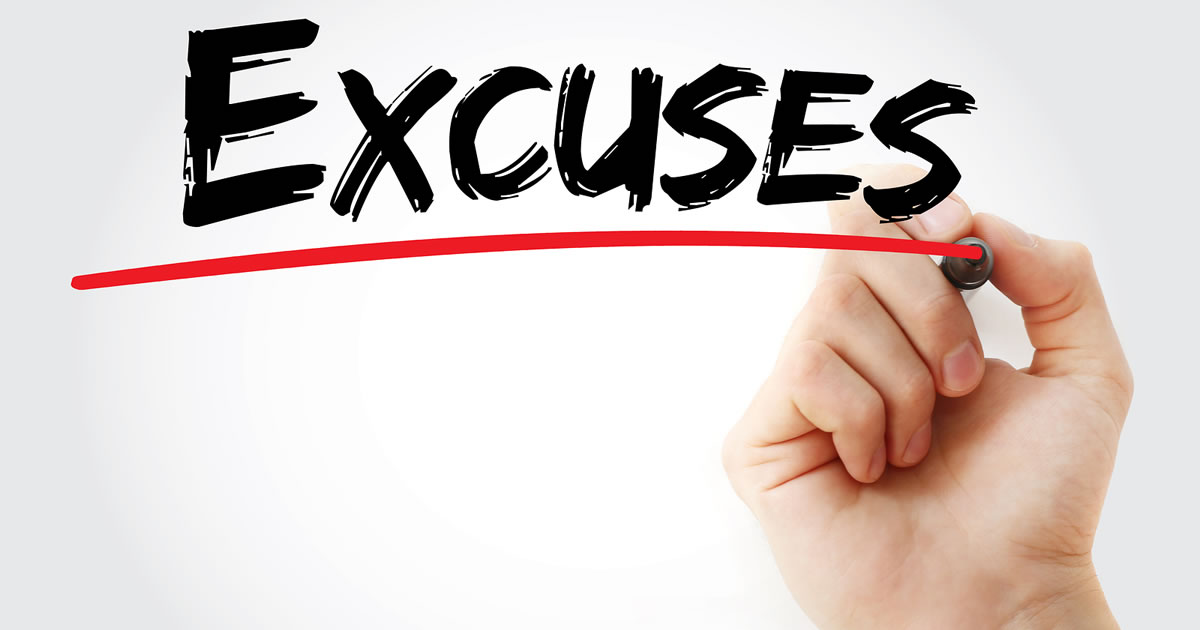 How do I succeed as a freelance copywriter?
That question has plagued me off and on since I first "hung my shingle" … and at three years in, I'm not exactly a beginner anymore.
Which is why I eagerly accepted the PWA "No Excuses" Challenge to focus a whole month working on the one thing that was holding me back.
I even thought I knew what it was — video.
I've always known my professional image would be much stronger with videos on both my copywriting site and my Money-Making Website.
But there were a few excellent "reasons" why, in three years, I hadn't managed to post a single video:
The tech is frustrating to work with
I wasn't sure where to start
I didn't want to waste effort on something that wouldn't work
I didn't want to post something unprofessional
I didn't have enough time
Excuses and more excuses — all leading to that one real factor. I didn't have enough time to spare from my busy schedule to do the necessary work.
Of course, the real problem was not our 24-hour day.
In fact, it soon became clear to me that the excuses I used were actually camouflage. The core problem was much deeper — it was the presence of "7 Deadly Excuses."
Perhaps some of these are familiar to you as well?
Deadly Excuse #1: Indecisiveness
This is an easy one to fall into, because making a freelance career work is like …
Walking a tightrope …
While juggling …
While wearing a blindfold.
There are so many things on my shoulders as a business owner, and at the same time, I'm juggling various priorities that compete for my time:
Actual client work
Marketing
A Money-Making Website (like a part-time job)
Health
Keeping the house clean
Family
Those are all important, but which one should I give precedence to? And how am I ever supposed to get ahead of that?
The most obvious first step was simple — take off the stupid blindfold. I'm an AWAI member and I've got a library of resources waiting to help me pick a direction. But that's actually a lot harder — and scarier — than it seems.
Deadly Excuse #2: Comfortability
It surprised me during the first week of the Challenge to realize I was actually quite comfortable in my struggling state.
Unlike when I'd first started, the fear of failure wasn't snapping at my heels. And without that motivation, I'd settled into a rut. I was getting by doing things I knew and was comfortable with.
Luckily, I'd already committed to a huge get-out-of-my-comfort-zone deadline. During AWAI's Bootcamp in May, I'd signed up to attend Dan Kennedy's Business Academy in Cleveland in July.
Dan Kennedy's no-nonsense, practical approach to business was the inspiration for the "No Excuses" Challenge. I wanted to prepare for his teaching by living his advice.
So I prepared for that, and thought hard about making a video. Yet I didn't get one done.
Deadly Excuse #3: Procrastination
When I was a little girl, my Dad taught me a poem that defines much of our Southwestern culture:
"Mañana is a Spanish word we often like to borrow …
It means never do today, what can be done tomorrow."
Now, I don't normally see myself as a lazy person or excuse-maker. I'm actually self-motivated to the point of being a workaholic.
Yet as I found more so-called good reasons to put progress off till tomorrow, I had to face it: I was procrastinating.
And I wasn't even getting any rest out of it, since I was still working all the time …
Deadly Excuse #4: Busywork
Turns out, you don't have to be a lazy person to procrastinate. There are lots of ways to get nothing useful done …
So I took a harder look at the priorities I was juggling.
Were they all so important all the time?
Which ones were most vital to building my future?
Was I spending all my time on the priorities that gave the least return?
The last question was rhetorical. I knew I was spending too much time trying to get caught up on things that didn't matter. Housework was a big one. Client work, when not balanced with business-building efforts, was another.
The problem was, those distractions were easy. Like a rocking chair, they allowed me to go nowhere while daily wearing me out.
So, in the spirit of the Challenge, I decided to knock it off.
No cleaning the bathroom when I should be emailing a Spec Challenge. No going over an assignment in the hopes of changing one word I knew the client wouldn't care about.
Which was the right move to make, because I discovered something else …
I was running myself ragged to make videos — when that should actually be my sister/business partner's responsibility! So I did what I should have done a year earlier. I turned to my sister and said, "I want you to make this video." And she said, "Okay."
And shortly thereafter, we had a video posted to our Money-Making Website.
Deadly Excuse #5: Acceptance
As a busyworker, I'm always running around, doing work, cleaning up, and double-checking. And I've made it a habit to accept the excuses lazy people around me dish out. And that's not good, for me or them.
As the Challenge wound down, I realized that if I wanted to make a difference in my life, I couldn't accept the status quo.
I had to stop asking, "Will you please do this?" and nagging to get the result. Instead, now I inform, "It's your turn to …"
Then, I expect results. It may or may not happen, but it takes the burden off my shoulders.
Deadly Excuse #6: Self-doubt
As I got ready to go to the Kennedy Workshop, I ran into one of the roughest excuses of all.
I couldn't seem to stop doubting myself. This is where I started missing my blindfold — because with a clear vision I knew what I had to do, yet I didn't want to try.
Had I really done enough to get ready?
Was I wasting my money?
What if I couldn't make it work?
This was compounded by a rare series of migraine headaches. It's very hard to fight self-doubt while coping with physical pain.
So I stopped working so hard, and focused on resting. Meanwhile, my sweet sister had added another video to our website.
Deadly Excuse #7: Fear
There's a problem with overcoming self-doubt. With myself out of the way, other factors came flooding back in.
And fear is worrying about what you can't control.
But something Dan Kennedy had said at Bootcamp stuck with me through the last few days of the PWA Challenge.
"You should only not do this if babies will actually starve."
That truth stuck with me. What was I so afraid of? Nobody was going to suffer — let alone starve — if I focused on my health. And, I would get the best possible return on my investment.
Which left me, no excuses.
What?! I'm a Success …
Upon returning from the Dan Kennedy Workshop, I had an amazing realization thanks to a Professional Writers' Alliance Newsletter.
PWA Director Jen Adams had congratulated everyone who'd taken place in the "No Excuses" Challenge. (As do I, because this one was tough!)
Then she mentioned a series of articles I'd written for her. And she called me a success.
I hadn't even realized it. I've been so busy trying to overcome everything that I hadn't looked back. Where I started from is very different from where I'm standing now.
I don't have a blindfold on anymore — I have a clear vision for my future.
I still juggle — but it's manageable.
I'm not on a tightrope anymore, either. I've built enough of a client base and success platform that I'm walking across a plank, in the process of making it a solid bridge.
I've succeeded as a freelance copywriter.
I've got endless opportunities to succeed even more in the future.
In the end, I'm so grateful I chose this path.
There aren't many lucrative careers that would've allowed me the time and personal freedom to not only build a strong business, but also to work on myself. In overcoming the pitfalls, I can hope I've also become a better person.
Best of all, I've got no excuses to not take the next step, and the next one after that.
What about you? Challenge yourself to a "No Excuses" month and see how far you can go.
Do any of the "7 Deadly Excuses" hold you back? Share with us in the comments so we can help you break through.

The Professional Writers' Alliance
At last, a professional organization that caters to the needs of direct-response industry writers. Find out how membership can change the course of your career. Learn More »

Published: September 9, 2019