How to Work with Freelance Writing Clients Like a Pro from the Get-go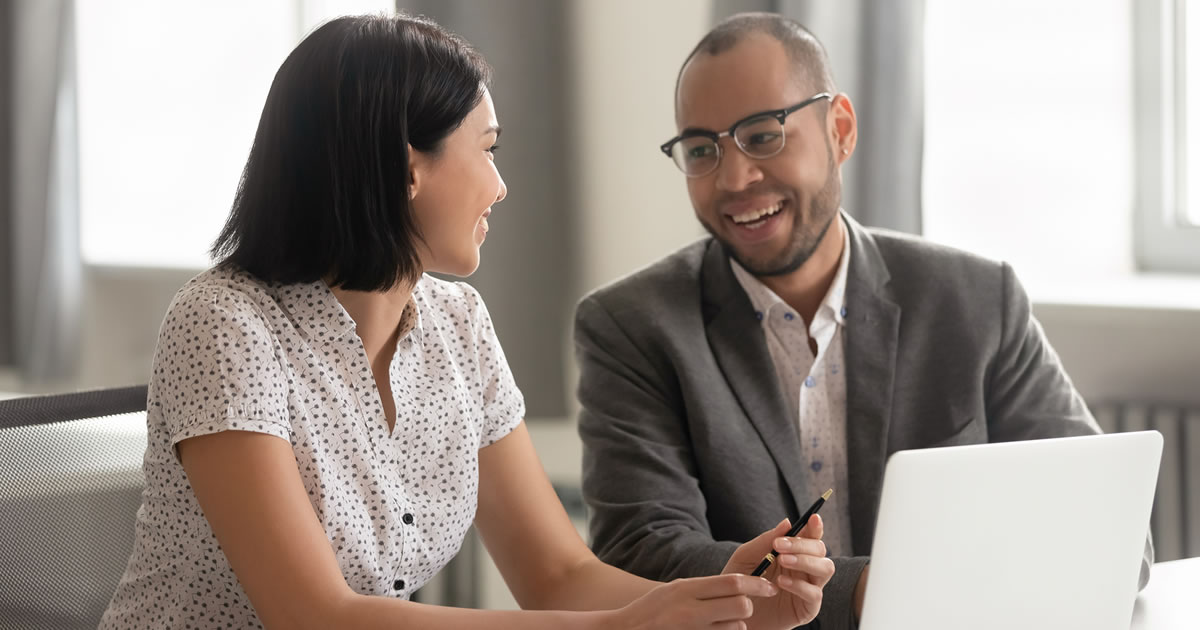 If you're just starting your freelance writing career, or you've only been at it a short while, you may be feeling a little uncertain about how to work with clients.
Guess what? Clients may not know how to work with you, either. This is true whether you're working with a small-business owner or the marketing director at a mid-size company. They may not have worked with a freelance writer before. All they know is — they need a professional copywriter who can get the job done.
Today, I'll show you five ways to be a pro from the get-go — so you can get the job started on the right foot and impress clients with your professionalism.
1. Ask questions like a pro.
When clients reach out to you, they have a problem to solve. They're looking for a copywriter who can help them improve their email open rates, web traffic, or "free report" downloads, etc.
When you ask the right questions during the initial conversation, you'll be demonstrating that you know how to solve the client's problems. For instance, ask …
Who are you trying to reach?
What are you offering them?
Why should they choose YOU over other options?
What do you want them to DO after reading your copy? (Sign up for a newsletter, watch a demo video, click to a sales page … )
And, what does success look like (more clicks, leads, orders, etc.)?
​2. Discuss fees like a pro.
Many times, a potential client needs to know what you charge before they can go further with you. That's been my experience, anyway, over more than 30 years as a client AND a freelancer. It's very common for them to ask, "What do you charge?" during the initial conversation.
You can anticipate this question and address it in three ways:
You could tell the potential client that you'd like to think about the conversation and the client's goals, and then come back with a proposal in 24 hours. This is acceptable sometimes … but it may also give clients the uneasy feeling that you're putting them off.
The other option is to simply explain your fees to the client. For instance, "I charge $300 per blog post." If it's a great client, they will have no problem with your fees. If it's not the right fit — if they scoff at your fees, it probably wasn't going to be the right client anyway.
OR … if you're just starting out and you want to work with the client to create a good sample and testimonial, you might negotiate your fee. If it's a nice business and you truly want to help, this strategy can be worth it.
No matter which option you choose, create a fee schedule or rate sheet for your business, so you always have something to refer to when quoting prices. Use the free AWAI Pricing Guide for reference. You're worth more than you think — and many clients are willing to pay what you're worth!
3. Send a proposal like a pro.
Now that you've had a conversation with your potential client, you'll know what they are trying to solve. By now, you should know what the problem is (no search traffic, low email open rates, weak click rates from the sales page, etc.). And, through the questions you asked, you know what the mission is.
Plus, as a professional copywriter, you know how to solve the problem: with great copy! The other terrific thing is — by having an initial conversation, you've begun a friendly relationship where the client is trusting you with their information.
I have found that the official proposal is just a formality at this point. It doesn't need to be long and drawn out. Two pages should be fine. Consider it as a short/succinct sales letter where you re-convince the client to hire you.
Open the proposal with a recap of what you discussed: the client's problem and how you can help solve it.
Then, outline the scope of the services you'll provide to solve the problem, such as, "I'll write new email subject lines and messages that drive an increase in open and click-through rates."
You might also include a few statistics on results you've generated for other clients, to add proof to your proposal.
Then, after you've presented the information on how you'll solve the client's needs, you include the fees — the investment the client will make in getting great results from you.
Finally, close the proposal with a friendly wrap-up that assumes you've got the job. "I'm available to begin next week. Let's set up a time to kick off the project."
4. Discuss Retainer Agreements like a pro.
Retainer Agreements can be your best friend — and your clients'. Not sure how they work?
Let's say you talk with a marketing director who needs monthly blog posts, a monthly newsletter, and perhaps a YouTube video each month. Instead of quoting a per-project fee … you can recommend a retainer fee.
With this type of proposal, you'll offer to write the specific pieces each month for 12 months, at a set fee. For instance, 4 blog posts a month at $300 each ($1,200/month). This gives the client a commitment that you'll provide what they need each month, which is a nice relief for them. And, it gives you steady income each month.
Proposing a Retainer Agreement is a highly professional tactic that clients truly appreciate.
5. Get the right project details upfront, like a pro.
Yes, you asked a number of questions during the initial client call. But once you've landed the project, there's more legwork to do. You want to get every detail you can from the client, before you start researching and writing. The best practice is to send the client a Creative Brief so you can collect those details. (Creative Briefs are used by ad agencies and marketing firms for this purpose.)
A Creative Brief is detailed questionnaire that clients can fill in to tell you all about the product you'll be writing about, as well as the prospect, competition, USP (the client's unique selling proposition/what sets them apart), plus background information on the company's voice (how they speak to customers in their marketing materials), certain brand names or phrases they use, other materials they use, and more. The Brief gives you a comprehensive picture and gives you a chance to spot missing items that would help you do a great job.
By sending the client a Brief, and offering to go over it with them, it shows, once again, that you're a professional.
These are just five ways to work with clients like a pro, and they're probably the most important. They set the tone for everything else you'll do … and they demonstrate to clients that you're a solid resource for them.
Never again will you have to wonder, "How do I work with this client?" Now you know.
Do you have any questions about how you get started working with clients like a pro? Let us know in the comments, so we can guide you to more resources.
Editorial Note: To help you ensure success with every client from day one, AWAI has teamed up with experienced copywriter Pam Foster, to create a structured, complete method for web copywriters — a clear path you can use to manage every major step needed to win over clients with great content and expert answers. Check out Pam's tips, templates, and guidance in Working Effectively with Web Clients — 7 Steps to Making Sure They Love You and Continue Paying You the Big Bucks.
Pam has also created a done-for-you toolkit including every business-critical document and ready-to-use template that professional copywriters swear by: Essential Templates for Your Copywriting Business.

Working Effectively with Web Clients – 7 Steps to Making Sure They Love You and Continue Paying You the Big Bucks
This 7-step system ensures web projects go as planned so that you can easily meet client expectations, establish yourself as an expert, and grow your income faster. Learn More »

Published: September 4, 2019