How to Stair-Step Your Web-Writing Success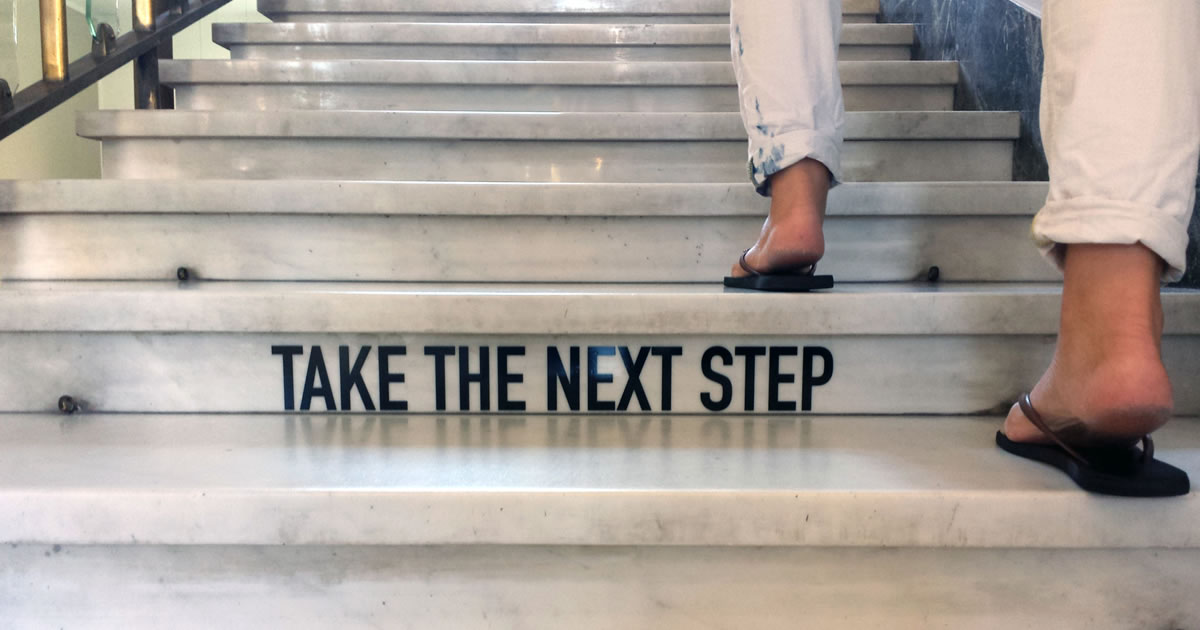 When it comes to web writing, it's like so many other things in life.
There are projects that are pretty easy to deliver on. And then there are projects that take a little more effort and skill.
There are also projects that only need to be done one time … And projects that need to be done over and over again.
Armed with this knowledge, you can grow your web-writing business — and your income — in a logical, progressive way that actually takes less effort than you might think.
Here's how to make all the demand — one-time or ongoing — payoff for you …
A Natural Progression to Bigger Fees
Example 1: Email Marketing
Let's say your specialty is email marketing.
Businesses that use email marketing have a variety of needs.
They need email promotions for their products.
They may need an email newsletter written each month. Or each week. Or possibly even every day.
They need messages to welcome their new subscribers. They need a sign-up sequence.
They may need a bait piece — the incentive to get people to subscribe to their list in the first place. They may need several.
That's a lot of different project types.
But for you, the writer, there's a logical way to approach a company to become one of their go-to writers for their email needs.
Step 1: The Entry-Level Project — Welcome Email
When you sign up for a company's email list, you usually receive a message confirming your subscription.
Now, a great many companies simply send out a simple two-line message that basically says, "Thanks for joining our list."
Here's the problem — and the opportunity: The Welcome Message gets opened and read more than almost any other message a company might send. So, it makes sense for the company to go all out and get their new subscriber excited about being on the list and also to draw them deeper into the company's online community.
If you approach a company that is clearly spending money on email marketing, but that doesn't have a customized Welcome Message, this is an easy pitch to make. They know the value of email marketing. And it's fairly easy for you to deliver a great result, because almost anything will outperform the boilerplate message they're using.
Offering to write a custom Welcome Message is a great way to get your foot in the door with a company. You can expect to charge anywhere from $500 to $1,500 for the project, depending on if you write a single message or a multi-part series.
Step 2: The Ongoing Project — Email Newsletters
Once you've done good work on the Welcome Message, the next step is to talk to your client about their email newsletter.
Now, it may be they have someone reliable writing that monthly/weekly/daily message. But it may also be a project that is a scramble to get done each and every time. In which case, offer to remove that headache for them.
They'll gain peace of mind knowing their email newsletter will be ready to go on time, without them having to stress out about it.
And you'll gain a recurring project … and the steady income associated with it.
What you charge will depend on the format, length, and frequency of the messages. Short (500 words or less) messages sent on a daily basis can command between $150 and $300 per piece. A longer message sent out once a week can bring in $300 to $1,000 per message. A multi-part message written once a month usually runs between $750 and $1,500 … sometimes more.
Step 3: Next-Level Projects — Email Promotions, Autoresponder Series, Special Reports, and More
Once you land an email newsletter project, you'll be an insider with your client. And that means you can start asking all sorts of questions about their products, their upcoming marketing calendar, their challenges, and more.
Based on what you learn, you can start pitching single-delivery projects like email promotions ($250 to $2,000, depending on length), autoresponder series ($100 to $1,000 per message), and special reports ($2,000 to $7,000).
Recap: An Email Project Progression
So, just a quick recap …
You land a client by pitching a Welcome Message email, which you're paid $500 for.
You ask about their email newsletter and are brought on to write a weekly article (800 words) for $350 apiece. ($1,400 a month for as long as they need you.)
Next you offer to write an email promotion for $1,500. After that, a five-part autoresponder series for $2,500. And then a special report for $3,000. Their needs are never-ending, and the project possibilities seem endless.
From this single client, you're earning between $1,400 and $4,400 a month. And getting to that point felt almost effortless because of the progression you followed.
Email marketing isn't the only thing you can pursue using this strategy.
Website writing lends itself well to this process, too. Here's an example …
Example 2: Website Writing
Step 1: The Entry-Level Project — Content Updates
Here, let's say you come across a potential client who has a blog and also publishes longer articles on their website.
You spend some time going through their content and realize they have several well-trafficked pages that haven't been updated in more than a year.
You approach them and suggest that updating and refreshing the content on these pages will help them maintain current levels of traffic, and in all likelihood, will increase traffic by quite a bit.
You mention that Google is starting to give more weight to content that has been updated, and this is an important strategy for them to incorporate into their content marketing.
Now, content updates are one of those things that are important but easy to shove onto the back burner. When you come in with an understanding of the value of this project and a willingness to do it, smart clients will say, "Yes. Yes. Thank you. Yes!"
You might offer to update 10 of their pages at $150 per page. (Or more … you could definitely charge more.)
Congratulations, you've just opened a door … and you got paid $1,500 to do it.
Step 2: The Ongoing Project — Blog Posts
Now that you have a foot in the door, it's a good time to ask them about their article production schedule and their blog.
Like an email newsletter, you may find they have someone reliable doing it. Or, as is often the case, they may welcome your help.
Writing for a blog can quickly turn into a recurring project, with you delivering one or two posts a week, or more. Expect to be paid $150 to $800 per post depending on the depth of coverage and the industry.
Step 3: Next-Level Projects — Core Pages, Sales Pages, Product Pages, and More
Once again, you're now an insider. You have the opportunity to learn more about your client, their goals, their challenges, and the gaps in their marketing efforts.
One month, you might rewrite their core web pages — a five-page project that you charge $5,000 for.
The next month, you might update their FAQ page to be more user-friendly, a $1,000 project.
And the month after that, you might update 10 of their product pages, a quick and easy project, bringing in $100 per page, for a total of $1,000.
Recap: A Website Project Progression
Taking a step back to look at the bigger picture …
You opened the door with this client by offering to update several of their most popular pages, a project that earned you $1,500.
From there, you landed an ongoing commitment to write two blog posts a week. At $500 per post, that's $4,000 a month on a steady basis.
That gave you the insight to pitch additional projects that allowed you collect and additional $1,000 to $5,000 per month.
So using this progression strategy, you earn between $4,000 and $9,000 a month from this client … and the marketing to land those projects has been easy.
Web writing is full of progressive projects like these. No matter what your specialty, consider what projects offer you the best foot in the door. Once you do a good job with those, ask your client about their ongoing needs. And then, after you start working with them on a regular schedule, begin looking for other ways you can help them succeed.
This is a strategy that can land you clients that pay you several thousand dollars each month, every month. And, at those rates, it only takes two or three before you're living the writer's life.
Any questions or comments on how you can use web-writing skills to get progressively better-paying work? Add them as a comment so we can guide you.

The Digital Copywriter's Handbook
Learn how to become an in-demand online copywriter for companies big and small. Online copywriting expert Nick Usborne shows you how to write web copy that converts. Learn More »

Published: November 22, 2019